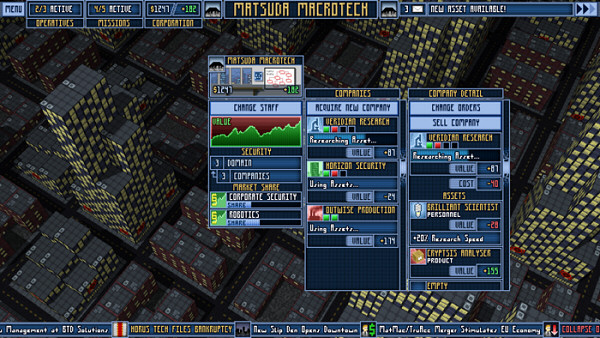 The year is 2043 and powerful Megacorporations run the show. A global epidemic hits the world, and along with it a renaissance of technological growth takes place, but it expands faster than the people can adjust to. The world is a tumultuous place, and in this chaos, corporate powers establish a new order offering corporate citizenship, which many gladly accept due to promises of job security, personal security and a comfortable day to day existence. Welcome to the cyberpunk world of Net Gain: Corporate Espionage.
Indie developer John Gosling from Level Zero Games, proposes a sci-fi strategy game where you play the role of a broker working for a megacorporation in this cyberpunk world. Your job is to spy the competition, assemble teams and sabotage their plans. And, you do this not in the streets as a field agent, but from the heights of a "penthouse view".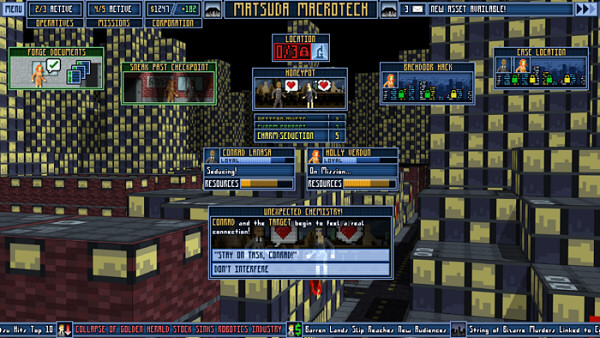 The game's objective is to acquire more power and wealth. And, you achieve this by gaining the advantage over your competitors by destroying their assets or by stealing them. Gameplay involves a series of "plots", or mini challenges that need your input on the best course of action. You may decide to encourage your agents to befriend your rivals and invite them to defect, or use other non-lethal techniques like blackmailing or bribing.
John Gosling's Net Gain: Corporate Espionage in a nutshell:
Sci-fi strategy game
Cyberpunk setting
Gameplay: creating and completing missions, each offering a series of mini-challenges
Single-player only
Windows, Mac and Linux
ETA: prototype in June 2013, v1.0 in Q1 2014
$20 pledge to get game
Why Kickstarter: To allow solo developer to work full-time on game until it reaches v1.0
John seems to be well on his way to make it with $7,500 from $16,000 already raised (~47%), with 27 days to go. There are also a bunch of rewards which allow you to leave your mark on the game by giving a name to a character of your choice, writing a news story of your own or customize a mission, just to name a few perks.
Here's John's pitch video. Don't miss it, as the live action sequence is quite cool!
Subscribe RSS
17 Comments
Related Articles:
Post category:
Kickstart