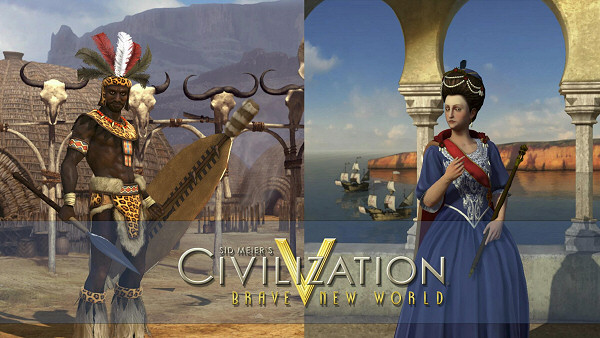 Civilization 5 producer Dennis Shirk answered a few questions about Civ5: Brave New World on a Q&A session hosted by 2K Games.
9 new Civs were announced for this second Civ5 expansion. We already knew about three of them: Pedro II of Brazil, Ashurbanipal of Assyria and Casimir of Poland. In the Q&A session, 2K teased a new Civilization to be included in BNW.  This fourth Civ turned out to be … Maria of Portugal. One day after, 2K confirmed the fifth Civ, Shaka of the Zulu.
These two new Civs were highly anticipated, so, they weren't really a big surprise. No more details were given about the two new leaders, at least from what I could understand. So, we're left with four unannounced Civs to go. Could it be the House of Medici of the Republic of Florence, Italy? Maybe it's a new tribe from North America? South America? Or, perhaps a new Asian Civ? What are your guesses?
Civ5: Brave New World is for the Builders
Dennis confessed to prefer a more peaceful and building style of gaming. I'm with you Dennis. Unfortunately, Civilization 5 vanilla (the original version) didn't offer much more to look for than war. There was no religion or espionage and diplomacy was absolutely horrendous with its bipolar behavior. And, well, there were lots of issues with Civ5 vanilla. It was clearly an installment more suited for the warmongers.
Gods & Kings, the first expansion to Civ5, added religion, espionage and fixed diplomacy, which finally allowed viable long-term alliances to be forged and much more to look for. Builders were given a chance now. Civ5: Gods & Kings was really an excellent expansion pack in my opinion.
Brave New World "will be more for the builders", said Dennis. And, for micromanagement lovers, I would add. The culture victory has been overhauled. There's the new Tourism, International Trade and Archaeology mechanics now. And, there's the World Congress, which if I understood correctly will function a bit like a real United Nations in mid-game, which will allow Civs to vote and pass resolutions – like sanctions, embargos, etc – on particular Civs.
A Culture-flip kind of mechanic was also confirmed. So, now, as before in Civ4, it should be possible to use culture (and now tourism) as a way to actively influence your neighbors and possibly gain land, favor or even cities from that pressure. It's not clear yet how exactly this "culture-flip" mechanic will work, but it sounds like it should be possible to turn or subjugate neighboring Civs (or even turn them into vassals). But, it's still unclear how that will work exactly at this point.
More resources were confirmed, however no specific ones were revealed. Coffee was not confirmed nor denied, but it looks likely (and logically) that it will be in. The Q&A seemed to suggest that. About not revealing particular resources, Dennis justified that with the need to not disclose the new Civs to be unveiled, since it would be easy to guess which would those be from the new resources. Humm…
Natural Wonders were teased to have a bigger role now besides granting a small economic boost. That makes all the sense with the new Tourism mechanic.
Firaxis also advanced that there will be a new type of spy, the Diplomat. These can be placed in your rivals' capitals like regular spies, but they will not steal technologies but only report back that particular Civ's activities.
Questioned about changes to other game systems, Dennis explained that no major changes were made either to the combat system or the diplomacy system. Speaking of diplomacy though, Dennis said that it "will be less schizophrenic" now. I think Civ5 vanilla's diplomacy was absolutely schizophrenic. That was fixed with Gods & Kings, but if Dennis says it's even less erratic now in BNW, then that's wonderful news for builders.
About the tech tree, Dennis said that there will be slight changes only. He said that the big focus was really not there but on the new systems. Only the Internet new tech was confirmed.
There's also big news for multiplayer gamers. Multiplayer will receive a significant overhaul, which should also include the re-introduction of the Pitboss concept, a Civ application which should allow for a much smoother multiplayer experience.
Airports are back, corporations are not. Firaxis confirmed that a system similar to Airports, and air-lifting in Civ4's late game, will be also available in Civ5:BNW, which allows your units to travel instantly between cities with an airport. Asked about corporations, a Civ4: Beyond the Sword flag feature, Dennis confirmed that they will not be in.
Conclusion
So, in summary, Civ5: Brave New World, the second, and perhaps last expansion to Civ5, will be more "for the builders" and mostly about a culture and trade mechanics overhaul, with the introduction of the Tourism and International Trade Routes mechanics.
Diplomacy gets the World Congress new mechanic, espionage gets a peaceful new type of spy, and there's also the new Archeology concept, which will allow you to explore specific map locations, supposedly where big battles were fought once or on remnants of barbarian sites destroyed long ago.
No major changes are to be expected on combat and tech progression though.
Sid Meier's Civilization 5: Brave New World is targeted for release on July 9th 2013 on North America, and July 12th 2013 worldwide, for the PC and Mac.
Subscribe RSS
19 Comments
Related Articles:
Post category:
News & Announcements