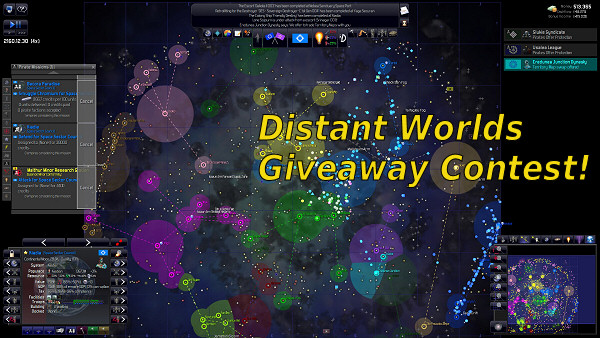 As most of you probably know by now, Matrix Games and Slitherine have released Distant Worlds: Shadows, their third expansion to Distant Worlds, just a few days ago. Distant Worlds: Legends, the second expansion, elevated this real-time space 4X strategy game to excellence. Shadows expands Distant Worlds with new gameplay, where you can play as a pirate empire, play on a pre-hyperspace era, experience an expanded ground combat mechanic, among other changes and optimizations.
So, I thought it would be fun to host a giveaway contest to celebrate this important release. The game isn't cheap, or at least the game with the expansions is not cheap, even considering that it is on sale at the moment. So, another reason to host the giveaway is to give a chance for people new to the genre, or new to Distant Worlds, to enter in Distant Worlds' living universe. One of the best 4X gaming experiences available at the moment.
Now, this is a very complex and deep game, with a quite high learning curve. So, mind that when/if you buy and play. But, at the end it will be worth it. If you like, or would like, to manage a big space empire, love the space exploration subject and like to play strategy games, I'm sure you will get your value for money. And, many times in most cases, I believe.
So, I managed to get the following prizes for the contest from the good folks from Slitherine and Matrix Games:
a) Enter the Matrix prize (for newcomers):
Distant Worlds base + Return of the Shakturi + Legends + Shadows (2 bundles available)
plus
Distant Worlds base (2 available)
Total of 4 prizes to giveaway.
b) Distant Worlds' Veteran prize (for people who already own some DW installment):
Distant Worlds: Shadows expansions (2 available)
How to enter in the contest
1. Choose your prize
Prize a) is directed more towards people new to the 4X genre, or new to Distant Worlds (of course, anybody can go after these prizes nevertheless, I leave that to your consideration). The two top-placed winners get the full bundle, the third and fourth-placed winners get the base game.
Prize b) is directed more towards people who already own some Distant Worlds installment (base game, or base game and some expansion) and want to win a copy of the most recent expansion: Distant Worlds: Shadows (of course, and again, anybody can enter in the contest for this prize, I leave that to your consideration). There's two to offer.
Important note: You can choose to run for prize a) or prize b), but not both. Effectively, there will be two contests running. One for all that went after prize a) and another for all who went after prize b).
2. Satisfy the contest entry requirements
To participate please do the following steps (bear with me, it's really quite simple):

Step 1. Follow SpaceSector.com on twitter OR like SpaceSector.com on facebook OR follow us on Google+ OR register the SpaceSector.com newsletter (you are only required to do one of these actions). Note: People who already did this in the past just need to satisfy Step 2 below.

Step 2. Leave a comment below stating which of the actions above (Step 1.) have you done now or already satisfied in the past (again, only one action is required). Also state the prize that you want to go for (a OR b) on the comment. Don't forget to also include your facebook id, twitter id, google+ id or email address on the comment, so that I can validate your entry in the contest afterwards.
Examples of how you should post your comment to become eligible for the contest:
[your twitter id here] following SpaceSector on twitter

Prize: a)

OR

[your facebook id here] liked the SpaceSector facebook page

Prize: b)

OR

[your google+ id here] following SpaceSector on google+

Prize: a)

OR

Registered the Space Sector newsletter with [your email here]

Prize: b)

etc …
If you don't want to specify all that information in the comment, send me an email with the username you used on the comment and the rest of the information, so that I can track you and get you in the contest.
And, that's it, you're in :)
How and when will the winners be picked
The winners will be picked randomly with the help of random.org on June 3d, 2013 around noon EST (roughly one week from now). I'll check those to see if they fulfilled the entry steps. Only one entry per IP will be accepted. I'll effectively run two contests: one for all people who went after prize a) and another for who went after prize b).
The contest closes on June 2nd, 2013 at noon EST. After that point you can no longer enter the contest. I'll signal that by changing the contest status to [CLOSED] in the post's title.
Game prizes will be provided via voucher codes with all relevant instructions to download from Matrix Game's website.
Game info
Good luck everyone!
Many thanks to Matrix Games and Slitherine for sponsoring this contest.
Subscribe RSS
264 Comments
Related Articles:
Post category:
Contests