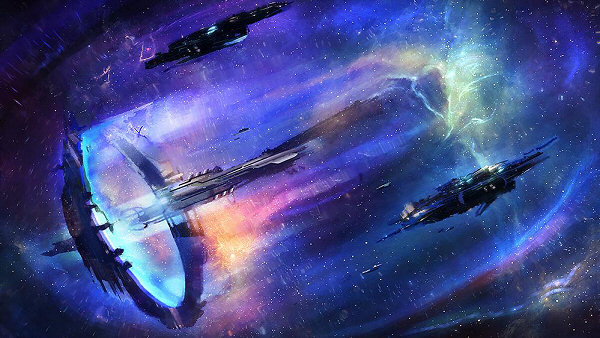 For this article I'm going to discuss technology in my game. On my previous article, A Living Galaxy, technology became a hot topic in the comment section so it only makes sense I write about it next.
Overall Game Design Philosophy
Since I'm going to be writing a lot about the game systems, I'll take a brief moment to explain my philosophy on them. For many of the systems, I take something that players are familiar with (ie: genre standards) then I improve and add onto it. So you will see many familiar aspects but done differently.
The aspects that I change are carefully thought about and chosen for specific reasons. Technology is a system where I added some new features onto the standard. However, I do add larger twists to the systems to make them radically different than the norm.
Overview
The two main goals that I've tried to accomplish with the technology system involves replayability and choice.
Technology consists of 4 broad categories: Energy, Materials, Xeno-Sciences, and Computers. In addition, there's a special one called Super-Projects – but more on this later. There will be 50 technologies in each of the 4 main categories (200 total) and most races will not have access to them all.
Proficiencies
Since races currently do not have any special/unique technologies, I still needed a way to show an affinity or lack thereof. There is a proficiency for each technology category, and this serves to modify the technology cost. An empire with a high proficiency, say 100%, will have to pay the base cost to learn the technology. While an empire with a rating of 80% will pay 20% more. This helps distinguish between the different categories and races.
The benefit of this system is in it's simplicity which still offers depth and impact throughout the entire game. It's also easier to balance from a game design perspective and is trivial effort from an implementation standpoint.
Technology Cost
I've decided to use the familiar "research points/beaker" concept here. It's a nice abstraction because trying to easily quantify research (especially in various categories/sciences) seemed to make things overly complicated. I've experimented with ideas such as "millions of hours" and "research labs" and while I could get it to sorta work, it never really fit in (in my opinion :) ).
Details and Progression
The following explains specific details and the progression of the technology system.
First, you can only research one item at a time. This is a genre standard but cuts down on micromanagement and offers choice.
Second, there are 10 tiers of technology within each category – so each tier has 5 technologies. Each empire starts with the first tier unlocked. Upon unlocking a new tier, 3 random technologies will be selected from the 5 (note: Races may get different amounts based on their characteristics). In the end, a race can only learn 60% of the known technologies (ie: 30 of the 50 technologies in each category). This is good because it offers:
empires will generally have different technologies
re-playability
Third, technologies can have upgrades, which the player can select to research. These are present on the screen and each have levels associated with them. A technology can have up to 4 upgrades. Upgrades can range from a simple % reduction in space/cost/damage/etc or give completely new items such as new weapon mods (armor piercing for example). The exact types and levels of upgrades are random each game.
Upgrades generally are cheaper and faster to research than the base technology.
Finally, a player can research a new tier. Researching a tier is expensive and takes a long time. When research of a tier finishes, a new randomly set of technologies (3 of the 5 possibilities) will be unlocked for the player to research.
The above may be hard to visualize, so I had this artist create this image to demonstrate the above research paths in more detail: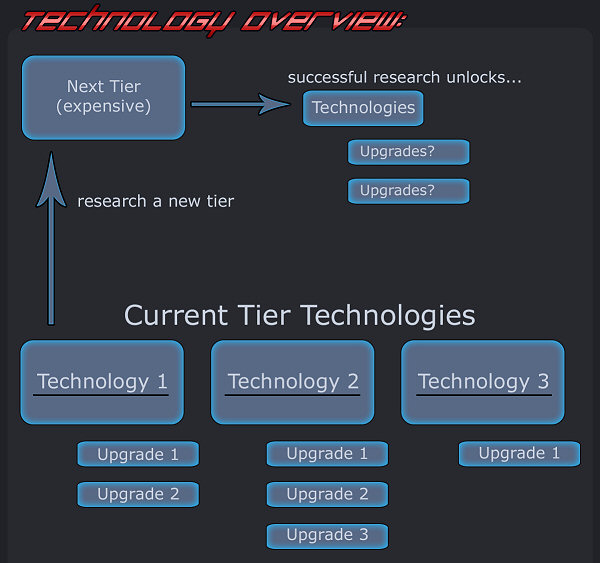 Choice
As mentioned before, a main purpose of the technology system is to push the player into meaningful choices based on their current situation. I really didn't want the game to degenerate into "Ok, time to choose a random technology!" or "Hey, can't learn every technology so I need to always get the Plasma Cannons!". I've also wanted to mitigate the idea of a tech rush to a specific technology (ie: Plasma Cannons from Master of Orion 2).
A player can be looking at the technologies and can decide maybe it's better to upgrade some weapons because they're in a war and the upgrades will come faster than a new tier will (new tiers are expensive and take time to research). Or maybe they will research a new tier because they haven't discovered another empire.
Everything the player does should have some meaning and impact in the present and in the future. This, of course, will need to be fine-tuned to ensure good gameplay but this is easily done with play testing and adjusting the cost of technologies, upgrades and tiers.
In addition, in order to assist the player a bit, the research progression of each technology is saved – so you can research 25% of a technology, switch to another, and the first one still remains at 25%. The first technology can be returned to at a later date with no penalty to the player.
Super Projects
I've mentioned before that you can learn super projects. You'll be able to discover these on planets you explore and then research them. Super Projects will require large investments to unlock so deciding if they're worth it will be important. Especially since you can only research one item at a time, a super project could be either good or bad depending on the situation.
Types of Technologies
I'm still designing the technologies for the game but you can be assured, I will have cool stuff present. Really, this type of game has an infinite amount of possibilities for coolness! I intend to capitalize on that. I mean, Master of Orion's Black Hole Generator…need I say more?
Conclusion
I think the technology system will be very effective, fun and simple to learn but harder to master. The majority of players should be familiar with this and be able to jump right in. Then, the rest depends on how the game session plays out and how the players like to run their empires.
So there you have it – this is how I handled technology. As mentioned above, it deals with the familiar systems other 4X games have. I wanted to expand on the standard and make choices mean more based on the current situation in the game. I think I've achieved that.
What am I currently working on?
Since my last update, I've completed saving and loading of games (my custom XML parser helped out a lot with this – reduced time by around 50%). Right now, I'm in the process of coding the SitRep (end of turn reporting) system.
After I finish the SitRep, I will wrap up a series of miscellaneous items and systems. I should be mostly feature complete sometime in August. At this point, I'll start private late alpha/early beta testing. I want to start off with private testing to work out any initial quality issues, work on basic polish and take initial feedback on the game.
Thanks for reading and I look forward to your comments!
dayrinni has been a Space Sector contributor since October 2011. This is his first foray into writing articles for any review site. He is an avid gamer in the genres of 4X, Strategy, MMO's and RPGs. Finally, he has been the implementor of several MUDs and is currently working on a space 4X game that offers large scope and complexity. See all dayrinni's posts here. In particular, check his "what makes a good game" and "making a space 4X game" series.
Subscribe RSS
38 Comments
Related Articles:
Post category:
Game Design
,
Ideas & Concepts