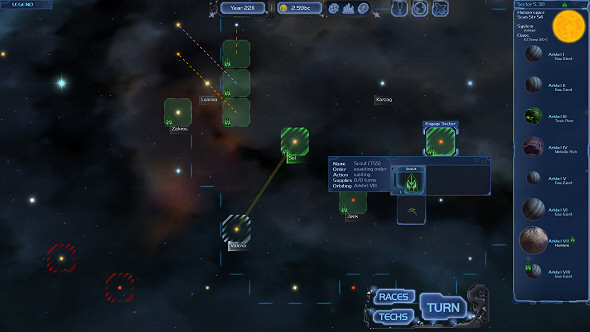 Horizon is a turn-based space 4X strategy game for the PC that we've been following for quite a while now. We started covering it in 2010. Development dates back to 2006 (at least). Horizon is part of our "Sci-Fi/Space Games You Can't Miss in 2013" list, a list we reserve for interesting titles to check out in the year in question.
A couple of days ago, dev studio L3O and publisher Iceberg Interactive opened "instant access" pre-orders for Horizon on Steam. The game is still in Alpha state, so it's not finished yet. I played this Alpha version (v0.0.2.30) for some hours. Here's a preview on what to expect and some first impressions.
Horizon in a nutshell
Horizon's main features include turn-based tactical combat, ship design, deep colony management, systems with multiple colonizable planets (where the planet is the management unit), free movement (no starlanes) over a square grid galaxy map, a central storyline with events and missions associated with the lore and the storyline.
At the moment, you can only play with the Humans against ten other alien races. Raffi Parsekhian, the main developer, stated however that they plan to give the player the option to create a custom race at some point in the future. Concerning customization, right now the game allows you to setup the number of stars, maximum number of planets, number of habitable and special planets, number of anomalies and a choice between "classic" or "normal" scenario, where all races start equal in the former, while races start with the default storyline settings for each race, in the latter case.
The general idea behind Horizon seems to be to offer a standard 4X sandbox experience, with its open play style, combined with a central storyline with events associated with the game's lore. All this in fully turn-based fashion, meaning both the strategic view and the tactical combat play in turns. You can certainly spot references to other turn-based games. For instance, the 4X classics Star Trek: Birth of the Federation or Master of Orion 1 and 2. In this last case certainly evident in the galactic news, tech breakthrough screen, systems with multiple planets, turn-based combat and the ship design system with different weapon mounts, for example.
First impressions
At first, I felt a bit overwhelmed. I didn't get immediately how to move fleets around and how to accomplish things in general, and I felt quite uneasy when I first saw the colony management screen. The UI doesn't do a very good job in terms of usability at the moment, with some window panels overlapping others (which you can dock/undock by the way – something I don't particularly like). There's also lots of mouse clicking going on, required to undertake most basic actions, and tooltips are certainly not enough yet. Well, it's an Alpha anyway.
I also didn't like to have to see a report window show up every time I hit end-turn, something I couldn't turn off, which actually translated into two clicks per end-turn. That may change in the course of the game development though (I hope).
So, it wasn't love at first play I can tell you. But, these games hardly make a great first impression in any case, except for a few exceptions. What really counts in the end is the amount of depth provided, and the quality of such depth. And, fortunately, Horizon seems to have plenty to offer, already at this stage of development. Hopefully not too much though. I'll explain what I mean with that further ahead.
How does it play?
So, after completing the nice tutorial I felt slightly more comfortable with what I had to do afterwards.
Let me start with Diplomacy, a mechanic I feel is already quite fleshed out. I made contact with a few races but could only initiate negotiations with one of them, the only one that was in contact range, which is a nice idea. Negotiations felt right, perhaps it was a bit too easy and too fast to reach the alliance state at the moment though. But, overall, diplomacy seems to work. You have all the normal options, including an uncommon mood layer (the mood you approach the other faction) which sounds quite interesting.
The research system is quite peculiar and interesting. I would dare to say novel. First you discover new techs, through events or diplomacy gifts (the two occasions where I discovered new techs) but the game manual states other ways to discover techs (through archaeological digs, mission quests and advances on other technologies of that field). But, you can't do anything with techs right after you first discover them.
First, you need to study them, and eventually you'll make a breakthrough and can start using them at their most basic level, more precisely at level 1. Then, after that, you enter in a process called tech "refinement" where each time you make a breakthrough on that tech, it upgrades one level for extra damage/range or whatever the effect, and there seems to be many refinement levels available.
You can also decide to focus your research on a particular field and further on a particular tech in each field. I think the tech system is quite solid and rich, however the UI still needs a lot of work as sometimes it's quite hard to grasp things due to so many numbers presented. And information is also too condensed. I'm convinced that it's mainly a presentation issue.
Now, about the deep colony management mechanic. While it's hard to grasp what everything does in the colony management screen at first, after a while you do get the hang of things, especially after you discover how to obtain feedback from every option (not via tooltips but with the use of right-click and the shift key – it pays off to read the manual and to do the tutorial). It took me a bit longer to understand how production works however. Production in Horizon is a function of industry capacity. More industry capacity means more production, and faster building. Ok, that part is easy.
What's not so obvious is that you can actually build four ships at the same time, as each planet has four ship building queues, one for each size class (small, medium, large, huge). But – and that's where I lost it at first – you can also build/upgrade your facilities (farms, entertainment, research, trade, more industry) all at the same time that you build your ships, as long as you have the cash to do all this that is. Moreover, all those simultaneous constructions don't compromise the number of turns each individual construction takes to finish. In other words, each construction is independent.
Humm. I finally understood that your planet's industrial capacity allows you to build everything at once. And, more industrial capacity translates into faster building. Ok. So, what this means is that when you're not building everything at once you are effectively not taking advantage of all the industry potential you have in that planet. In other words, you're wasting production potential. Of course, money is the constraint here. Everything costs money. So, you need both industry capacity and money to build things.
Only time will tell if this colony management system is fun in the end, I mean to be able to build so many things at once, up to four, six or even ten or (theoretically) more items in a single planet all at the same time, as money allows. One thing that concerns me is that, while the colony management seems deep, it's perhaps too deep, and that may work against the game in the long run.
It's too soon to tell, but I felt a bit overwhelmed by just having to manage five colonies spread over four star systems. What was I doing again? If I felt that already, how will I feel when I control ten or even twenty systems? And, there's no governor/AI assistant to delegate planet management to at the moment, or at least a similar system to serve that function that I could grasp. Perhaps a better way to manage all colonies, an overall UI overview screen should be available in the future?
Space combat, at the moment, seems to be what you would expect for a turn-based tactical system. But, I feel that I only scratched the surface here. I spotted crew experience, an initiative system (faster ships move first) and that ship direction also plays a role. But, there seems to be much more to it.
I didn't like the controls though. Instead of pointing and clicking for ship selection, the devs implemented – or at least that was the single way I found to do things – a button action system where you need to click a button to say you're done each time you finish moving a ship. Then you hit the button again after the next ship ends its turn, and again, instead of allowing the player to select ships immediately and automatically switch to the next available ship. I guess most of this annoyance could be solved with hotkeys, or by allowing ships to be "selectable" by left-mouse click, which is not available at the moment to my knowledge. But, although the controls are not that intuitive, combat feels right for a turn-based game.
If you played Master of Orion and Master of Orion 2 you'll feel right at home regarding the ship design system, since it's quite similar to both systems combined. However, while it seems functional, the UI screen is not that appealing, but that's mainly an aesthetically thing perhaps, because everything seems to be there. Horizon divides ship components between core, weapons and special categories. You can maintain four designs per class, for a total of sixteen available designs.
Summary
I think Horizon's current build (v0.0.2.30) is quite reasonable for what to expect for an Alpha version, which is an incomplete but already playable game that offers a somewhat enjoyable experience, at least to the extent I played it, which was for about 6 hours. But, I think it was enough to understand that with the right amount of polishing, especially concerning the UI, this title can become a very enjoyable game when finished. If you are all for turn-based 4X games, and enjoy a more old-school gaming style in particular, then there's a good chance you'll like it.
I particularly liked the tech system. Novel, deep, interesting. And, the diplomacy, ship design and colony management systems are already very functional. I'm afraid I didn't play enough to have a good grasp on how the AI plays as of yet. What I'm concerned about though is with the game's management scope, which seems huge, since you can colonize multiple planets on each system and there's no governor AI to assist you on mid/late games. I fear that the game can become quite micro heavy by then if the UI is not improved and there's no assistant AI.
"What makes this game special?", you may be asking. I would say the storyline with missions, which feel like quests, are uncommon in 4X games. That's an interesting feature. Also, the event-dependent tech progression, opposed to all techs known from the start, to be found in the large majority of other 4X games, that's also a nice touch. The turn-based tactical combat system is also something we haven't seen for a long time in space 4X games and I think this one has a lot of potential. Emphasis was put on initiative (faster ships move first) which should help mitigate the "who-attacks-first-wins" issue in games with turn-based combat like Master of Orion, for example.
Graphics, music and sounds are only modest at the moment, so, if eye candy and lavish sounds and music is what you're looking for in a game you'll most probably be disappointed. Of course, nothing stops the game from having better aesthetics on release.
As always with alphas, pre-orders and pre-purchasing, if you don't intend to support the devs, and don't plan to participate on the game's evolution process with your feedback, it's probably preferable to wait for a later game stage, beta perhaps, or until the game is officially released. At the moment, while certainly playable, and enjoyable to some extent, Horizon still seems far from a finished product, as not unexpected for an Alpha. However, L3O seems to be heading in the right direction.
Of course, we'll be monitoring Horizon's evolution very closely and we'll let you know as soon as there are major new developments.
\Edit: Regarding stability and bugs, I report no bugs or crashes in the time I played, which was for around 6 hours distributed over 80 or so turns.
Subscribe RSS
24 Comments
Related Articles:
Post category:
Game First Impressions
,
Game Previews