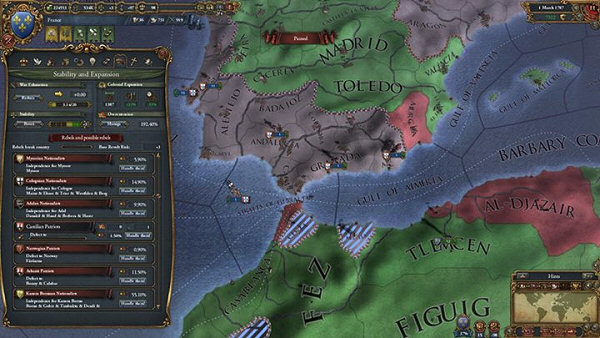 A Europa Universalis IV playable demo is now up on Steam, just a few days before the game's official release. Pre-release demos are, unfortunately, a rare commodity these days. So, it's always nice to see one for EUIV. It could be interpreted as a sign that the developers and the publisher, Paradox Development Studio and Paradox Interactive in this case, are confident about their historical real-time 4X strategy game.
Along with the demo release, Paradox also announced that EUIV will support Steam Workshop and that multiplayer will be cross-platform, which should allow players across Windows, Mac and Linux to play together.
Paradox says that the demo they've just released allows you to play with one of four available nations: Venice, Ottoman, Portugal or Austria. It will last for the 28 in-game years and includes a tutorial. There's no multiplayer and you can't save/load.
Europa Universalis IV will launch officially on August 13th for PC, Mac and Linux, but pre-orders are already open for the brave souls. The rewards for those being the 100 Years War Unit Pack DLC and Purple Phoenix DLC as well as a free copy of Crusader Kings II and a saved game converter to allow you to play CKII saves in Europa Universalis IV.
Expect a review soon, hopefully still in August.
Subscribe RSS
19 Comments
Related Articles:
Post category:
News & Announcements