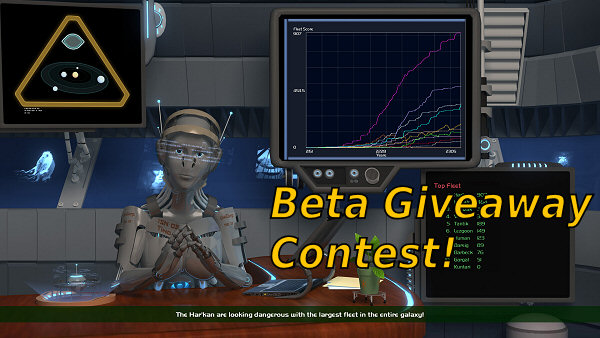 Publisher Iceberg Interactive and developer L3O Interactive send word that Horizon, their latest turn-based space 4X strategy game for the PC has reached the beta milestone. Horizon is in Steam's Early Access program since early July of this year.
"We are very excited with Horizon's development, having moved to the next stage! The feedback from our early adopters has been terrific and while we have integrated many great suggestions already, we want to continue on this path during Beta on Steam's Early Access program. Horizon already offers a compelling 4X experience and we are looking forward to enhancing it further as it continues to evolve with the help of 4x strategy gamers." -Raffi Parsekhian, CEO at L3O Interactive
At the time of my preview, I think the available build (v0.0.2.30) was quite reasonable for what to expect for an alpha version. Incomplete, but already quite playable. But, what makes Horizon different from other space 4X games? Well, there seems to be a storyline element, kind of like a quests system, which is something uncommon in 4X games. There's also an event-driven tech progression system, opposed to all techs known from the start. The turn-based combat system (not seen much these days) has an initiative element (faster ships move first) which should help mitigate the "who-attacks-first-has-the-advantage" issue in games of this type. To know more check out our alpha preview.
5 Steam Keys Giveaway Contest!
To celebrate the beta milestone event, the generous folks of Iceberg have sent us 5 Steam keys for the game, to giveaway to the loyal readers of Space Sector. These keys grant you immediate access to the game at the beta stage now and to the full game later when it's released.
How to enter the contest
It's very simple to participate and have a chance to win one of the 5 Horizon Steam keys. All you have to do is the following two steps:
Follow SpaceSector.com on twitter OR like SpaceSector.com on facebook OR follow us on Google+ OR register the SpaceSector.com newsletter (you are only required to do one of these actions)
Leave a comment in this blog post (below) stating which of the actions above have you done.
Examples of how you should post your comment to become eligible for the contest:
[your twitter id] followed SpaceSector on twitter

OR

[your facebook name] liked SpaceSector on facebook

OR

[your google+ id] followed SpaceSector on google+

OR

Registered the Space Sector newsletter with [your email here]

etc …
If you don't want to specify all that information in the comment, send me an email with the username you used in the comment and the rest of the information, so that I can track you and get you in the contest.
And, that's it, you're in! :)
How and when will the winners be picked
The 5 winners will be picked randomly with the help of random.org on September 30th, 2013 around noon EST. I'll check those to see if they fulfilled the entry steps.
The contest closes on September 29th, 2013 around noon EST. After that point you can no longer enter the contest. I'll signal that by changing the contest status to [CLOSED] in the post's title.
Game prizes will be provided as Steam keys.
Good luck everyone!
Many thanks to Iceberg Interactive for sponsoring this contest, and best of luck to the developers for the beta. If you want to follow the developers' work more closely you can always follow their facebook and twitter feeds.
Subscribe RSS
165 Comments
Related Articles:
Post category:
Contests
,
News & Announcements