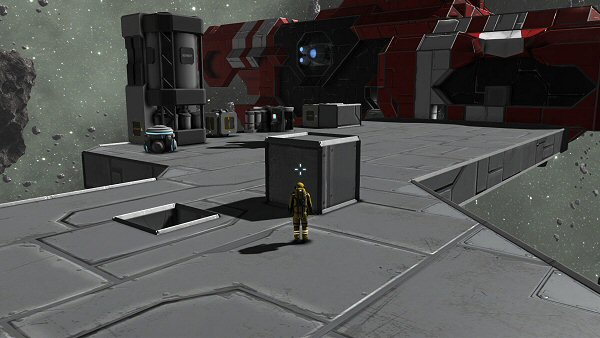 Space Engineers has reached alpha and is now available on Steam, for the PC. The team developing it is Keen Software House, the same developers behind the space shooter Miner Wars 2081. Space Engineers is their latest title and it's a "sandbox game where players build space ships and space stations, pilot ships and perform asteroid mining", says KSH. Or, it will be, when the game is finished.
But, what exactly can you do? At the moment of these impressions (alpha build 01.002.014), you can wander around in space, equipped only with your jetpacked space suit or aboard one of the pre-designed and readily available spaceships. Or, you can decide to build your own. You can build small ships, large ships and space stations. Everything is built using block cubes that you must combine one by one. You can use different colors for your cubes and, well, the rest is up to you. The only thing required is that you equip your vessel with a cockpit, some thrusters, a reactor, a gyroscope, and you've got yourself a flying ship.
So, without pre-established goals, since the game only offers a complete sandbox experience at the moment – which the devs call "Creative Mode" – what should I do? I started by wandering around to have a good feel of the controls and to look around at the rendered universe, which looks quite nice by the way. The asteroids rendering are particular beautiful. But, there's no motion going on, so, everything feels a bit dead.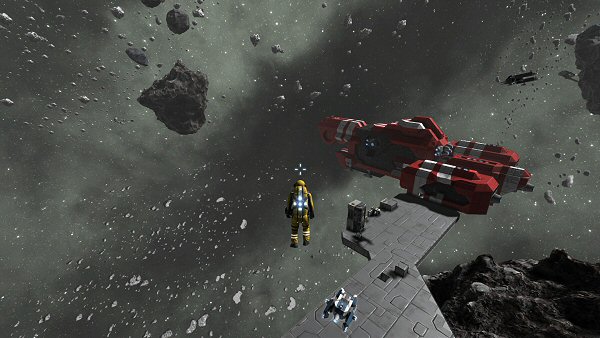 Next, I decided to build a small ship. Hum, what should I design… Well, a Star Wars Y-Wing seemed like a good choice for starters. So, I decided to go with the very familiar Y-shaped ship. I installed a few thrusters, one for each direction, otherwise the ship wouldn't be able to steer that way. I equipped the ship with a couple of gatling guns, however weapons don't fire at the moment, unfortunately. Then I installed a small reactor for power and the engines immediately ignited. I also added a gyroscope for attitude control. And, here's the result: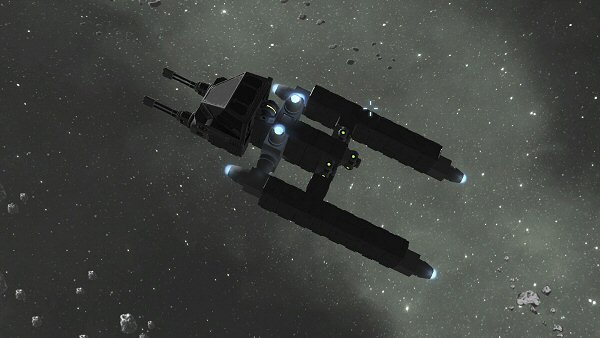 Not bad, I guess :) And it was quite fast to build too. Flew it around, and it was nice for a little while, but since there are no goals or any immediate problems to solve at the moment, I got bored pretty quickly. So, I slammed the ship into the nearest asteroid head on, and the result was a Y-Wing, without a cockpit. Time to try something else. Let's build a capital ship.
Building large ships felt pretty much the same as building small ships (at least in the beginning), but the block size is bigger this time, so that you can build something massive much more quickly. You can create as many walls and corridors as you like and even walk inside your ship like you would in a first-person shooter game. So, I built a large structure, installed the basics, and took control of the big flying, thing.
Let me tell you that something magical happens when you take control of such a large structure. It really makes you feel powerful. And that's something that I think the game captures quite well. But, like in my Y-Wing small experience, the flying was brief and the captain abandoned ship quite fast.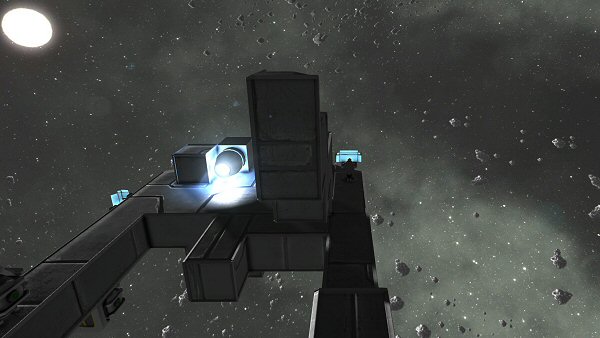 By the way, there's ambiance music but no sound effects just as of yet.
So, you can build ships and stations in this alpha build, but what's next?
In the game's list of features, one can see that the devs plan to inject economy elements in the game at some point, namely mining and manufacturing gameplay. And while they state that "everything in the game is subject to change", there's a drilling/harvesting mechanic planned, a refinery to process the harvested ore, and an assembler to manufacture components after the processed ore.
So, sounds like challenge is on the way. Weapons should be fully functional at some point, and sound effects should be in place. Then, multiplayer is hinted as being a possibility. Some currently inoperative ship components should be made functional, joystick support is also listed and a Survival scenario to make you start from the bare minimum, where you must harvest and build your way through from a humble beginning, is also planned.
Controls and the game's basics are quite easy to pickup. However, sometimes it's not that easy, or shall I say, too comfortable to design your ship since you need to constantly move around your ship in order to give your building orders. That, or I didn't learn too well how to do my layouts in my few hours of play. But, building something basic is quite easy and fast.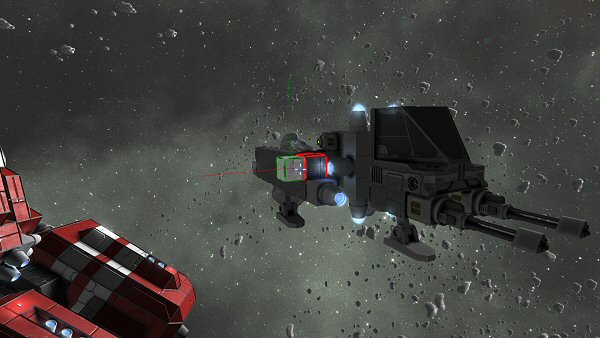 Closing thoughts
Clearly, Space Engineers is still a bit far from being a complete product. I mean, the game engine and the basic building blocks are already there, and you can have some fun wandering around in space and building and smashing ships like you would when playing with lego toys. But, at the moment you feel like you're interacting more with a game framework (an interesting and promising one no doubt), rather than playing a game.
One of my initial doubts about this game was what it was really about. After playing the alpha for a few hours, I would say that Space Engineers, at the moment, feels like an open-world construction simulation game. The thing is that open-ended, or sandbox games, even when not offering immediate objectives – since the idea is for you to create your own – should give you something to figure out and solve. Or, something to manage. And, right now, there isn't much challenge to be found here, if at all, as resources are infinite at the moment, and you can build as much components as you like.
Also, there's no conflict or any kind of competition elements. But, perhaps all that will change in the next iterations and there will be more depth and challenges to keep you engaged. We'll keep following Space Engineers closely and let you know of further developments and milestones.
Subscribe RSS
19 Comments
Related Articles:
Post category:
Game First Impressions
,
Game Previews