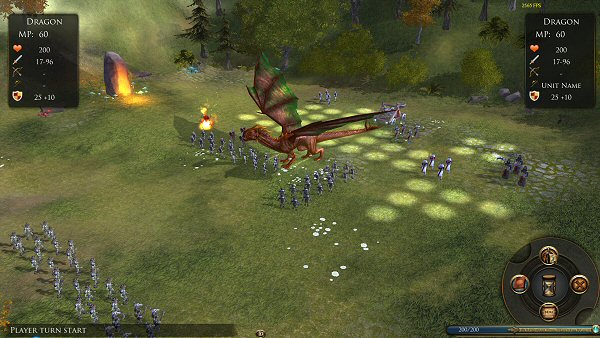 Wastelands Interactive has announced a second Kickstarter for their upcoming title, Worlds of Magic. Back in April, Worlds of Magic was able to exceed its initial goal and received pledges worth £45,593 in their initial campaign. They are now seeking $5,000 in order to improve the visual quality of the game with more art assets. In addition, they hope to increase community involvement in the development process by giving those who missed the first campaign a chance to become a backer.
We don't often see a second campaign for a game that has already been successfully backed, but based on early indications, this campaign is going to easily meet its goal and beyond. In less than a day, it has already soared past the 50% mark and the campaign still has 30 days to go. At this point, if you missed our initial coverage, you might be asking yourself what Worlds of Magic is all about. In short, it's a game which aims to capture the "essence of what made Master of Magic a true classic."
More specifically, here are some of the planned features:

A True Spiritual Successor To Master of Magic
4X Game Play: Explore, Expand, Exploit and Exterminate.
DRM Free
D20 Combat Mechanics
A Fantasy Setting
Discover a new and in-depth magic system!
Huge maps with procedural Generated Terrain
In addition, I found these items to be noteworthy:
Choose from 11 Sorcerer Lords or create your own
8 Playable Factions
Over 300 spells sorted into 12 magic circles
7 planes of existence to explore and conquer
Craft magical artifacts
Worlds of Magic has progressed quite a bit since their initial campaign ran and are offering a playable demo of their alpha battle board this time around. You don't need to be a backer to try it out, so if you're interested in testing it out for yourself, you can visit their Kickstarter page, or their site and click on the download link there.
Over the next couple of weeks, according to the 1st campaign update, the team will be adding more of the actual combat mechanics and will be making interface updates to the battle board. From the sounds of it, they'd love to hear feedback on it as well.
Subscribe RSS
Related Articles:
Post category:
Kickstart