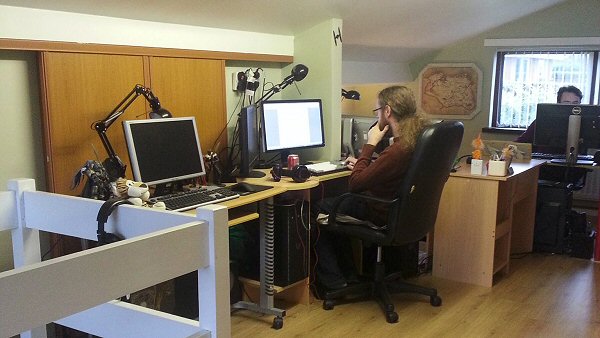 So, some of you may be asking at this point, "How's the Kickstarted turn-based space 4X game Predestination doing?". That's been in my mind for a while now. So, I got in contact with the Brain and Nerd studio, which office can be seen above, for an update. I knew that they have been busy with beta testing, but what's the status on that? How far are they from release? And, what do they have to say about their Kickstarter experience so far? Here's what Brendan Drain, Brain and Nerd CEO, had to say regarding these and other topics.
SS: You currently have Predestination on Steam Greenlight and on GOG's wishlist page hoping to get your game sold there. Have you ever considered teaming with a publisher to help you with the game's distribution, and other duties? And why, or why not?
Brendan: We've actually been approached by an established publisher already, which would likely have let us skip Steam Greenlight entirely, but our plan has always been to self-publish. Predestination is being guided and supported by the gaming community, and we're committed to making sure that there's no outside influence from investors or publishers. Indie games also tend not to make much money with a physical box release, so we'll be producing only a limited number of physical collector's editions and the rest will be delivered by digital distribution. It's our hope that the wider gaming community will help us get onto Steam without the need for a publisher.
SS: In your July update you stated your intention to start a first beta test wave at the end of August 2013, to test the fleet combat system first. How exactly will the beta phase work? What's the status on that? And, who can participate?
Brendan: The current plan is to release the Predestination beta in four stages to gather focused feedback on each area of the game. The first stage was released last month and was a test of the Tactical Fleet Combat system, and we've just released the Planetary Colonisation stage. The next stage will introduce the galaxy-level gameplay and merge all three segments together. We'll then iterate on the combined beta based on player feedback until the game is ready for release.
Right now, the beta is limited to people who backed us on Kickstarter for the beta testing tier or higher, and anyone who signed up to the beta tester list from SpaceSector last year. We may expand this in the future to include all backers or release an early access version in order to get some fresh eyes on the game.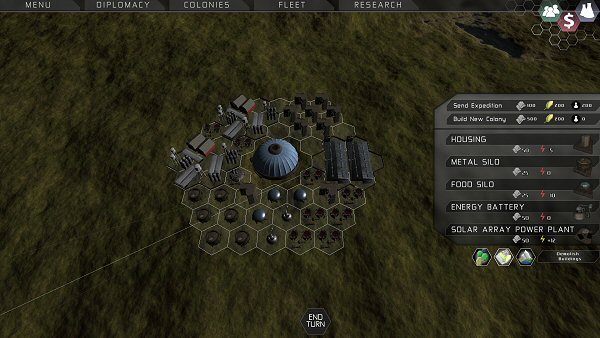 SS: At Kickstarter campaign time you estimated an end of 2013 release. Does that still hold? Or, do you think you'll need more time for the final release? And if so, how much delay do you envisage?
Brendan: We haven't had any major delays yet, but game development isn't an exact science and there is still a lot of work to do. We envision the game being ready for release in the first quarter of 2014, but certain features such as online multiplayer and map design tools may need to come in free patches after release. We're pleased to announce that thanks to a grant from the Arts Council of Northern Ireland, we'll also be able to release a 3D ship designer some time after the game is released. This was going to be our next stretch goal on Kickstarter, so we're very pleased that we'll be able to do it.
SS: You managed to get around $50.000 on Kickstarter (double your goal). So, that sounds like a great result. How would you qualify your Kickstarter experience? And, what advice do you have to other indie developers that may be looking at Kickstarter to get funded?
Brendan: We were absolutely blown away with the response on Kickstarter! Despite doing research on previous successes and failures, launching a Kickstarter campaign is always a huge gamble. We learned a lot of lessons about what works and doesn't work during our campaign, and produced a wrap-up post detailing what went right and wrong with the campaign. The most important lesson is that unless you're already a big name in the games industry, running the Kickstarter campaign will essentially become your full-time job.
The single biggest piece of advice we'd give to other developers would be to build up an audience before launching on Kickstarter and to try to get some media coverage on day one of the campaign. Bringing in your own audience to pledge and getting the word out there early on niche gaming websites and blogs will get you an initial push in pledges. Local Northern Irish supporters and the readers of SpaceSector in particular deserve our thanks for supporting us when the campaign for Predestination launched.
That initial push will get your game into the Most Popular list and people browsing Kickstarter will see it. Just over half the crowdfunding we raised was from people browsing Kickstarter itself, but they would never have seen the game if we didn't have that initial push at the start. It's also very important to interact with your backers on a personal level. Kickstarter isn't just a way to sell pre-orders; your backers are shouldering the financial risk of the project, and it's up to you to convince them your team is worth supporting.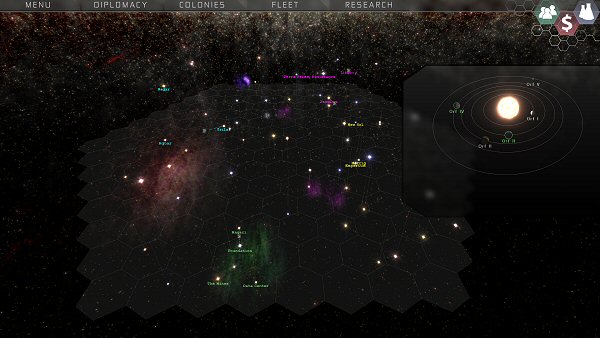 SS: I like what I've seen so far regarding your turn-based fleet combat system. Tell us a bit more about how combat works? Will there be an auto-resolve feature? Some sort of initiative feature to help solve the "who-goes-first" issue perhaps, which tends to give too much advantage to the side which strikes first?
Brendan: Most recent 4X games have had very limited combat systems or even just have combats auto-resolve, so with Predestination we wanted to bring back the tactical elements most of us love from classic games like Master of Orion 2. Combat is turn-based and takes place on a 2D hexagonal grid, and players can design custom ships for it. We'll likely include an auto-resolve feature for those that aren't interested in the combat portion of the game, but we hope the tactical gameplay is interesting enough to keep people's interest.
To solve the first-turn advantage problem most tactical combat systems suffer from, we have an initiative system that makes smaller and faster ships take their turns before larger, slower vessels. The idea is that each side moves its small ships first and works its way up the size categories. Since battles start far enough apart that even the fastest ships on either side can't reach firing range of enemy ships in the first round, neither side has the first-turn advantage.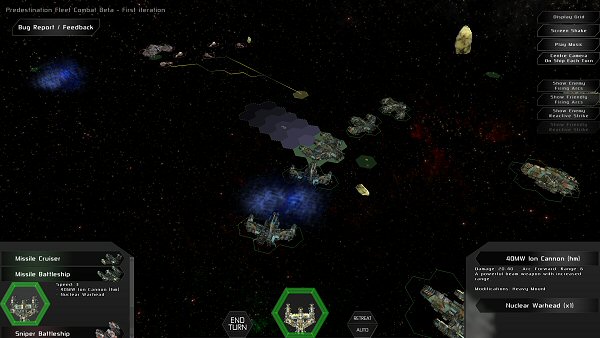 SS: Still on fleet combat, how big can fleets be? And, what sort of constraining mechanism have you devised to keep fleet's size manageable? And, are you worried that the experience of moving so many ships on combat, one by one, can become a boring task after a while? How did you think you've tackled this potential issue?
Brendan: This is a tricky one to answer because we're still discussing how best to achieve this. The current plan is to limit the number and size of warp-capable ships a player can have at any one time so that fleets are kept small and diverse. Planets also have deployable defenses like orbital cannons and starbases that help balance battles in favour of the defender, so it'll require a smaller fleet to defend a system than to successfully attack one. The attacker's best course of action will be to gather all of his forces in one fleet, leaving his own systems less defended.
We're also planning to make most or all ships build quickly if you have the materials stockpiled. This should make losing ships less of a death blow to your empire, as you can have your entire fleet back up and running in a matter of a few turns. If your fleet is wiped out by an enemy fleet employing a particular strategy, you'll be able to design a counter-fleet and get it ready quickly.
SS: At the time of your Kickstarter campaign you stated your intention to release your game only for the PC. Does that still hold, or do you plan to release the game for other platforms (e.g. Linux, Mac) at release time or in the near future?
Brendan: I've actually looked into that a bit more thoroughly since the Kickstarter and found that it's definitely possible to port the game to Mac, Linux and possibly other devices. I can't promise anything at this stage as it will be a lot of work and there are several technical challenges to overcome, but we will definitely look into porting the game to Mac and Linux after release.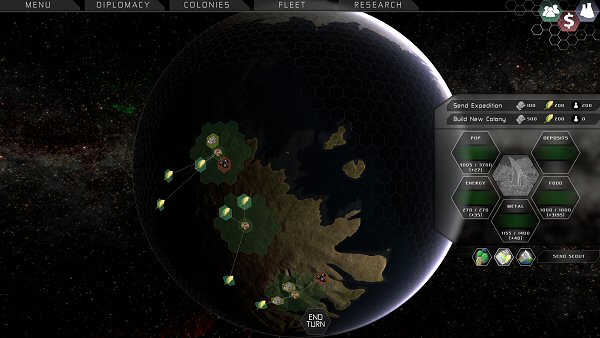 SS: In your June update, you revealed two races: a feline-looking race called the "The Kazzír" and an aquatic race "The Zl'oq". What else can you advance on Predestination's races? Will they be all playable? And, what would you say makes them unique and interesting that makes players want to play them? Will it be possible to create a custom race?
Brendan: There should be 13 playable core races at launch, with six that we've designed and seven more that we'll be working on soon with some of our most generous Kickstarter backers. We hope to also release more as part of DLC packs and expansions in the future, and custom races are definitely on the table! We'll have a similar points-based system to Master of Orion II, and plan to let players add their own artwork and backstories into the game to create a truly unique race. The Predestination storyline involves thousands of ships from countless empires being thrown back in time, so there's always room to add more playable races to the main storyline.
There are four main race archetypes, each with its own preferred environments, unique gameplay elements, and one unique research field.
Humanoid are highly adaptable and can live in all habitable environments. They have a special research tree based around adapting technology to better suit different environments, such as improving solar panels on desert worlds or tapping deep geothermal energy on ice planets. Robotic can only colonise icy tundra and are no affected by morale or disease, but citizens also don't generate any tax. They have no base growth rate, but can build new population in factories. They have a special research tree based on upgrading their citizens, such as removing their reliance on coal as a food source or adding research per unit of population.
Reptilian can only colonise desert environments, and can use their hachery building to decide to breed more workers, scientists or ruling caste members to boost one particular stat of a colony. Their unique research field includes technologies that modify the hatchery. Aquatic can only colonise ocean environments, and have a special reef that they can build on one colony per planet and can can then use as a resource. Their unique tech field will contain upgrades to the reef, improving all planets throughout their empire.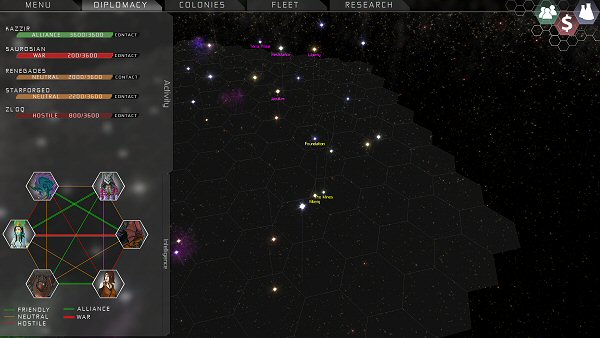 SS: Thank you very much for your time.
Brendan: Thanks so much for your time, and a big thank-you to the SpaceSector community for its support during our Kickstarter campaign. With your help, hopefully we can now get Predestination Greenlit on Steam!
Predestination is a turn-based space 4X strategy game being developed by indie studio Brain and Nerd. It's currently on Beta stage with a tentative release date of Q1 2014. The studio intends to go full indie, so, if you wish to help them out on getting their game up for sale on digital distributors, go and vote for them on Steam Greenlight or on GOG's wishlist page.
Subscribe RSS
21 Comments
Related Articles:
Post category:
Interviews
,
Kickstart