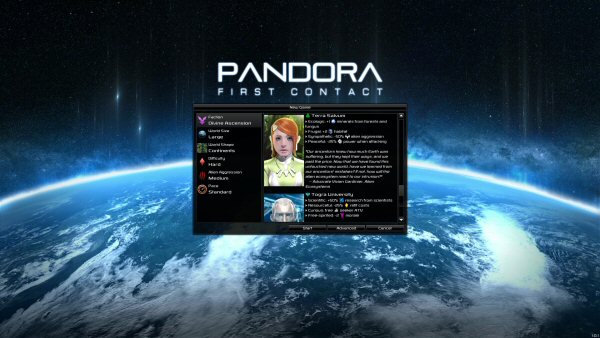 Developer Proxy Studios and publishers Sitherine and Matrix Games, bring us Pandora: First Contact, a turn-based sci-fi 4X strategy game which is highly inspired by Sid Meier's Alpha Centauri (SMAC). Clearly, the devs' idea was to create a spiritual successor to the classic sci-fi 4X game.
Pandora entered beta in the end of 2012. I played the available beta build by February 2013. Here's the early preview I produced back then. Now, almost one year after it entered beta, the game is finally released.
I played two games in the last few days, including a full playthrough which culminated with a science victory. So, I'm ready to tell you my first impressions. The review will follow in the next couple of weeks.
If you never played SMAC, and with Pandora it's no different, the idea is that a group of distinct human factions (seven in SMAC's case and six in Pandora's) each with their own traits and beliefs, representing the typical social archetypes, travel to an Earth-like planet in order to explore and exploit it. Like in Civilization games, you start from a single small city, explore the vicinity, found new cities and exploit resources while you deal with the opposition. The typical 4X formula. But, in Pandora's case, like in Civilization-type games, it's a 4X game of the planetary kind. So, this game isn't about building spaceships and travelling to different star systems, like in Master of Orion, for example. All planning and action takes place in a single planet, Pandora.
First the technical aspects. The UI is superb. Almost perfect I would say. Why? Because I don't have much to say about it. It's like it's not even there, which is what an excellent UI has to be in the end. Not perfect because I find that the diplomacy screen could be a bit more intuitive. Let's say that it's not so immediate to understand what each faction thinks of each other as it could be, nor what the progress indicators (economy, military strength, etc) mean exactly, at least at first glance.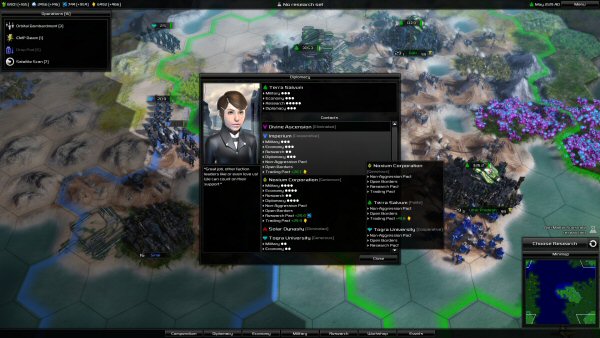 But, I found everything else about the UI to be great. There's plenty of tooltips and the event system handling is sublime, so, you never feel lost. And, what you don't understand directly via the UI you can know more about via the in-game encyclopedia, or compendium. In fact, all that I felt the need to know about could be found either on the UI itself or on the in-game compendium. A note to the devs though, I only found out about the victory progress by accident when I understood that you'd need to hover the mouse on the economic/military/research buttons at the bottom. I think that that information should be inside each respective screen, or you must be more specific about it in the compendium.
Stability is flawless. Zero crashes in a complete game for about what, 10-15h? This should be the norm I know, but unfortunately it isn't. Regarding bugs, I'm not sure. Well, at least I didn't find any glaring ones so far. I got a tech twice in different games without having researched it (the same tech). But, since it had something to do with doing battle with the planet's indigenous life I may have got it directly through the battle itself. So, I'm not sure if it was really a bug or feature. It was weird though. On another occasion I could swear that a public denouncement from a rival faction produced no effect, but I'm not positive on that one either (again, this relates to the less than optimal diplomacy screen). So, overall, stability and software quality seems great.
Regarding performance, it's too soon to tell. My full playthrough was on a medium-sized map, and while performance was great during the entire game, with very quick turns, this could change on large or huge maps. So, I reserve more on performance for the review.
Aesthetically, I have no big complaints to report. The graphics are nice. There could be more animations, but I'm nitpicking I guess. The UI is very slick and clean. Readability is good (by the way, you can change the font from the standard futurist one to a normal or even normal-big if you want). Sounds are basic but get the job done. The music score is average to good, but sublime for a few tracks. Nothing spectacular music-wise I would say, but I never turned it off while playing. Although I did skip a few tracks which I found a bit poorer, and a bit annoying frankly.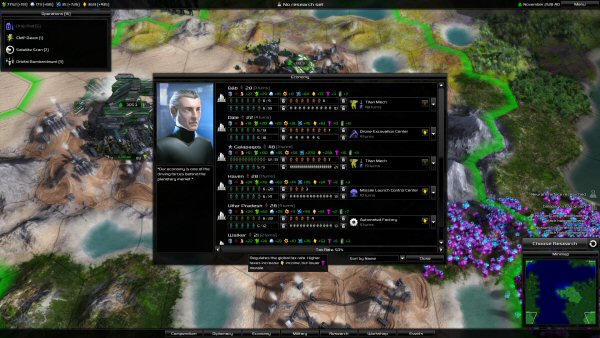 Now, on the gameplay itself. The learning curve is not very high. Though, I was already familiar with the basics as I did play before for the beta, but it was only for a few brief sessions in any case. The tutorial system is simple but quite effective. You get a set of not so intrusive pop-up messages once in a while every time you interact with something for the first time. What I mean is that the messages blend-in very well with the game's flow, so, you actually feel comfortable reading them. And, frankly, you can learn all the game's basics from those. So, you don't really feel the need to read a manual. Actually, the manual, at the moment, is essentially lore, system requirements and some modding tips, but the good news is that you don't really need to read anything else outside the game in order to play.
The game's elements you'll be interacting more, besides the game's map itself, are the city management screen, research screen, diplomacy screen and, possibly to a less degree (depending on if you play more or less peacefully), the workshop, which is where you customize your units.
The game's economy is based on allocating your population to four different types of production: farming, mining, manufacture and research. All four production duties generate pollution, some more than others. Pollution hinders morale and morale affects, well, almost everything. So, you'll want to keep pollution under control and your population as happy as possible. Resources stockpile in a global depot. So, this means that resources are shared by all the cities. This leads to the natural specialization of cities, as, depending on resources nearby, some may specialize in minerals production while others may be more suitable for food production and others can devote their full population to research duties.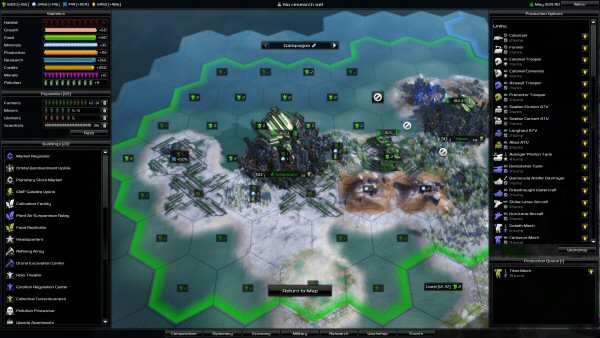 I'm enjoying Pandora's economy system. You can't really say it's that innovative or complex, but I find it elegant. It's still your typical food, minerals, production, research management at the end of the day. But, throughout my entire game I did found myself often thinking what should I build and research next in each city in order to maximize my economy. The game is also micro-friendly, but I only had three cities to manage, so… I reserve more on that for the review.
Research is straightforward. Which is not the same as saying simplistic. Quite the opposite really. It's also random by the way. So, you don't seem to get the same tech tree each time you play. You can also choose how far on the tech tree you're allowed to see at game setup. I haven't toyed with this feature yet, but I found it to be a particularly interesting innovation. In my first playthrough I went with the default setting, which allows you to see two techs ahead. But, I suspect that seeing only one tech ahead can lead to a very different experience than from say, seeing three, all of them or none at all, since having more or less visibility on the tech tree can definitely have a big impact on your strategy. Combined with the random tech tree I think this tech visibility feature should allow for some nice replayability.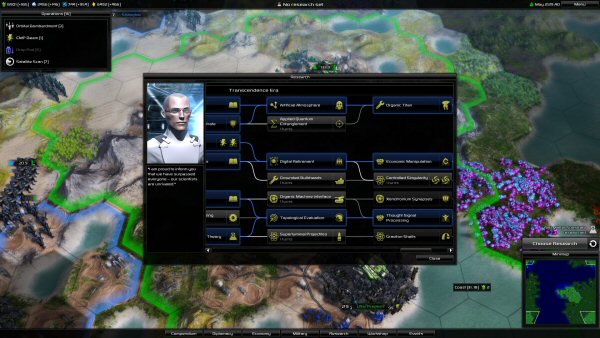 There's also a lot of techs to research. And I mean a lot. So many in fact that in my playthrough (medium-sized map against 5 factions) I only cared for about perhaps 50-75% of all the techs I researched. Now, don't get me wrong, it's not like they're not meaningful techs, but in my game (hard difficulty with indigenous life aggression set to medium) I felt that I won the game at about half the time it was required for me to win. I went for a science victory, which requires that you research 75% of the entire tech tree. But, on the last quarter of the game I was just hitting end turn, turn after turn, going after every tech just to get to see the victory screen. Also, the tech trees don't seem to make much sense. I mean, the techs themselves are interesting and are self explanatory enough, but the links between them are loosely coupled, at best.
Warfare is enjoyable. Units can stack. Terrain is a factor giving different bonus or malus depending on the type of unit. You can customize your units with different weapons, armor and devices for extra modifiers. There's plenty of modifications that you can unlock via research and I feel that I've just scratched the surface regarding combat. The reason for that is that I chose to play (very) peacefully in my first game. So, I chose the race which gets a combat strength malus but more morale and better relations with the indigenous species. And, it worked quite well. On my second game however, I chose a more middle ground approach and found that there's quite a lot of strategy involved in the way you can customize your units. The terrain is also an important factor, so, you can't neglect your tactics either.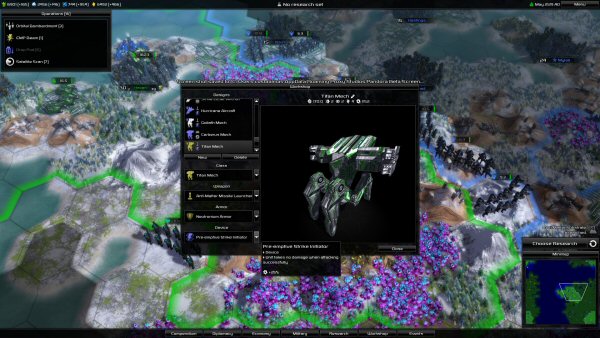 Now, on immersion and fun. I think the devs did a great job in successfully transporting you to another world, which can feel familiar (since it's Earth-like after all) but still look alien enough. The flora and fauna are diverse and interesting to watch and discover. The hints to a long gone highly advanced civilization is another interesting element, especially for the exploration part.
So, what I mean is that you do feel immersed in the game to a fair extent. The nice graphics, voice-overs, research quotes, and the diplomacy lines – different from faction to faction – all add up to create an interesting atmosphere which in a way, and it's been a while, reminds me of SMAC's own atmosphere, perhaps one of the most memorable aspects of that sci-fi classic. So, there's some soul to be found here, no doubt. However, I feel that better music tracks, a few more animations, a more exciting art set for the factions portraits and advisors can go a long way in injecting more life and even more immersion into this game.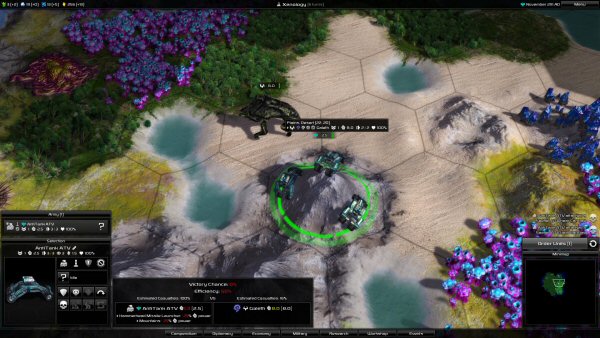 In conclusion, I had fun in my first full game of Pandora: First Contact. The type of fun that almost made me forget that I was reviewing a game. A feeling which does not happen as often as you might think. My game did suffer a bit from late game boredom. A curse in most 4X games. And, some times, I did feel the need to have a bit more to do and to feel more challenge. After all, I was playing in the Hard difficulty (level 4 of 5) and won on my first attempt. Of course, multiplayer can be a very different story. At least there's tension throughout most of the game, as you actually don't know when the indigenous life will strike you, which leads to a nice meta-game of trying to figure out what exactly pisses them off or not.
So, it was a very interesting first experience, for the most part. I'm not sure yet how well the game will scale in terms of difficulty increase and map size. I'll try it in Very Hard with more alien aggression next time, and on bigger maps. But, while I still need to play much more to properly assess balance, AI strength, challenge and replayability, at this point I would say that if you're a Sid Meier's Alpha Centauri fan or like Civilization games in general, you should probably enjoy playing Pandora, like I did.
The review should be up in the next couple of weeks.
Pandora: First Contact is available on the Matrix Games store and Slitherine store for $29.99/€23.99 (plus VAT depending on where you are).
Subscribe RSS
31 Comments
Related Articles:
Post category:
Game First Impressions
,
Game Previews