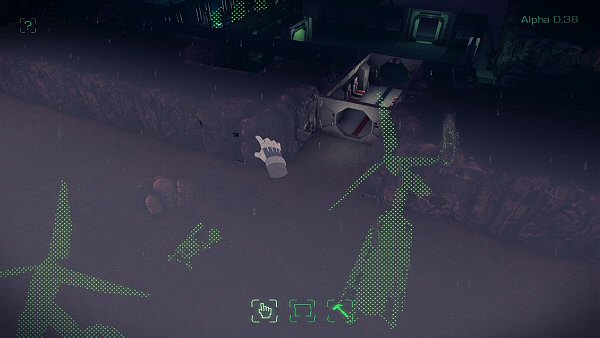 It's certainly been a long time since we've mentioned Maia, an upcoming space colonization game that takes inspiration from Dungeon Keeper, Theme Hospital, and the Sims. It has been just over a year since Maia reached not only its funding goal, but also a few of its stretch goals. On Tuesday, Maia was made available on Steam as an early access title. If you're interested in Maia, you may also be interested to know that it is available for 25% off until December 10th as part of a special promotion.
While Maia isn't a game I've talked about before, it's a game that has been on my radar for a while. Over the past month or so, I've been able to experience and explore Maia as it has evolved from version 0.35 to the 0.38 version available at launch on Steam. I played every major release between then and now, and in all honesty had hoped to put a piece together prior to the Steam Early Access launch. There are always several factors involved, time, other projects, holidays, etc. that influence the timing and topics I cover, but ultimately the reason I didn't write a piece on Maia earlier is that the game just didn't feel complete enough to discuss.
Now that Maia is available on Steam, and some of you may be pondering what it actually includes at this point before spending your money on it, I need to be very upfront and say that Maia isn't going to hold your attention for very long in its current state. There just is very little game to be played right now. In fact, I can lay out most of the possibilities in a paragraph.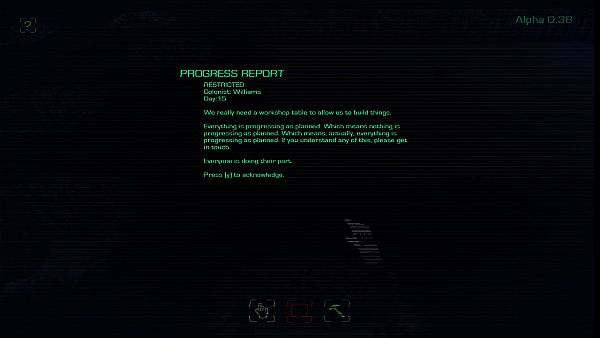 So what can you do? Well, you can order your IMP robot to dig out rock to make room for your expansion. You can build rooms out of a selection of less than 10 types. You can then place objects in those rooms, with each room having at least 1, but sometimes several, unique object construction choices. You can also build objects outside of your rooms, and there are also a few outdoor objects like a Solar Still, Solar Panels, and a Wind Turbine. Object selection overall is limited, and often times your AI NPCs won't build objects even though they have already constructed the workshop's workbench and other tools necessary to do so. The green dots marking the location of the objects just stare back at you, untouched. I tried waiting for a while to see if they would eventually do so, and left the game running for a few minutes, but I returned not to find my objects built but to instead find the game had crashed on me while I was away.
Obviously, Maia is still a potential diamond in the rough and it would be unfair to judge it at such an early stage. They don't call it Early Access for no reason, and Maia's developers even state on the Steam page that "The game is still very deep in development, so many things might be broken". The UI is still a bit rough, as are the controls, but this is to be expected in an alpha. What Maia does have already is an ambitious design, strong setting, and an interesting premise. These are elements that Maia can build on to become a very entertaining and enjoyable game once completed. One early example is the detail given to the NPCs, each of which can be followed, and each of which has rather detailed information available to you about their current status like their Perspiration, Ventilation, Skin Temperature, and Electrocardiogram information. I imagine in the future these will have more of an impact, but right now the colonists are unreliable and incredibly lazy, so it's hard to care a lot about them or their needs. The colonists do occasionally provide you with a log update on how they are feeling, but as of now it doesn't seem to all that helpful. What is apparent in these log updates, the tutorial text, and in item descriptions like "Bum support", is that Maia clearly isn't a game that will be taking itself too seriously.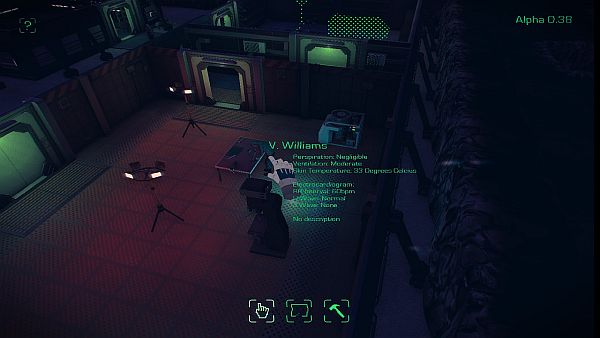 Other future updates call for disasters, aliens or some lifeforms to deal with, colonist mental health issues, "cats with bee suits", and "Genetically engineered super chickens". To be fair to Maia, chickens are in the game already as is a special room dedicated to the procreation of baby chickens. If Maia has been on your wishlist and you are willing to chip in now to save a few dollars, you may want to do so before December 10th. If you're on a limited budget, looking for a guarantee that it will be an enjoyable game, or you're expecting an immediate return on your investment, Maia in my opinion just isn't far enough in development at this point for you.
Subscribe RSS
15 Comments
Related Articles:
Post category:
Game First Impressions
,
Kickstart
,
News & Announcements