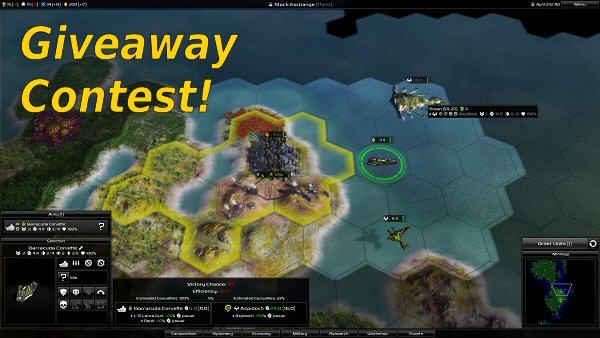 Planetary sci-fi 4X strategy games aren't released often. Heck, if my memory serves me well you need to go back to 1999 to find the last one, when Firaxis Games released Sid Meier's Alpha Centauri, one of the best sci-fi strategy games of all time, if not the best.
Pandora: First Contact follows on the footsteps of SMAC, and while I think they did a great job so far, I also think they still have a lot of work ahead to reach the level of Firaxis' sci-fi title. But, they're definitely on the right track, and their game is already very solid and good fun. But you can know more about Pandora in my review.
So, I thought, "What better way to commemorate the holiday season than with a giveaway"? Well, at least in many parts of the world it is the holiday season. The good folks of Matrix Games and Slitherine agreed in offering 5 games to the SpaceSector's loyal readership.
So, what do you need to do?
How to enter the contest
It's very simple to participate and have a chance to win one of the 5 Pandora: First Contact game copies. All you have to do is the following two steps:
Follow SpaceSector.com on twitter OR follow SpaceSector.com on facebook OR follow us on Google+ OR register the SpaceSector.com newsletter (you are only required to do one of these actions)
Leave a comment in this blog post (below) stating which of the actions above have you done.
Note: If you already follow us in some way just say which in your entry comment.
Examples of how you should post your comment to become eligible for the contest:
[your twitter id] follows SpaceSector on twitter

OR

[your facebook name] follows SpaceSector on facebook

OR

[your google+ id] follows SpaceSector on google+

OR

Registered the Space Sector newsletter with [your email here]

etc …
If you don't want to specify all that information in the comment (like your social media ID or email), send me an email with the username you used in the comment and the rest of the information, so that I can track you and get you in the contest.
And, that's it, you're in! :)
How and when will the winners be picked
The 5 winners will be picked randomly with the help of random.org on December 26th, 2013 around noon EST. I'll check those to see if they fulfilled the entry steps.
The contest closes on December 25th, 2013 around noon EST. After that point you can no longer enter the contest. I'll signal that by changing the contest status to [CLOSED] in the post's title.
Game prizes will be provided via full value coupons with all relevant instructions to download the game from the Matrix Games' website.
Good luck everyone!
Many thanks to Matrix Games and Slitherine for sponsoring this contest. If you want to follow the developers' work (Proxy Studios) more closely you can always follow their facebook and twitter feeds.
Subscribe RSS
225 Comments
Related Articles:
Post category:
Contests