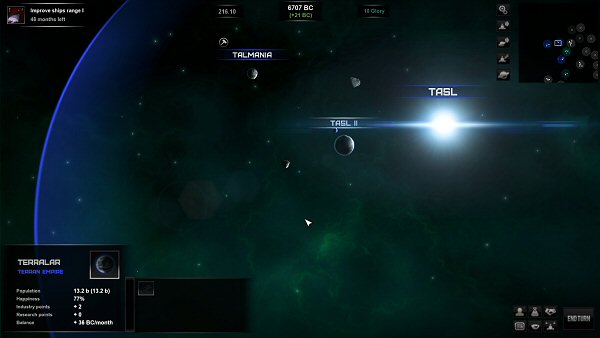 Star Lords, a turn-based space 4X strategy game currently under development by Arkavi Studios, is now available as "Alpha" on Steam Early Access for anyone willing to enter into the game early and contribute with feedback for overall game improvement.
I had a look at the game about a year ago. By the time I thought that the game definitely had potential, so I included it in our "Sci-Fi/Space Games You Can't Miss in 2013" list. A more simple approach, which is not necessarily a bad thing. A very playable but still very unpolished game. I definitely felt a good vibe from classic 4X titles, chiefly from its interesting turn-based tactical combat system, a rare feature to find these days.
Regarding past backers, Arkavi Studios says in their forums that "all the (Steam) keys have been sent" to all Early Backers, and that if you pre-ordered the game in the past and didn't get yours you just need to shoot them an email.
Expect a first impressions piece on this Steam's alpha build soon. Now, the Early Access teaser trailer.
Here's the first trailer, which shows off a few bits of the gameplay.
Star Lords "Alpha" (game not finished yet) is available early for the PC on Steam's Early Access Program for $19.99/€18.99/£14.99. Remember that this is still a work in progress game, so you may want to have a look at the game's forums on Steam to check what other people are saying about the game's current state. For more information check out the Star Lords official website.
Subscribe RSS
10 Comments
Related Articles:
Post category:
News & Announcements