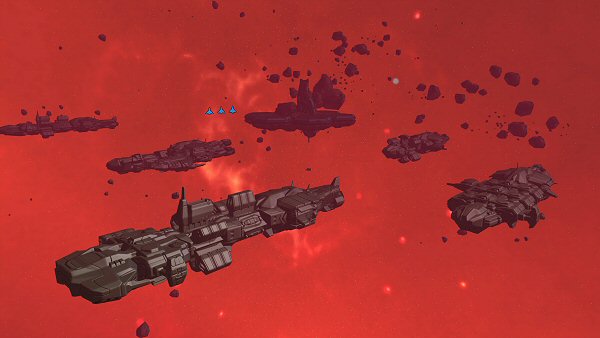 It's been a while since we wrote about Deep Space Settlement, an indie space 4X/RTS game that has been in the works for the past three years. I discovered the project almost two years ago and back then I wrote a stellar indie venture piece. Since then, Stéphanie Rancourt, the programmer, and Mathias, the artist have been pumping new shots and videos in their website showing their progress once in a while.
Here's their two latest videos. The first video shows ships circulating around in 3D space with some zooming in and out, some ship close ups and a few glimpses on the UI.
The second (older) video shows an implementation of space fog (fine grains of dirt, I guess) and an asteroid field.
There's no recent video showing off the empire-building aspects of the game. So, for now what they have to show from their recent work is mostly focused on ships. But, this is of no surprise, I think, as ships do seem to be the game's main focus anyway. The list of features does include empire-building features such as trade, technologies unlocking and resource gathering but this seems to be a game much more about managing fleets from big capital ships to smaller support ships, and space stations, apparently.
The devs also promise single-player, multiplayer and high moddability.
We'll continue following Stéphanie's and Mathias' journey and let you know when there's further progress.
There's no pre-orders available and no indication of when the game will be released at this time. For the time being you can donate in their website to help with the development. If you want more frequent updates you can always follow the devs' progress by following their programming (Stéphanie) and art (Mathias) twitter feeds.
Subscribe RSS
29 Comments
Related Articles:
Post category:
News & Announcements
,
Stellar Indie Venture
,
Videos