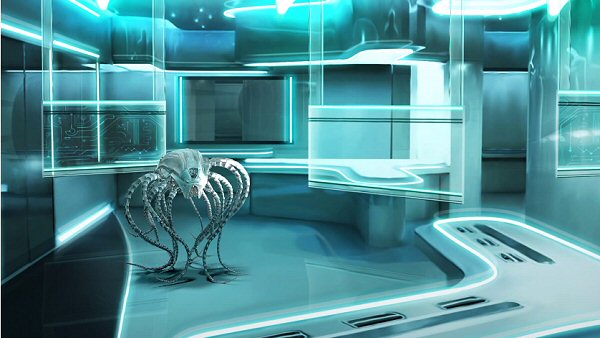 M.O.R.E. (for military, organization, research, economy) is another space 4X game that Kickstarted roughly a year ago. About one year and two months to be more precise. Promised main features include turn-based gameplay, a 3D galaxy map, 3D space battles, 20 playable races, ship design, single-player, multiplayer, among many other things.
So, what have the IdeaLcenter guys been up to lately? Where are they in terms of development?
From what I understand they are somewhere in pre-alpha stage, with what seems to be a long road ahead still. But what about concrete progress, screenshots or videos showing off gameplay? Well, look by yourself.
There's definitely something cooking in there. The races look interesting and the features list is quite impressive. A bold plan indeed. But, how good of a game it will be in the end it's definitely too soon to tell. They're aiming for a 2014 release, but with such an apparent gigantic scope in mind, will they make it?
Here's a short interview we did with Marcin Bednarski, MORE's lead designer, about their release plan, pre-orders and expected DLCs.
SS: What's you current estimate to reach Alpha and give Alpha instance access to people who pre-order the Platinium Digital Version?
Marcin: As always, all things take longer than we expect them to take, so our dates have unfortunately moved forward too. We want to send a first partly playable pre-alpha to our backers at the beginning of March. Alpha should be available around end of March/April 2014.
SS: What's your current estimate to reach Beta?
Marcin: At now, we hope to release beta around May/June 2014.
SS: According to your website, your current estimate points to a June 2014 release. Will this release support Windows, Linux and Mac?
Marcin: We think that our final release will be again moved forward in time… but we want to create another stage – we call it "Gamma" ;) It's a stage where all Kickstarter Backers, and other players which bought or will buy the game key will gain full access to it. M.O.R.E. will have all the functionality by then, but there still can be some minor gameplay bugs. In this stage we also want to improve the AI. So I think that, the "Gamma" release will occur somewhere around July/August. And our final release will be… when we will be ready for it :) As you can see in our video, the quality of our product is of great value for us. We are indie but we aim for the highest quality and gameplay.
We also want to release WIN/MAC/LINUX versions at the same time. Right now we've already conducted successfully testing of the MAC version. Linux tests are planned for this month. Our ALPHA/BETA/GAMMA releases may be different for all those operating systems, but we do our best to release for all at once. Our final release will be for all 3 operating systems at the same time.
SS: The "Digital Version" pre-order costs $15. How much can people expect to save by pre-ordering now vs buying the final game on release? Do you have a final price set already?
Marcin: Yes, we have a price set. Right now the basic version costs $15. After ALPHA release it will be $20. After BETA release $25. From GAMMA/FULL version release our price should be located at $30. So right now you can buy our game with a 50% discount of its final price.
SS: About the DLCs. How many are already planned and what kind of content can people expect to get from those?
Marcin: We've planned 6 DLCs, no more, no less. We want to create a vast universe around our game and add more functionality to it.
Additionally, right now we are offering a gold digital pack for $70, which is a great option for people who appreciate our work. With this pack you will get a game key, access to the BETA stage and all future DLCs for M.O.R.E., for free. So it's a very tempting offer, especially that this option will also be more expensive while our game hits the next game release stages.
SS: You mention No-DRM. Do you exclude a Steam release? Are you planning to self-publish, or to seek out an agreement with a publisher to help you distribute your game?
Marcin: We are thinking about publishing on Steam too, but that will be determined in the future. For us our priority is to sell the game in our website. We've already talked with 3 publishers companies, which are interested in selling MORE but for now we don't have any agreement with anyone.
SS: Thanks for your time.
M.O.R.E. is a turn-based space 4X strategy game that is being developed by indie studio ideaLcenter for Windows, Mac and Linux. It's currently on pre-alpha stage and is expected to release somewhere in 2014. The studio is already selling (non-instant access) pre-orders starting at $15. More here.
Subscribe RSS
43 Comments
Related Articles:
Post category:
Interviews
,
News & Announcements
,
Videos