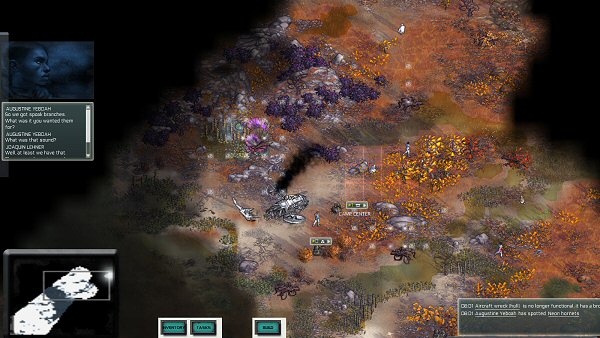 If you've been waiting patiently, or perhaps very patiently, for news and new footage from Refactored Games' Unclaimed World, your patience is finally being rewarded. Refactored Games has just posted their first gameplay trailer for Unclaimed World: "The Lost Explorers".
Unclaimed World is a sci-fi colony simulation game which aims to weave a tale about mankind's first interstellar colonization attempts. It seems an asteroid has caused massive casualties on Earth, and in an effort to save mankind, the nations of Earth have decided to build a starship unlike anything ever seen before. 2100 humans are selected and launched on a one way trip into the stars towards a potentially suitable new homeworld in the Tau Ceti system. While this is the background for the entire game, the plan is to release this game in episodes.
The current trailer is for "The Lost Explorers", which is episode 1. A fitting title, as this first episode will primarily involve a group of scientists fighting to survive after being separated from their fellow space colonists. Each new episode plans to add new gameplay elements and continue a story that will involve many years and numerous continents on the planet.
It's clearly a science fiction tale, but in many ways, the back story itself is not all that far removed from reality. Flip your calendars back little more than a year, and you'll find an intriguing National Geographic documentary called Evacuate Earth which describes a very similar fictional situation. While I love fantasy and futuristic science fiction, I'm also very interested in near future scenarios. I find the thought of humans, humans much like ourselves when it comes to technology and education level, being tasked with a mission into the unknown to be a little scary, but ultimately very exciting.
While an immersive story and environment are certainly a great start, when it comes to the strategy and simulation games that I love, what's even more important to me are the mechanics. While I've not had a chance yet to play it firsthand, the descriptions available and the initial trailer point to the presence of some in-depth simulation mechanics. It seems we will be exploring, gathering, hunting, cooking, researching, and constructing our own camps, defensive structures, and tools. This would probably be fairly easy, were it not for the presence of alien life forms to deal with, as well as issues like weather, exhaustion, injuries, and disease. It sounds like a lot of aspects have been considered, and I'll be interested to see how well these features have been implemented.
One thing Refactored Games is certainly doing right is that they will be releasing a free public demo of Episode 1 in the not so distant future. This means that although I will certainly be providing you with my opinion on it, you won't have to take my word for it. You'll be able to take it out for a spin yourself when the time comes. If you like what you've seen so far, Unclaimed World is currently entered in Steam's Greenlight system and would certainly appreciate your vote.
Subscribe RSS
12 Comments
Related Articles:
Post category:
News & Announcements
,
Videos