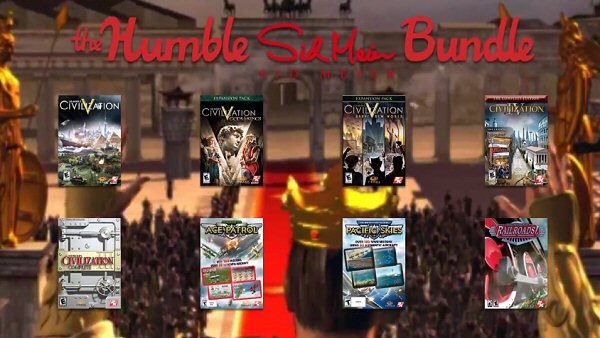 Hey, how long has it been since you last fired Civilization 4? Or Civilization 3? Or perhaps you never played these and only started in the 5th Civ iteration? Or, perhaps you never played a Civ game in your entire life?! What? :)
Well, 2K, Firaxis and Sid have teamed up with Humble Bundle and are now selling what they call the Humble Sid Meier Bundle. In this "pay what you want and help charity" type of bundle you can find Sid Meier's Civilization 3: Complete, Sid Meier's Civilization 4: The Complete Edition (!!), Sid Meier's Ace Patrol (the latest Sid strategy game with WWI planes), Sid Meier's Ace Patrol: Pacific Skies and Sid Meier's Railroads! starting at $1. Let me write it again. $1 to get all these games! Of course, you can pay more and help charity.
In addition to the base tier, the bundle has Civilization 5 and Civilization 5: Gods & Kings (1st expansion) for the average people bought them for ($8.22 at the time of this writing) and for $15 you complete the Civilization 5 experience with Civilization 5: Brave New World. And, you can tweak where the money goes too, more 2K, more charity or more to the Humble Bundle store.
I didn't fire Civilization 4 in a while and just watching the intro and listening to Christopher Tin's Baba Yetu soundtrack was enough to bring tears to my eyes. Civilization 4 with all expansions is, in my opinion, the best strategy video game experience ever produced, and I want to take this opportunity to personally thank everybody who was behind the creation of this game, especially Sid Meier and Soren Johnson, the mentor and leader designer of this work of art.
Subscribe RSS
27 Comments
Related Articles:
Post category:
News & Announcements