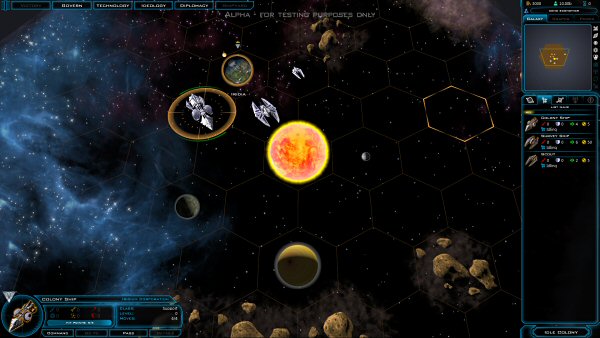 So, this means that Stardock expects to release the 3rd installment to its Galactic Civilizations' space 4X series around March/April 2015. Or somewhere around that. In the meantime, they're now selling their early alpha build of the game via Stardock's store and Steam Early Access for $99.99, €92.99, £75.99. What they call, the Founder's Elite Edition.
This Founder's Elite Edition grants early access to the current work in progress build and "a lifetime subscription to all GalCiv III DLC and expansion packs". It also grants a few additional perks, like "suggest a star name", "get special thanks credit", "access to exclusive content (e.g. art, music)" and a "forum badge".
"What's the current state of the game?", you may be asking. Well, I guess I will let Stardock's CEO say it by himself when he announced what this Alpha would be about.
Do not play the alpha expecting to have a fun game (though, ironically, the 1 on 1 multiplayer might have some bit of fun based on the playtesting I've seen). But do play it with an open mind to see what things you like, how well it works on your box, what things you think should be changed and share those things with us after giving your own concepts serious consideration. […] You should NOT join the Founder's program if your goal is to play a video game for fun early. That is not the purpose of the Founder's program. –Brad Wardel, Stardock CEO (under the name frogboy, or draginol on other occasions)
"So, what is the purpose of this Founder's Early Access program then?", you may also be asking.
We're over a year away from release. The opportunity here is to see how well the game runs for people but also to hear what long time GalCiv players think of different parts of the game. […] The $99 isn't for alpha access. The $99 is basically pre-ordering GalCiv III + all expansions and DLCs and one of the features is getting early access to GalCiv III.
And speaking of future expansions and DLCs this is what Stardock's current release plan looks like.
This is, by no means, set in stone but only our current plan:

When GalCiv III is finished (next year) its list price will be $49.95.

We expect to release new DLC for it every month for the first couple months and then once a quarter there after. Each DLC will likely be priced at $4.99. I'd expect there to be around 5 DLC released per year.

We also expect to release approximately 3 or 4 major expansions over the next several years for it. This is the main reason we went with 64-bit with GalCiv III — we can keep enhancing it and improving it for many years because the underlying tech should be expandable for a long time. Those expansions will probably be $20 each.

The lifecycle of GalCiv III should be approximately 7 years (GalCiv II was released in 2006 and its lifecycle was about 4 years, we couldn't do more with it because we ran up against the 2GB 32bit game memory limit).

So basically 7 years of expansions and DLC.
I toyed with the alpha build for a couple of hours, and frankly I feel that it's too soon to make any kind of judgement on what I see. I have the impression that everything is still very much in a state of flux right now. Sure you can play with 4 of the 8 planned races (Terran, Drengin, Altarian and a new faction called Iridium), construct buildings, colonize planets, build some star ships, choose between some technologies, explore around and do some occasional fights, although only in simple quick battles. But, everything feels and seems to be very basic and incomplete.
The single major novelty I think I found so far was a new game system called "Ideology", where you can choose between adopting a benevolent, merciless, or pragmatic approach for your empire according to how you approach galactic events, which unlock bonuses along each path you choose, but not all the ideology options are available as of yet.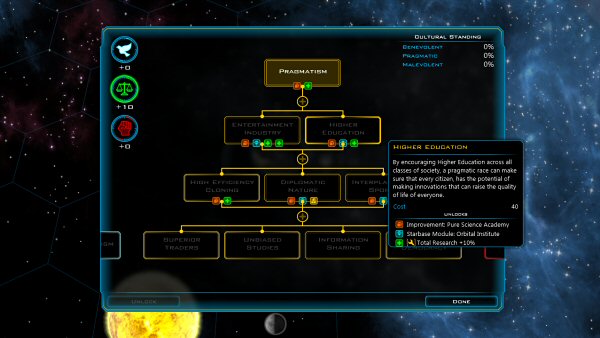 So, a lot of features are still not in the game. So, this isn't a "true" alpha in the traditional sense of the word, where it's expected for all of the main features to be in. No. Major features like the full technology tree, the space combat system, diplomacy, ship design, strategic resources management, other victory conditions than conquest and the announced story-based campaign aren't in yet.
An example of why I'm saying it's too premature to make any impressions on the game is that the UI and graphics have a very strong resemblance with Galactic Civilizations 2, the previous installment, but with hexagons instead of squares now. So, I suspect that they may be using GalCiv2 placeholder art? So, they'll probably be overhauling the game a lot in the coming months, both gameplay and content-wise. And so, I see little point in writing long impressions of something that will most probably be totally obsolete in a couple of weeks. As far as I know, the alpha is so preliminary that they may even decide to give up on the hexes entirely and return to squares again, and that probably the content I'm seeing now is totally made up of placeholder art. Who knows.
At some point, no official time frame set but Brad talks that probably this Summer, they plan to replace this Founder's Edition with a much cheaper Beta pre-order option, which only includes the game with a discount. The final game will be $49.99 and is expected to release a year from now, which should translate in about mid-2015, for the Windows PC (64bits).
To not leave you totally in the dark here, find some screenshots I took of the Alpha build below. And, have a look at the following Alpha gameplay video published by Stardock.
Subscribe RSS
120 Comments
Related Articles:
Post category:
News & Announcements
,
Videos