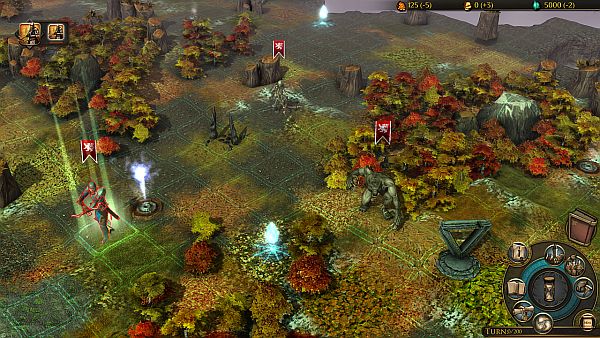 Welcome to part two of our two-part community interview with the team behind the upcoming fantasy 4X strategy game, Worlds of Magic. We hope you've enjoyed the interview thus far, but we aren't done yet. You've gotten answers regarding quite a few of your questions in part one, but there were still some left unanswered… until now. Here are the remainder of your questions, as well as a few of our own. Answers once again were kindly provided by Worlds of Magic team members Aaron Ethridge and Leszek Lisowski.
SQW: How did you decide what to do when faced with the option of including a new, untested but potentially refreshing feature or sticking with the old mechanics in a game that began effectively a fan-service project – all the while knowing that half of the rabid fans are simply screaming for a graphic update of the original while the other half would call you out for not innovating enough?
Aaron: In the main we've discussed these situations with our community. You're right is saying that about half the fan base (which is, in reality, mainly a MoM fan base at the moment) wants what amounts to MoM in a new engine, while the other half wants something more akin to what MoM 2 might be if it were made today. What we've attempted to do (with a great deal of success) is pull the two groups together and work toward a middle ground by ensuring that new features are very MoMesk. Obviously we want to go beyond MoM. If that wasn't the case there wouldn't be any reason to make a new game. MoM wasn't about graphics. It was and is a great game. However, we want to build on the conceptual foundation it laid and go beyond it. To do that we've introduced new features that fit the theme and we've kept the community in the loop to make sure we stay on the right track.
Zigzag: How has the availability of sophisticated, third-party game engines, i.e., Unity, affected development?
Aaron: It has certainly speed development along. Unity is like a toolbox for making games. I'm not sure the project would have been feasible before Unity simply because of the development cost of coding an engine from scratch (or purchasing a much more expensive one). Unity allowed us to put together some proof-of-concept game play and reach out to the community using that. Unity is amazing and I highly recommend it to anyone who is toying with the idea of making their own games.
Leszek: I just need to say that there are some cons of using Unity. We need to adapt our design to Unity from time to time. Most probably creating custom engine would allow us to make some of the things in a more efficient way. But in the long run it is certainly a great advantage to use it.
Keith: Why was a grid map chosen as opposed to a hex based map?
Aaron: One of the reasons is that I personally reject the idea that a hex based map is "better" than a grid. Each have their strengths and weaknesses. I was unmoved by the fact that many modern games have decided to go with a hex based system. WoM is meant to be a spiritual successor to MoM. Whenever possible we stick to features that will give MoM players nostalgic feelings. A grid based battle map is very MoMesk and doesn't hurt the game play at all. So, we made the decision to keep it "the way MoM did it" simply because we didn't see any need to use hexes.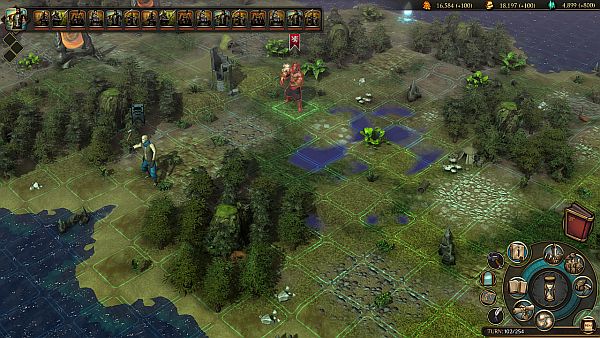 dweller_below: Will some races be weaker or stronger than others? Will some races have significant advantages or disadvantages, like flying or regenerating units?
Aaron: Some race may be slightly weaker or stronger than average. However, our goal is to have the initial races be as balanced as possible. Military balance isn't as great a concern for WoM as it is for some games (Warcraft for instance) because you can rule over a number of races at the same time. So, you can literally build armies out of the best each race has to offer. Some races do have significant advantages (all Draconians can fly, for instance) and in time we plan to add more races with even more special advantages. Still, at the end of the day we're aiming at balance. We're just focusing on fun more than balance. As a result certain races may have a slight edge. Of course, that really depends on your point of view.
Leszek: Of course you have to remember that units in different races are not only reskinned Spearmans and Swordsmans. There will be a wide diversity of those units, their attributes and abilities. Some of the races might be better for specific playstyle than the others.
UncaJoe: The thing I most appreciate about MoM and MoO(I & II), is their simplicity. Buildings, troops, spells, etc. have a simple, direct path to get to them. Most developers now seek to "improve" older game by adding layers, and layers, and layers of stuff to add and research. Somehow, for me, gameplay and fun get lost in the shuffle. How complex are research and development in Worlds of Magic?
Aaron: This is one area where we certainly tried to maintain the MoM-like simplicity. To train units you have a number of building prerequisites and most buildings also have prerequisites in a very MoMesk fashion. At character creation you choose how many tiers you have in the different spell circles. Those selections define your potential spell list from which you pick the spell you are currently researching. In my opinion we've been able to keep it very simple, while at the same time offering an interesting level of depth. Again, there is a lot of information about it already in our wiki.
Tubifix, Keith Turner: How much freedom will players have when it comes to creating interesting unit and spell combinations? Will many of the spell effects and abilities offer unique mechanics, or will we see a lot of incremental increases with things like minor damage tweaks?
Aaron: A lot. There are simple things like giving units the ability to fly or regenerate all the way up to turning your units into undead in order to give them resistance and immunities. You will certainly be able to add damage and armor tweaks, but you can do a great deal more than that. Both the units and spells have a great deal of variety. You'll be able to combine them in some truly fantastic ways. This is one of the areas where we're still getting community feedback. More is being added each day. This information is slowly making it's way to the wiki, but our backers' forum is the best place to see what's current.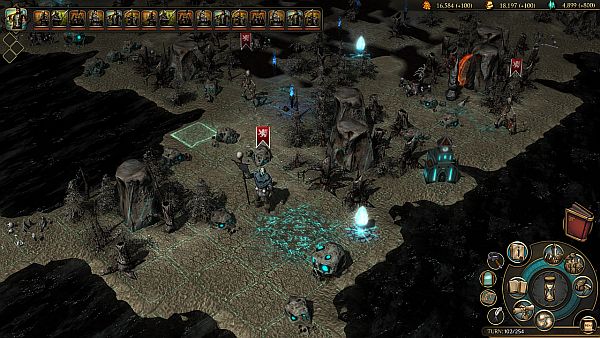 Csebal: Why should old-school MoM fans feel your game can't be missed?
Aaron: Well, somewhere in 1994/1995 I got my hands on MoM for the first time. I played it I don't know how many hours day after day, week after week, and eventually month after month. For close to twenty years I waited for a true successor to MoM's throne. Finally, I decided to try to make one. Worlds of Magic is a true spiritual successor of Master of Magic created for and by its fans. There is a MoMesk feel about almost every element of the game. It is going to feel familiar, yet new. It's going offer classic features fans would expect and new ones they should find exciting. If you're willing to take the word of another MoM fan then trust me, you don't want to miss Worlds of Magic.
UncaJoe, JD, csebal, others: This isn't a question, but more of a recommendation. Keep the design simple and elegant. More is not always better. It's also important to remember that it is the mechanics and gameplay, rather than the graphics, music, and artwork, that are going to win over the fans of the genre.
Aaron: Thank you for the recommendation. We have striven to keep things simple while still adding depth. And, as much effort as we've put into making the game look good, our primary focus has always been on mechanics. Just browsing through our wiki should give you some idea of the direction we're heading. If that convinces you to pre-order the game you can get access to the backers' forums and see even more of what we're doing (as well as help us make do it).
Aaron: In closing I want to thank you guys for putting together this interview. It's given me a chance to talk about Worlds of Magic which is a subject I really like. So, thanks!
SpaceSector: Thanks once again for presenting some great questions. I feel like we've learned a fair bit about the game, and we certainly appreciate the time you spent submitting them. Worlds of Magic is currently set to release later this year, but exactly when will depend on feedback provided during the beta phase. Leszek informed me that they hope to start the beta this summer.
If you'd like to get involved in the backer only discussions, or if you'd like to be involved in the beta, you can still help back the game if you'd like. Visit the official Worlds of Magic site to see more details about the available options.
We want to thank Aaron Ethridge, Leszek Lisowski, and the entire Worlds of Magic team for answering our questions and for taking on the challenge of a true MoM successor. We certainly wish them the best of luck.
Subscribe RSS
11 Comments
Related Articles:
Post category:
Interviews