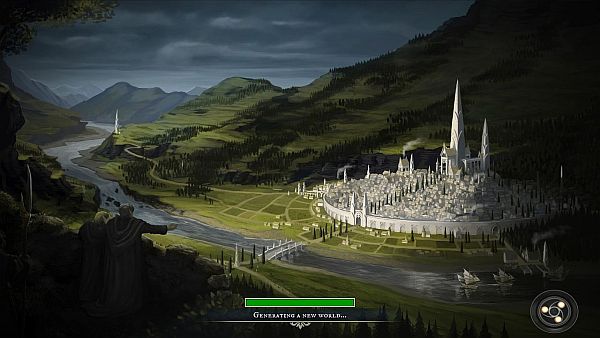 Age of Wonders 3 from Triumph Studios is the fourth game in the Age of Wonders line and the first release in over ten years for the series. Many years have passed since the last Age of Wonders game released, and a lot has certainly changed in the gaming industry. Many fantasy strategy games have been released during those years, and many more are now in the mid and final stages as they approach a release of their own. Age of Wonders as a series faces tougher competition than it ever has before. How well does Age of Wonders 3 fare in an era of fierce competition?
A Note About the Preview
Last month, I wrote a lengthy preview article and provided an overview of the game mechanics and basic gameplay elements present in Age of Wonders 3. As these are still valid in the final product, I won't be providing any in-depth coverage of them in this review. Instead, I'll be providing my thoughts and opinions based on my experiences with the game since release. This includes the release version as well as the version 1.09 patch, which is also known as build 11080.
A Tactical Game
Age of Wonders is turn-based fantasy game, but I would hesitate to call it a 4X. It is a lighter game than most games I would classify as 4X. It has a heavy emphasis on in-depth tactical combat mechanics, but a reduced strategic feature set. The vast majority of your playtime is spent controlling tactical battles rather than planning and building your empire at the strategic level.
Production Values
Age of Wonders 3 certainly does not appear to have cut any corners when it comes to its production values. I have found it to be a very aesthetically pleasing game to play. Outside of some noticeable frame rate drops in very large combat engagements, an issue that seems to have been fixed for me in the first patch, the game ran very well on my aging system.
Every race has some fantastic looking units and a unique cityscape that is visible in both the strategic and tactical layers. Every spell has a different visual effect, from the mundane for a simple spell right up to the extravagant for a top tier spell unleashed upon the world, or even just upon the battlefield. When a powerful spell or ability has been used, there is no mistaking it for anything else once you've watched the carnage unfold, both visually and mechanically speaking. When you approach an enemy city, you can tell at a glance how large it is, based on the actual size of it and the dwellings around it. Enchanted cities and units are easy to see, as each enchantment has a unique look and visual effect paired with it. When you enter a city battle, the camera flyby reveals the immensity and architecture of it all, and in those brief moments you become immersed in what is at stake. Every detail seems to be accounted for, and even the trees are snow covered within the cities that sit in the snow.
Age of Wonders 3 is set in a world that never sleeps, for even as you sit still, arms off the mouse and keyboard, you can see the level of detail that has been put in as numerous things move and sway before you.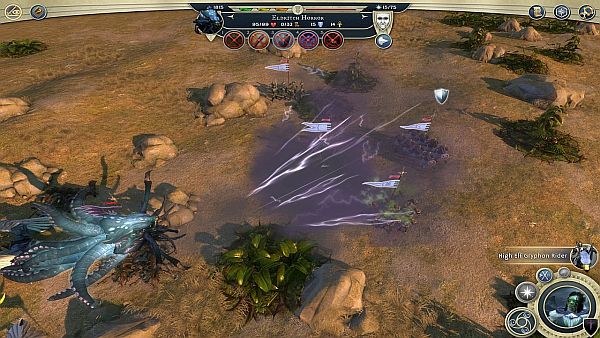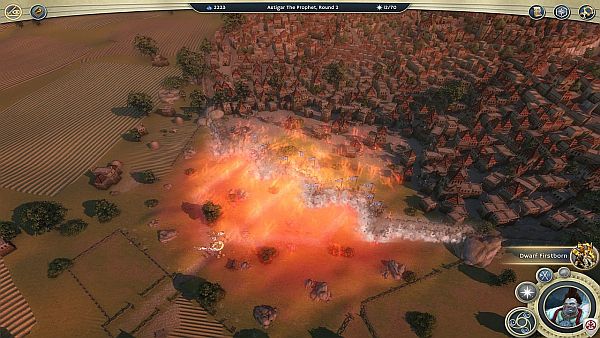 The UI itself is very clean and intuitive. All of the icons are easy to read and understand, and they appear in the places you'd expect to see them if you've played a strategy game in recent years. There is a great in-game encyclopedia that is broken down into multiple categories, as well as a search box, so finding the information you need is a quick and efficient process. If you'd like to see every spell or unit a particular class or race potentially has access to, it's as easy as clicking a few dropdown boxes. You can even sort by power level if you're mostly interested in seeing the most powerful features a particular class has to offer. Age of Wonders 3 hasn't done anything too revolutionary in this area, but the UI designs of today are slick enough that I feel they did well not to try and reinvent the wheel here.
The Strategic Outer Layer
While Age of Wonders 3 is a strategically lighter game, I don't feel this in and of itself is necessarily a negative. A lighter strategic game can offer a very entertaining experience, especially if it contains a robust tactical engine. One only need to look at the popularity and success of prior titles in the Age of Wonders series, as well as other combat-centric games like Heroes of Might and Magic, to see that many people clearly enjoy this type of experience. I myself have lost many hours in these types of games, ever since I discovered my first one of this type, Heroes of Might and Magic II. I also enjoyed the original Age of Wonders many years ago when it released.
These days, I generally enjoy heavier 4X strategy games. For example, in preparation for this review, I purchased and played a bit of Age of Wonders: Shadow Magic, and to my surprise I found it a bit lacking. I feel this is worth mentioning as if you really enjoyed that game, my thoughts may not completely align with yours. I'm discussing the strategy aspects of Age of Wonders 3 first because I feel it has some significant weaknesses in its strategy layer that make it feel rather shallow for me when compared to a true 4X experience. Before I move on to the much more in-depth tactical layer, I first want to detail what some of the strategic strengths and weaknesses are.
Starting with one of Age of Wonders 3's strengths in this area, I want to comment on the neutral city quests they have included in the game. While it would have been easy to simply include neutral cities for you to conquer and let that be the end of it, a strength of Age of Wonders 3 is that it has taken its city-states a step further than that by providing quests. These quests aren't epic or lengthy by any means, but the fact that you can help a city out and get it to join your empire, rather than simply conquering it, is a nice feature.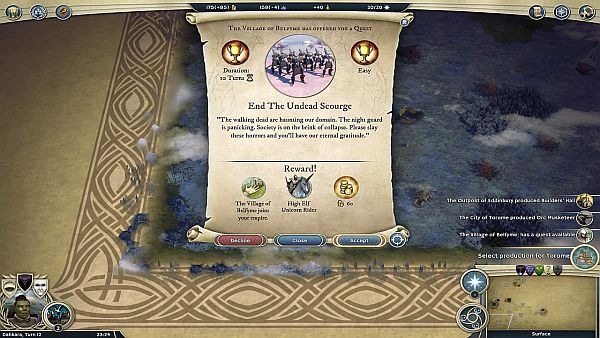 Moving on to one of the weaknesses of Age of Wonders 3, and this is one of the biggest, I must mention the distinct lack of varied victory conditions. There is one victory condition in this game, and that is to destroy, either on your own or as part of an alliance, all of the enemy leaders as well as capture all of their throne cities. There are no other paths to victory such as economic, technological, spell of victory, quest of victory, or diplomatic victory. This decision is felt throughout the design of the entire game, and it really narrows the focus of available options throughout. If you've read my prior reviews, you may recall I rarely go for a conquest type of victory as I find it drags games on too long and that the game tends to become uninteresting and repetitive at that point. In Age of Wonders 3, this can become particularly problematic, as locating the enemy throne city and leader at the same time can be quite difficult, especially if the underground map is enabled.
Another strategic weakness is that city building and cities themselves have an almost complete lack of flavor and variety. Each race has access to the same buildings except for one unique building which allows you to recruit their top tier racial unit. Every other building, regardless of race, is the same, and they all serve one of a few basic functions. While there are a fair amount of buildings, it is generally unnecessary to build more than a select few of them. The buildings have a narrow focus, primarily based around increasing mana, research, or producing units. Other buildings, to grow the city faster or increase happiness in the city also exist, but I've found these to be completely unnecessary. City construction in general feels like a missed opportunity, with no tough decisions to be made and a set construction plan that becomes obvious regardless of city type, location, or situation. I would have liked to see special racial buildings, or perhaps a choice between several racial buildings with the choice of one eliminating another, or something along these lines that would bring the races to life.
Given the limited construction options, you'll be racing to increase production and start building the top tier unit producing buildings in each city as soon as you acquire them. Construction times are short, often allowing buildings to be constructed in 1 to 5 turns, and construction costs are often cheap enough that they aren't an issue if you've been spending any time at all clearing off resource nodes and entering dungeons. By early-mid game, you'll have unlocked your top tier class and racial units for each city's race and your class. With no interesting options left or required to build, you'll have each city basically turn on auto-income generation to support your war effort, or auto-unit generation to enlarge your war effort. At this point the game basically becomes about pumping out your highest tier units, ignoring the lower ones you may not have even unlocked, and then shuffling them around to fight in lots and lots of battles.
Resource nodes are typically defended by several neutral units, and most nodes provide a unique battlefield enchantment to the defender. This is an interesting addition to the game, but sadly falls short due to their minimal impact in the outcome. The guardians tend to be easy enough that I never stop to consider an attack out of fear of this bonus. Some locations on the map, such as a dungeon, offer an explorable location that you can choose to enter. These are essentially just tactical battles in an indoor arena, but they do contain more difficult challenges and reward some items like mounts, armor, and weapons, some of which are Epic, Legendary, or Mythical quality and do offer multiple traits and bonuses.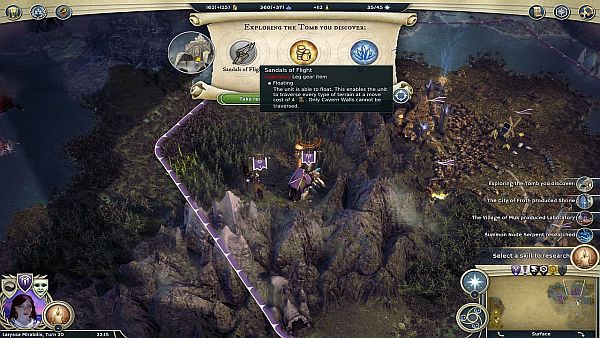 I've criticized the racial diversity quite a bit, but I don't want to discount the fact that Age of Wonders 3 does offer some glimpses at diversity when it comes to neutral cities. These actually do have a bit of flavor, and for example may allow you to recruit undead units or giants that are unavailable through other means. These cities typically have a few different buildings and units, some with unique effects not found elsewhere. The highest tier units in these cities are interesting forces worthy of your army, but they aren't powerful enough to be game breaking compared to other top tier units or summons. All this to say that while interesting, these can be ignored without detriment to your strategy. Still, I wish they had taken some of this into consideration and used these ideas to design primary races that were a bit more asymmetric in nature.
Age of Wonders 3's campaign and scenario modes do avoid some of the weaknesses found in the random maps. I started out my experience playing random maps, but after finishing a few of those, I decided to try the Dreadnought campaign. I actually found myself enjoying the Dreadnought campaign more than the random maps. I felt like I was accomplishing something beyond simply conquering my opponent because I can. The story elements present between each scenario, and at certain points during the campaign, made me feel I was playing a more RPG oriented game, and I feel like Age of Wonders 3's tactical combat worked well in this more story driven setting. The strategic issues I've mentioned were less noticeable during this time, possibly due to shorter scenario lengths as well. Eventually as the campaign wore on these too became longer and the issues mentioned appeared once more. One campaign scenario in particular, through a somewhat predictable twist several hours in (though I won't spoil it), led me to the conclusion that my time to complete it was going to end up doubled versus what I expected. At this point I simply threw my hands up. I'd already unlocked the highest tier units quite awhile before this point, and the idea of using these same units for many more hours on the same map was the last straw for me.
In a game all about combat, diplomacy is not likely to be its greatest strength. Diplomatic options are pretty sparse, consisting mostly of peace, open borders, declare war, or form alliance. There is a auto-balance button that is supposed to balance offers, for instance if I ask them for a peace treaty, what will they expect in return. This option never worked for me, and I was left guessing as to why an offer was refused or accepted. There is an info pane that shows a number of turns and a positive or negative value, but this information is vague and cryptic. Using the information provided, I was unable to wrap my head around why the AI made the decisions it did. For instance, I was able to establish a peace with an AI player who had a hateful relationship with me. After many turns of non-aggression, the modifier for peace never increased above its starting value to offset the prior negatives, and his stance towards me never changed from being Hateful. He greeted me with kind words like "You shall die by my hand, weakling!" as we met for a peaceful chat. Eventually he simply declared war against me without provocation.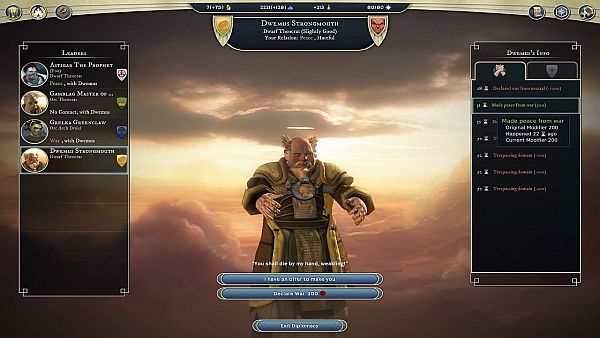 Tactical Combat – The Heart of Age of Wonders 3
I've put a fair bit of negative criticism out there so far, but since Age of Wonders 3 is more of a tactical game, a lot of this criticism can certainly be dismissed as being due simply to those elements not being the game's true focus. The game's heart is truly its tactical combat system, and tactical combat is a huge want among many strategy gamers. While there are many options available for designers to use when it comes to resolving combat, tactical combat tends to create the greatest sense of immersion. It allows me to not only see how effective my unit selections have been in combat, but also to feel like I am really playing a part in determining the outcome.
Age of Wonders 3 succeeds in creating a combat experience that truly rewards a player's tactical prowess. The large assortment of options and considerations that go into every combat decision make it obvious that the developers spent a large amount of their time and effort crafting and balancing the combat system. These decisions are so important that using the auto-calculate combat option for any combat aside from the most trivial is truly doing yourself a disservice. The specific mechanisms used in Age of Wonders 3 combat are covered in some detail in my preview article, but the bottom line is that a battle can easily be swung one way or the other based on the decisions made within it. Triumph Studios has also done an excellent job of providing the player with exactly the information he needs to make these choices, as each action you consider provides a very nice pop-up containing the chance of success, the potential result/damage, and the potential counterattack damage (when applicable). At the same time, combat still retains a random damage range and small sense of randomness, so you can still feel the joy or frustration of a unit surviving with a single hit point, and yet the options available to you still feel open and within your control.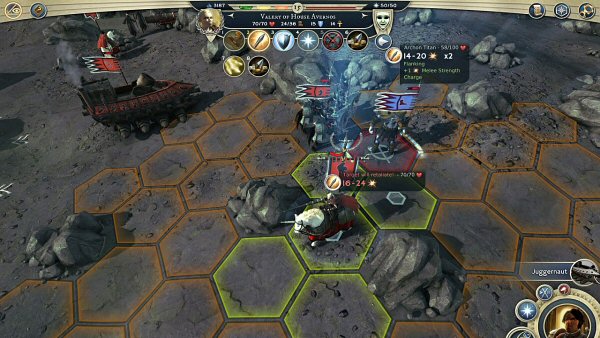 The essential choices you must make with each unit in combat consist of a few things. The first decision you'll have to make is whether to move a unit or not, and if so where to move it to. This is because once you take any other action, movement becomes out of the question. This can lead to some significant blunders, like for example casting a spell with your vulnerable hero before moving him behind friendly units who can protect him. Had you moved the hero first, and then cast the spell, you'd have potentially saved his life in the rounds to come. Another movement choice might be which direction to take towards an enemy. Sometimes a longer path will result in only one attack, rather than two, but it may lead to a flanking attack for extra damage. If this becomes a single attack rather than a double or triple, it might also eliminate the chance for the opposing unit to counterattack. Now that you've turned the unit around, your second unit can charge from the other side (or even use a ranged weapon) and get a flanking attack of its own, potentially killing the unit while providing no chance for retaliation and leaving your units untouched.
Utilizing your unit special abilities is a critical aspect to combat. Support units are perhaps the most complex outside of the heroes themselves, as each support unit tends to have several abilities such as healing, buffing, de-buffing, and ranged attack. Decisions such as whether you should run over to heal your nearby infantry, buff him with extra defensive capabilities, or simply try to kill the unit who is causing him harm with your ranged fire damage, are quite common. Depending on the enemy you are facing and what you've brought to the fight, how you approach these risks and how cautious you should play varies widely. There are some times where it just makes sense to move your weak unit right next to an enemy to reduce his ability to use his powerful ranged attack at full force. There are other times where a full retreat, regroup, and healing while the enemy advances is the best approach. An even riskier move, like trying to convert the powerful enemy unit to your cause, even though you have a slim chance to do so, can be the difference between victory and defeat. Finally, you may decide that losing some units isn't risky at all, as your hero is a theocrat and as he leveled you've given him a trait that causes all of his units to be revived at the end of combat as long as you are victorious.
Every unit in combat is significant, but the true combat game changers are the hero abilities and spells. There are some abilities and spells that are powerful enough to change the tide of battle in ways never thought possible. I mentioned the trait that revives all of your units, but that is just one of many always active traits you can choose from while leveling up your heroes, depending on their class. You can only cast one spell per round, and you can choose from the spell book of your primary hero as well as any other heroes participating in the combat. Though if your leader isn't present in the combat, his spell costs are doubled, effectively halving the amount of spells he can contribute to the battle. There are many choices, and choosing which to use involves a fair amount of thought as well as an estimation of how you expect your opponent to react. Imagine casting Bloodbath, a combat enchantment that gives all of your units an additional physical damage enchant. Now imagine the horrible feeling you'll have when you've spent all of your mana on this or some other ultimate buff for your hero or army, only to see the enemy dispel it the next turn leaving you unenchanted and without options. Sometimes it is actually best to cast cheap enchants and try to feel out your opponent's mana reserve and capabilities. If you can first drain him of available mana in the battle prior to unleashing your ultimate spell, he may be left as helpless as you would have been had you cast it earlier. Spell casting is a bit of a mind game in this regard, and it works brilliantly.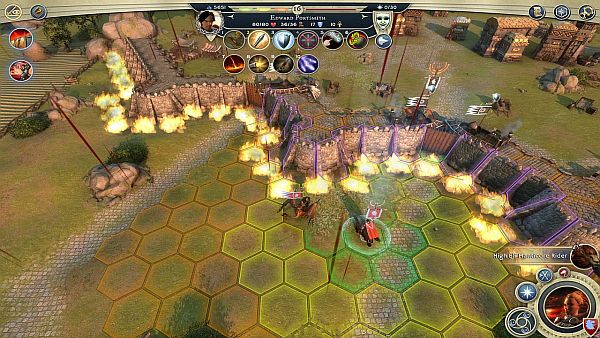 The AI
My preview was the subject of some controversy based on some remarks I made about the AI as it was at that time. I took this into consideration as I certainly do not ever want to present information to anyone that is inaccurate if I can help it. I made a conscious decision on that day not to play the game again until it was released in order to guarantee I would not be judging an out of date AI. Now with that said, how is the AI after release?
The AI seems to perform pretty well at the strategic level, at least on its Emperor AI setting, which is the highest difficulty available. The AI does capture some resource nodes, but curiously leaves some other nodes within range of its cities untouched. I suspect it has an abundance of resources and simply doesn't need these locations, as I sometimes do the same as the game progresses.
The AI is able to effectively build large armies that are quite intimidating. These armies are often comprised of only a couple of high tier unit types, but based on how the game is structured, this isn't all that different from the way you'll build your armies. Not only does it build large armies, but one thing the AI performs amazingly well is a combined assault against your cities. It is not uncommon to see the AI move 4 armies individually and have them all land within attack range of your city within a single turn. This is something that a human player, who likely can't quickly calculate movement points across multiple armies, would be hard pressed to do. While this is an advantage for the AI, one disadvantage the AI has is that it is susceptible during movement to second guessing itself, and I have found that I can make the AI sometimes run in and then retreat repeatedly by moving a nearby army away and then moving it back. This can buy you some time to build additional units when you'd otherwise have no chance. In the event that you can't dissuade their attack, their combined assault often leaves you in a position of "Very Likely Defeat"… but that description is only really accurate if you allow the battle to be auto-resolved.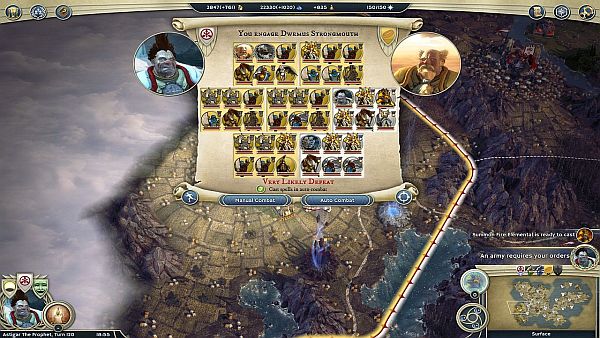 The reason you can turn a "Very Likely Defeat" into a victory is that the AI is quite bad when it comes to tactical play. This hasn't really changed since my preview and I don't know how else to say it. Even on its hardest difficulty level, with troops that should easily massacre my army, I can defeat the AI quite regularly with smart spell selection and some tricky maneuvering. I don't consider myself a masterful player, so I believe that if I can do it, just about anyone with some experience under their belt will be able to do so as well.
By far the worst tactical AI is the siege AI, and since taking and defending cities is a huge part of the game, this is a big problem for it. The AI, as a defender, is far too reluctant to sally forth, while at the same time it is also reluctant to retreat further inside away from the walls. On numerous occasions during a random map, I was able to have my theocrat hero, who was immune to holy and fire damage (in part due to a spell), approach the enemy castle and wipe out the majority of the enemy's top tier units all by himself. These units, the enemy theocrat's top tier class unit siege engines, have a physical melee attack and a ranged fire/holy damage attack. Rather than exit the walls to smash my hero with these units, or bring out their other melee units who were also behind the walls, the AI simply defended with each unit, staying just behind its wall yet within range of my hero's wand. When I finally killed their last ranged unit, the AI rushed out from behind the walls, but by that point my modest army was able to roll up and destroy the little they had remaining.
I could provide numerous examples of poor AI play in sieges, but the general rule of thumb is that they don't know how to handle the creativity of a human. When an invulnerable unit approaches and begins attacking them from outside their walls with free area of effect fire bombs, they aren't able to make the decision necessary to sally out and kill the hero that is casting the invulnerability spell. When my siege engine slammed rocks into its defensive siege engines, and later into its walls, the AI failed to realize it's small amount of ranged damage in return was never going to destroy my siege engine when I had a hero right behind it repairing it to full health every turn. Another time, I had a stone giant repeatedly tossing rocks at them from beyond their range, and they simply moved a new unit up to fill the gap of the one I killed before it rather than charge out to face me. This behavior is not unlike my preview experience with the Arch Druid Horned God unleashing lighting storms upon units in the city turn after turn, with no response from the defenders, so not much has changed here.
While the AI is beatable in siege defense or assault in all but the most extreme cases, outside of siege combat, the AI performs better. It is still prone to the use of player decoy units and poor target selection that reduces its damage output. There are some other tactics I used, such as fire immune units combined with a hellfire battle spell that emits massive fire damage to all units, that I can't really fault the AI for having trouble with. It was a potent combo involving a spell that is meant to be a game changer. Now, I did manage to take out 30 units with only 12 using this tactic in a battle that brought an end to my 120 turn Emperor level random map victory over 3 AI opponents. I didn't feel too bad about this though as each of the 3 AI opponents seemed to focus almost exclusively on me from the start, even though they were not allied with one another.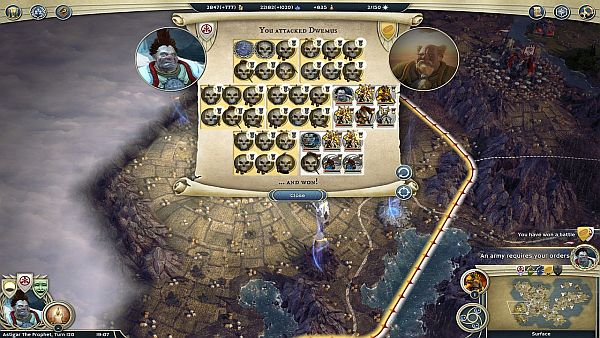 DRM and Multiplayer
If you want to participate in online multiplayer, Age of Wonders 3 does require you to create a Triumph Studios account and register your game. Even if you don't want to participate in multiplayer, you are still greeted by a request to login whenever you launch the game. If you want to login without a Triumph account, you'll need to click the "Guest" checkbox to do so. Logging in allows you to use their matchmaking system to find and play with opponents online. Currently, LAN support is not available, but patch notes indicate that "VPN/Hamachi" support is coming up next, presumably this means in the next patch.
I can't speak to how well the online multiplayer works, but I know a lot of people aren't happy with the fact that a separate logon is required. What I can say is that even single player saves made while offline, in "guest" mode, are stored separately from saves made when you are signed in. This means that if you switch between the two modes for whatever reason, all of your saves won't be immediately available to you. The only workaround I'm aware of is a manual process involving copying these saves from folder to folder on your system if you feel so inclined.
Hotseat mode is available and you can use it even if you are using "Guest" mode when you log in.
Final Thoughts
Age of Wonders 3 was one of the most hotly anticipated games this year. Unfortunately, it is not a flawless game and in some ways its greatest strengths are also its greatest weaknesses. Despite its excellent tactical combat engine, it just feels far too repetitive with game lengths that far outstay their welcome for my tastes. There is little incentive for me to return to the game at this point. I did enjoy exploring the game's classes and spells, and truth be told this was able to provide me with quite a few hours of entertainment. In the long run though, once the thrill of discovering something new was gone, so too was my incentive to continue on.
Perhaps I simply prefer heavier strategy games these days. One could certainly counter that this game is meant to be light on strategy due to its tactical nature. The big difference with Age of Wonders 3, compared to similar titles I've played, is the sheer number of potential combats you will participate in, combined with the length each combat takes to play out. I feel like having no limit to the number of armies led to turn times that were too long, even when combat animations are at max speed and strategic movement animations are completely disabled. Auto resolving is the natural solution, but I found this often led to losses in battles I could have otherwise won flawlessly had I controlled it myself. Perhaps I would prefer that each army must be led by a hero, with a hard limit on the number of heroes, as has been established in other similar titles. I'd also prefer more tough decisions to make regarding army composition, as I generally only used two or three of my top tier units in each of my armies, further increasing the stale feeling that developed as each game wore on.
Age of Wonders 3's tactical engine is wasted on an AI that doesn't understand its beauty. As a single player experience, it leaves me feeling cheap to exploit its weaknesses, yet I don't feel that I should have to hold back my creativity for the AI to stand a chance. I don't often talk about multiplayer, as I don't personally pursue this aspect, but I have a strong hunch that this same engine is able to reach its pinnacle when each side is controlled by a complex human brain. I noticed the option to force auto-combat on all multiplayer battles, and I feel like doing this would be robbing yourself of the game's best attribute.
If you're a fan of this type of tactical game, and don't mind fighting many similar battles over many hours of play, you're likely to enjoy this game more than I have. If you are planning to play it in multiplayer mode, and you plan to fight the tactical battles and not auto-resolve them, I believe you will have the opportunity to enjoy some very interesting tactical combat decisions. If instead you're a fan of deeper 4X games, I'd suggest you think long and hard about whether this title is for you.
| | |
| --- | --- |
| | good |
The Good:
– Tactical combat system that is varied, complex, and rewards skilled play
– Impressive and varied visual effects for spells and units
– Includes two lengthy campaigns and multiple scenarios
– Well timed and coordinated AI strikes on the strategic layer will keep you on your toes
The Bad:
– Minimal meaningful strategic choices
– Racial diversity is basically only skin deep
– Inclusion of only one victory condition inhibits creative or varied playstyles
– Tactical AI is poor even at the highest difficulty levels, especially in sieges
– Army composition becomes too homogeneous by mid-game
Keith Turner, also known as aReclusiveMind here on SpaceSector, has been an avid gamer ever since he first laid his hands on a Commodore 128 in the mid 1980s. He enjoys multiple computer game genres, but his primary interests are in deep strategy games, 4x games, rpgs, and action rpgs. He enjoys writing and hopes to contribute with additional reviews, previews, and informative AARs to the community. See all Keith's posts here.
Subscribe RSS
49 Comments
Related Articles:
Post category:
Game Reviews