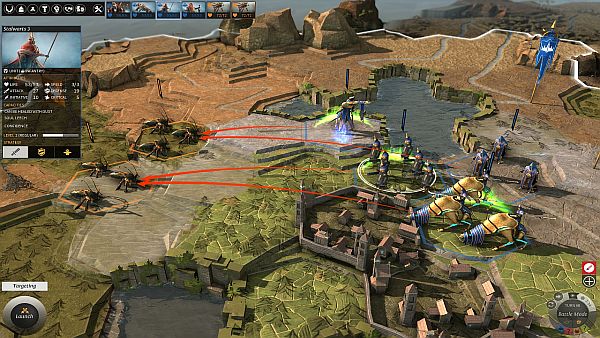 Endless Legend, the new turn-based fantasy 4X strategy game from Amplitude Studios and Iceberg Interactive, is now available on Steam Early Access. This is the third title set within their "Endless" setting. Their previous two games include Endless Space, which we reviewed and then re-reviewed, and also Dungeon of the Endless, a roguelike game.
The focus of this early access release is to "prove the core game loop to players", and will focus on the core game mechanics. Many of the game features are already present, though not all, and some are present in a reduced form. For a full list of what is present and what is missing, check out this post from the developers.
Here's the teaser trailer.
A Brief Look
For those of you considering purchasing Early Access, I'd like to offer some first impressions based on my experiences with it thus far. Endless Legend is the first fantasy title I've played since Fallen Enchantress: Legendary Heroes that truly feels like a "4X" strategy game. It incorporates many of the elements we typically desire and have been asking for, as well as many unique features I've never seen before. At the same time, there are some potential negatives, with the most notable of these being a streamlined combat system. It is important to note that both "additional battle options" and a "finished battle system" are on the "What is missing list", so combat itself is still very much a work in progress.
Rather than do a deep dive into the game, since I've only had a few hours with it, I've decided to gather up some highlights and images for you. This should not be taken as a preview, but instead as a brief glimpse at the game, both positive and negative, as is stands today in Early Access. I'm not including a lot of detail, so if you'd like specifics, please ask in the comments and I will do my best to answer. We will of course have further coverage and a more in-depth look in the future.
Overall (as at Early Access launch)
4 Unique factions with diverse and unique mechanics (8 will eventually be in-game).
Faction specific and miscellaneous quests, some with timers and multiple steps.
New "Influence" currency has multiple uses and must be spent carefully. Used for Empire Planning (think temporary bonuses), Diplomacy, and Minor Faction assimilation.
No evidence that "magic spells" or their equivalent exist in this game.
Summer and Winter seasons. Affects movement speed, vision, food, and dust production.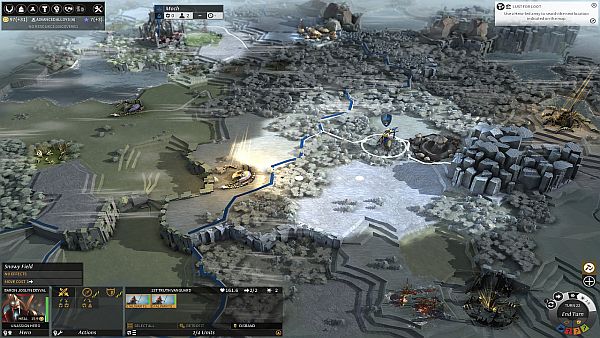 Combat
Combat is quite streamlined (3 phases) and highly automated currently.
Phases are deployment, followed by target selection, followed by attack/defend/stand ground setting. Press go and watch it unfold.
Basic combat attributes consist of attack (ranged or melee), defense, initiative, speed, critical chance, and life.
Heroes and Units
Hero leveling and customization. Skill trees somewhat small and seemed similar to one another, at least with the initial heroes.
Hero and unit customization. New weapons/armor/accessories can be edited into designs based on research and resource unlocks.
Only a few unique units per faction currently. Neutral minor faction units can also be recruited (and customized) once assimilated.
Research
Research trees are similar, but factions do have some unique options.
Research is broken into "Ages". You can select any research option for an unlocked age without pre-requisite, and they all cost the same amount of research.
Each successive research in an age costs more than the previous one, so research does get progressively harder. This encourages prioritizing your research selections.
You must research quite a few items from an age before unlocking the next age. Unlocking the next age can also upgrade your unit customization options.
Exploration and City Building
Ruins can be searched and anything from dust to new quests can be uncovered.
Quite a few minor faction villages can be conquered. Conquering a village grants your city in that region bonuses.
Minor factions can also be assimilated, allowing you to recruit a new unit and granting additional bonuses. Uses "Influence".
Unique resources and luxury goods can be discovered such as Glassteel and Titanium. These can be used for new weapons/armor/accessories once unlocked.
Cities can be expanded using additional boroughs, and these physically increase the number of hexes your city consumes, making it look more impressive.
Other
Unique art style and great music thus far.
Lack of tooltips on many of the special abilities currently. It is a tad frustrating not knowing what many of them do.
One city per region and you own the region. This system should reduce total city count and micromanagement. I quite like the way this works so far!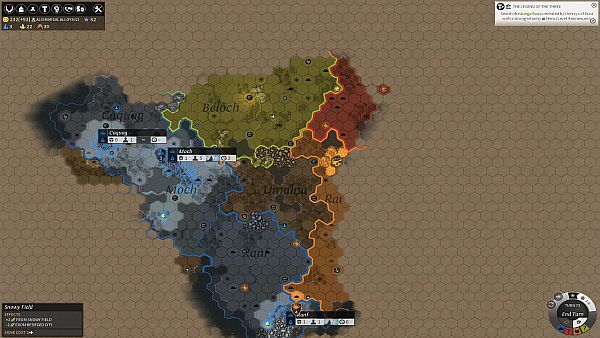 First Impressions
It took me some time to warm up to Endless Legend's Early Access build. My first effort at playing the game left me a bit frustrated and disappointed, specifically with the combat system. However, my second attempt lasted a few hours, I got past my initial grievances, and I really had a good time uncovering the game's unique inner workings. Endless Legend is certainly a game that grew on me. While the game is still an Early Access alpha at this point, I was able to have fun with what is present thus far.
Endless Legend borrows a lot of the useful elements from Endless Space, yet has done away with many of the less desirable ones. Several of my major complaints with Endless Space, such as failing to innovate, and failing to create a "living" world, appear to be addressed, and this is fantastic news. One of my complaints with Endless Space, regarding combat being too basic, appears to still be an issue here. We must remember though that we are still in Alpha, and combat enhancements are mentioned several times on the developer "What is missing list". Still, if you're worried about combat, or any aspect of the game at all for that matter, I'd certainly advise waiting to see what additional features are implemented.
While I had issues with Endless Space, I do believe in second chances. Amplitude Studios has certainly gained my attention with Endless Legend's unique take on the genre. I am looking forward to seeing the end result of their efforts.
Subscribe RSS
57 Comments
Related Articles:
Post category:
Game First Impressions
,
News & Announcements