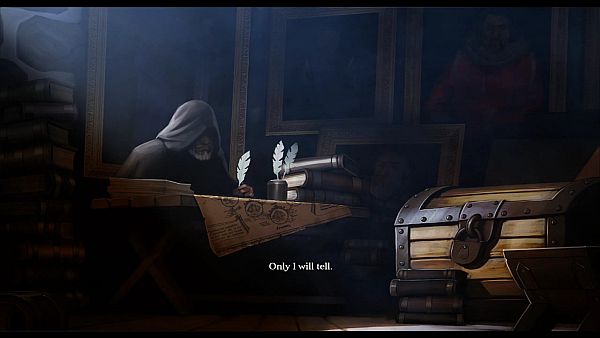 Warlock 2: The Exiled has only just been released by Ino-co Plus and Paradox Interactive, but fans of their 2012 release Warlock: Master of the Arcane may find themselves suffering from an extreme case of deja vu with this one. While new content has certainly been added, the additions feel closer to an expansion than a sequel. With such similarities between the two titles, it's also fair to say that it contains many of the same pros and cons of its predecessor. While we didn't review Warlock: Master of the Arcane, across the board it received relatively average to fair marks amongst critics. Have the improvements made in Warlock 2 changed an average game into a great one?
Key Features of the Warlock series
The Warlock series are fantasy, light strategy, turn-based games set in the world of Ardania. The artwork and graphical effects are bright and colorful compared to many strategy games, and this vibrant style does a good job bringing the whimsical world, one it shares with the Majesty series of games, to life. Throughout the game, text descriptions, unit types, and dialog all carry forward the very light hearted and often silly theme. If the idea of donkey riding Stubborn Knight units, heroic rabbits, and occasional pop culture references are a turn off for you, Warlock is a series you might want to skip.
While similar to many other fantasy turn-based strategy games, there are a few elements that make the series stand out such as its unit development and city building system. One of the biggest differentiators is that they use the one unit per tile system, also known as 1UPT, for both movement and combat. There are no traditional army stacks and there is no separate tactical mode for combat in either Warlock game. Combat takes place on the strategic map in a manner similar to Firaxis' popular game, Civilization V.
What's New In Warlock 2
Warlock 2 introduces some changes to the standard Warlock formula. The biggest difference is certainly the new game mode called "The Exiled".
The second biggest change is with the spell research system. A new spell research tree has replaced the random research system used in the original Warlock. With three branches to choose from and a wide variety of spells in each, the player can now plan ahead and unlock only the spells they need to in order to complete their strategy. One of these branches is highly reliant on building a relationship with the specific gods present in the Warlock universe, and this adds additional considerations and planning. Having experienced both games' research systems, I have to say I really enjoy the changes present in Warlock 2.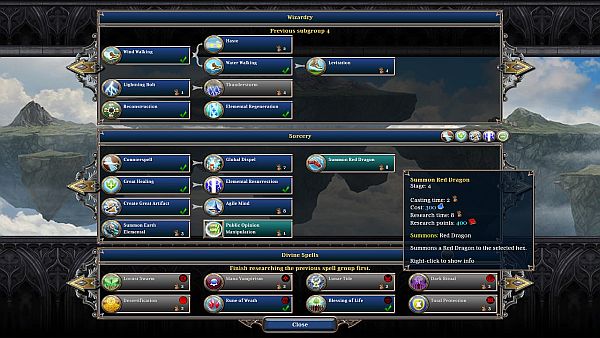 Warlock 2 includes 14 great mages, quite a few of which are new to the series. Many of the great mages in the original game either died, disappeared, or swore allegiance to Warlock 2's primary antagonist, the United One. Several others do return, either in their original form or even as descendants of the original mages. The mages themselves are rather a motley crew, comprised of humans, undead, monsters, and even rats.
Along with the new great mages, 2 new races have also been added to the series. The Planestriders and Svarts join the Humans, Undead, Monsters, and Arethi Elves (available via DLC in Warlock) to bring the total up to 6. Every race has unique units and quite a few unique buildings. The developers have done a good job of including multiple interesting races whose diversity is typically more than skin deep.
If you choose to upgrade your game to the "Great Mage" edition, for an extra fee, you'll unlock quite a few items external to the game, such as the soundtrack, digital artbook, and digital novel. In addition, there is a new great mage, a dragon, that has an entirely unique playstyle because he is his own capital city. Unlike other great mages that don't appear on the map, this mage does. Finally, this "Great Mage" edition also includes some new heroes and spells. I didn't experience any of these, but one has to question whether they justify an asking price of 66% of the full game's price. While I don't feel the full game is lacking in content in these areas, I did find including the most unique great mage in the game in a launch DLC to be a great disappointment and perhaps a bit greedy.
Forging a World – Game Setup
In Warlock 2, you take the role of a great mage, and alongside other great mages, you will compete to fulfill certain victory conditions before your rivals. Each of the great mages comes equipped with some starting traits and a race. If you'd rather design your own, you can select to customize a specific mage and adjust their traits and race to your liking. While some traits offer simple +x% bonuses, others offer more interesting perks that can provide you with specific resources or advantages at the start of the game.
World creation in Warlock 2 is fairly simple. You simply select a world size and a number of opponents. You will also select from one of five difficulty levels ranging from relaxed to impossible, and this controls the difficulty of your opponents. Monster spawns can also be adjusted, so you can tune the number of random monster occurrences down to 1/5th of normal all the way up to 2x normal.
Warlock 2 shipped with two modes of play including the new Exiled mode, and the standard Warlock 1 style sandbox mode. The sandbox mode is very similar to the original single shard mode in the original Warlock. You and your opponents start on a single shard and try to achieve supremacy via one of the victory conditions. While this mode includes portals to other realms, these certainly play a much smaller role than they do in the Exiled mode.
Post-release, Warlock 2 also introduced a 3rd mode called Battle for Outplanes. This mode offers a nice compromise for players who may not want to play through the story elements of the Exiled mode, yet still want to experience the multiple tiered difficulty shards.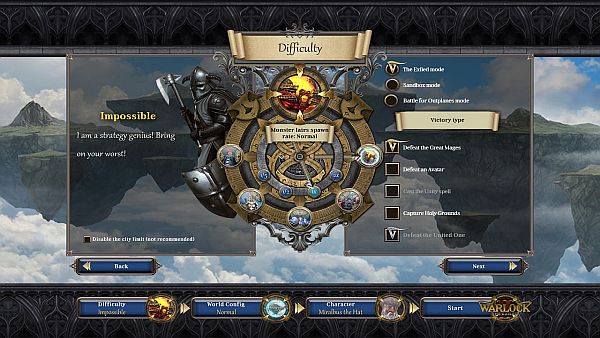 The final thing to consider before starting the game are your available victory conditions. Warlock 2 has 4, or 5, that can be activated or disabled depending on the mode. There is of course a standard "Defeat the Great Mages" mode, and in this mode you must capture your rival mage's capital to win. The game allows you to quickly eliminate opponents without hunting every one of their cities down, which is an aspect I greatly appreciate. A second victory condition is the classic ultimate spell victory, and this takes a good amount of time to cast and can be interrupted by your rivals. A third victory condition involves capturing all of the "Holy Grounds", which are special tiles on the map. You must have control of all of these in order to win this way.
The two most original victory conditions present in Warlock 2 are the "Defeat an Avatar" and "Defeat the United One" conditions. Defeating an avatar involves building certain religious buildings for certain gods, as well as performing certain actions that will anger other gods. In this manner, it is possible to upset some gods so much that they will send their avatar into the world to fight against you. If you can defeat this powerful enemy, you win the game. Defeating the United One is a new victory condition to the series and is available only in the Exiled mode.
The Exiled
The new Exiled mode is a slightly more structured experience with light RPG elements. In the Exiled mode, you will be conquering multiple shard planes of ascending difficulty until you make your way to the final shard of Ardania and defeat the "United One".
The Exiled mode is a more story driven experience than the sandbox game. As you play the game in this mode, new story based quests and challenges will be presented for you to complete. In addition to the standard "build this" and "make this god happy" type of quests, this main story quest line will demand your attention. The challenges presented don't have firm time limits, but that is not the same as saying they don't have ways of motivating you to move forward on them. In general, failing to act on a story quest in a timely manner can result in some negative consequences upon your empire, up to and including spells and monsters that will be used against you. These story missions contain voice acting and are pretty interesting the first time or two you encounter them. Overall, I enjoyed them, but I can't see them remaining interesting in subsequent playthroughs.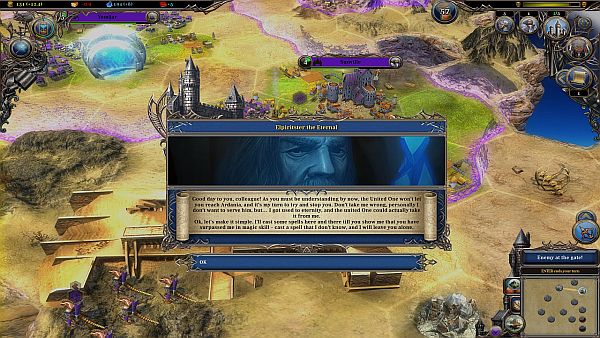 The other key element of the Exiled mode is how the shards work. The shards operate in an almost hub and spoke type manner. The initial shards, at the top of the map, have just one way in and out. To move back and forth between shards, you will need to use one of these portals which are scattered about across each shard. Later shards will have multiple portals connecting to multiple shards. The portals between these are generally locked closed at first, but unlocking them isn't very difficult. If you are willing to deal with some short term consequences, or to spend some resources, you can generally open them pretty easily via a dialog selection.
As you travel between shards, you will notice that the difficulty of the environmental threats starts to increase. To get to Ardania, you will need to travel through most of, but not necessarily all of, the available shards. Some of the shards are great mage home shards similar to your own, and visiting these is not required unless you choose to. As you get closer to Ardania's shard, you will begin encountering more powerful and vicious beasts. Early on though, you will be able to gain experience and loot by defeating bears, rogues, and other generally mild threats. You'll also likely run into your AI wizard opponents once you've ventured out a shard or two from your home.
The Exiled mode is an interesting addition to the series. It injects story elements into the game, but also manages to still feel very similar to the sandbox gameplay player's enjoy. Other than the shard layout and some specific quests, you are free to build cities and build your empire as you see fit without restrictions. I found this mode enjoyable, but it wore thin after only a couple of plays. One of the main story quests involves spending a large amount of time and energy, as well as resources, and it feels like it forces you down a specific path, at least for a while. The main victory condition of the Exiled Mode, to defeat the United One, had a lot of build up, but ultimately felt anti-climactic when I achieved it.
Other victory conditions can also be enabled in the Exiled mode, and I found in other plays that I was able to win much easier by simply conquering my opponents. I actually won this way accidentally my first time through the mode by conquering the other great mages. The "United One" victory is going to be something you pursue purely to see how it plays out. If you end up disappointed with it as I was, you likely won't bother with that route again and will simply choose one of the other victory conditions as your goal.
Constructing an Empire
The Warlock series offers a city building system that is quite interesting. City size, as controlled by its population, is a limiting factor in how many buildings you can construct. It is therefore not uncommon to go multiple turns without constructing anything in a city. This makes each decision rather important, as you may really want a new unit production building, but you may really need some more gold or food production. You'll only get to pick one, and it could be several turns before you have a chance to build again. While upkeep costs vary, each building is completely free to construct, so your choices are truly unlimited amongst the options available to you at the time. Once you've made the decision, perhaps to build a farm, you will want to select a fertile location that will provide additional food production if you place a farm there. You may instead find that the only available building spots have an upkeep penalty due to a nearby volcano. So even once your decision is made, optimal placement is also a factor.
In addition to the more common buildings, Warlock 2 also has a large variety of special resources on the map that will also offer unique building options, from pumpkin patches, to spider hatches, to minor faction villages, and even dragon eggs. If these fall within your city's borders, you've got some additional decisions to make. The interesting thing about these locations is that they often offer 2 compelling building choices, but ultimately you can only choose one of these two. Do you want a silk workshop so you can provide magic resistant robes to your mage units, or do you want the spider hatcher so you can start recruiting spiders? Do you want access to a variety of dwarven units, or would you rather build a dwarven armory to provide income and upgrades to your existing units and heroes?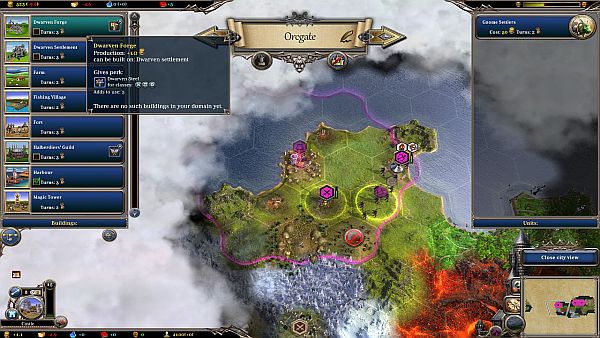 When deciding between these unique buildings, it is important to remember your unique racial buildings. Every race has a set of unique units and unit production buildings. Each of these buildings unlocks a new unit or two, and each also tends to serve as a prerequisite for a higher tier race specific building. There are no standard or common units shared by the factions other than the basic settlers, and even these look different. Unless you've got a special village nearby, or some powerful unit producing resource you can exploit right away, you're very likely to find yourself working your way up the chain to unlock the higher tier buildings. In my experience I've found that multiple different unit paths are possible per race, so you can often emphasize melee, ranged, or magic depending on your preference.
Warlock 2 has taken a somewhat unique path on city spamming as well. You are only allowed to have a specific number of cities before your revolt risk starts rising. This can be adjusted through research, but it also can be circumvented through city conversion. At almost any time, you can take your cities and convert them into dedicated fortresses or even shrines to one of the gods. You no longer have to manage construction queues in these locations, which does reduce their usefulness, but you can also get nice rewards while at the same reducing the amount of cities you need to micromanage.
When it comes to city building, I really like what Warlock 2 has done. In many fantasy strategy games, city building starts off rather interesting and quickly becomes dull and repetitive. In these games, there is generally a best build order depending on your goals. You also often have to babysit them every few turns or build up a long queue in advance in order to get on with other aspects of the game. Warlock 2 eliminates this issue by providing interesting and varied decisions that depend on both the city's available resources, as well as your current resource generation and upkeep costs. It also reduces city spam and together these systems allow your focus to remain on exploration and combat rather than city planning. This makes each turn shorter and snappier, which seems very appropriate for a lighter strategy war game like this one.
Combat and Unit Variety
Warlock 2's combat lacks many of the tactical considerations found in other titles within the genre, yet still manages to present some compelling combat decisions and options. It is able to achieve this by way of its unit attributes, building perks, and unit leveling perks.
Warlock 2 has a fairly large number of attributes that help make combat more involved than simply comparing one unit's attack vs another's defense. While this is true in a sense, it also isn't. While most strategy games feature units with a defense value and a resistance value, not many have 6 different attack and resistance types. Melee, Missile, Life Magic, Death Magic, Spirit Magic, and Elemental Magic make up the 6 primary attacks and resistances. Having high values in as many of these as possible is hard to achieve, but is also very critical for a unit's survival. Higher difficulty enemies often attack with multiple types of damage at once, so stacking a single resistance can often lead to a quick death. Damage is also reduced depending on how wounded a unit is, which is a mechanism that promotes spreading damage around at times rather than simply focus firing.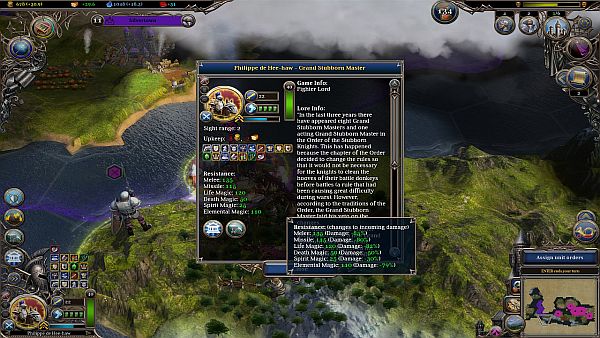 One way to improve your unit attributes beyond their normal limits is through the use of building perks. Building perks become available as you build specialized buildings within your cities. Some of these buildings are always available, while other buildings require nearby special resource tiles in order to be constructed. Buildings like the dwarven forge can provide a dwarven steel damage upgrade to certain classes of units. Once unlocked, building perks are instantly available to any applicable units. This is offset somewhat by a gold cost and a hard limit on the number of units you can have simultaneously with the same upgrade.
Unit advancement is achieved through a leveling system and provides an excellent selection of diverse and interesting options. As each unit gains a level, generally through combat and ability use, their attributes do not automatically increase as in some other games. Instead, each unit is presented with the choice of 3 perks and must select only one. Sometimes these perks will appear again on a future level up, but this is not guaranteed. At first, these perks are going to appear mundane and uninteresting. This is because low level and low tier unit initial perk choices tend to offer the same bonuses as the upgrade buildings do early on. On top of that, adding 30% to a damage of 11 isn't all that exciting. Later on, however, additional perks are offered that may provide significant bonuses or even new abilities.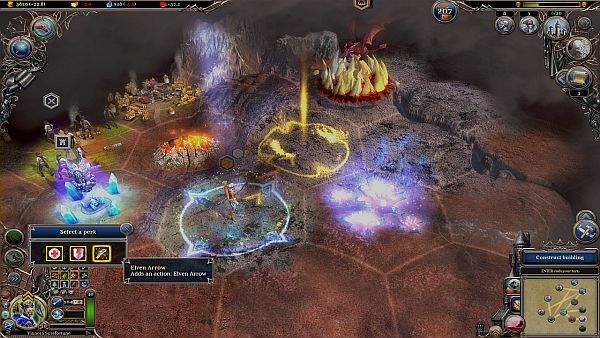 Thankfully, units in Warlock 2 consist of much more than the mundane swordsmen and archers that you'll start with. Depending on your race and available nearby resources, a whole slew of potentially interesting units will soon be at your disposal. For example, you may have some Dragonsmort Guardsmen, who are a group of soldiers flying above the battlefield on their own personal hovercrafts. These powerhouses can either blast enemies with their spirit guns or heal nearby units. Or perhaps you'd prefer a bit more healing, and you've acquired a Witch Doctor. With its healing and regeneration abilities, they may be just what you are looking for to support your front line. Level up the Witch Doctor a bit, and soon you'll have the option, should you choose the ability, to provide resistance auras to all nearby units, further increasing their role as support behind the front lines. Also, if an elemental magic breathing turtle, a top hat wearing werewolf, or a vampire are more your style, well, you're in luck there too!
Heroes are also present in the game and can be leveled up and equipped with items you'll find or create through spells. Heroes arrive and require up front payment and significant upkeep costs, but they are easily the most powerful units on the battlefield once leveled up. Higher level heroes will arrive later in the game. These can include legendary characters of unique origin with interesting tales of heroism as well as unique upgrade perks. As a counterpart to these great heroes, great villains are also present on the shards. Seeing one of these for the first time can catch you quite off guard. These neutral enemies can have hundreds of hitpoints and will devastate you if you approach them unprepared. With great challenge comes great rewards, and rescuing heroes and artifacts from these foes made me feel like I was accomplishing something. These offer a nice challenge and in actuality the only real challenges you'll face in the game.
AI – Artificial Ineptitude
The atrocious AI of Warlock 2 feels completely untested and unfinished. Sadly, I fear the game may remain in this state as its predecessor, Warlock: Master of the Arcane, suffered from AI issues as well. The sad fact is that the other AI great mages are incapable of mounting any sort of effective strategy. On top of this, they also don't know how to manage themselves diplomatically, and they will quite literally give you a game breaking amount of resources when you bring your military might against them.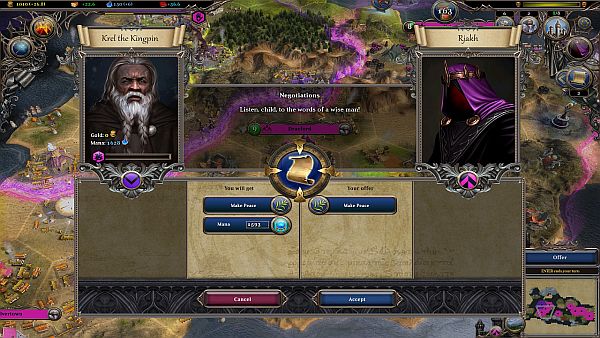 As I mentioned, I accidently won my first Exiled mode when I completely stomped on my AI competition. To be fair, I wasn't on the hardest difficulty on my first play. In subsequent plays, I did play against the Impossible AI, and I noticed no difference in its competence.
One of the most painful things in Warlock 2 is watching the AI meander about the map. Once you share a shard with a competitor, you will start to notice how the AI wanders units too and fro seemingly aimlessly. At times the AI will move units back and forth between a few tiles. Approach a body of water and you'll see the AI landlubbers stuck standing next to it, unsure of what to do.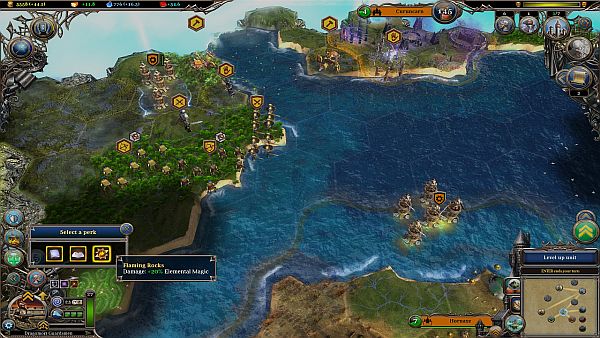 If you are truly unfortunate, you'll sign up for an alliance with an AI mage and see the true depths of their failure. Watching my ally on his home shard, which I had to do every turn, was painful enough to force me to break off our alliance. Each turn they would move their basic units near neutral enemies only to face repeated defeat. Their heroes, weak and near death, would be placed in vulnerable positions and suffered needless deaths. The AI seemingly has no idea how to react to adverse situations or changing conditions. Rather than building up a suitable army, or upgrading to better units, or taking any other action, it would rather throw unit upon individual unit into a metaphorical meat grinder.
Final Thoughts
Warlock 2 managed to stay interesting for awhile. This was due in no small part to its unique unit design and streamlined city development. I found trying to min max units with powerful enchantments and buffs quite compelling. The units themselves are varied and unique, consisting of both the common fantasy tropes as well as more obscure and unique ones. Steamlined city development let me make the important decisions I wanted, while still leaving my focus on the exploration and combat.
Unfortunately, Warlock 2's replayability becomes very low once you've conquered the most powerful neutral threats the game has to offer. As you explore new shards, you feel a sense of excitement as you wonder what new threat you'll face. Over time though, those same super charged units you've had fun exploring and conquering with start to feel game breaking. What little challenge the game had is dismissed.
Sadly, the lack of AI kills Warlock 2 as a game for me. When the neutral enemies, some of which are admittedly quite powerful, provide more of a challenge than your supposed rivals, your game is going to have a hard time succeeding as a single player strategy experience. In my entire time with the game, I had one AI mage attempt to cast the spell of unity to win the game, but that was it. Others declared war on me, were crushed without taking the offensive, and eventually sued for peace with a vast amount of tribute.
Warlock 2 does include built-in modding tools, Steam workshop integration, and multiplayer. These features shouldn't be taken for granted, and are appreciated. Personally though, I'd have preferred to have a competent single player experience before development time was spent on these features. Additional features also would have been nice, as it is hard to justify Warlock 2's asking price for owners of the original game. At this point I'd only recommend it to diehard fans who already own the original, and I'd warn newcomers looking for a single player challenge to look elsewhere, at least at full price.
| | |
| --- | --- |
| | fair |
The Good:
– Excellent variety of unique and interesting units
– City design offers interesting choices while remaining easy to manage
– Multiple victory conditions
The Bad:
– Worst AI I've seen in a recent strategy game
– Low replay value due to little challenge even at the highest difficulty
– New Exiled Mode fails to deliver a satisfactory ending
– Very few additions made to the Warlock series to justify full sequel asking price
Keith Turner, also known as aReclusiveMind here on SpaceSector, has been an avid gamer ever since he first laid his hands on a Commodore 128 in the mid 1980s. He enjoys multiple computer game genres, but his primary interests are in deep strategy games, 4x games, rpgs, and action rpgs. He enjoys writing and hopes to contribute with additional reviews, previews, and informative AARs to the community. See all Keith's posts here.
Subscribe RSS
34 Comments
Related Articles:
Post category:
Game Reviews