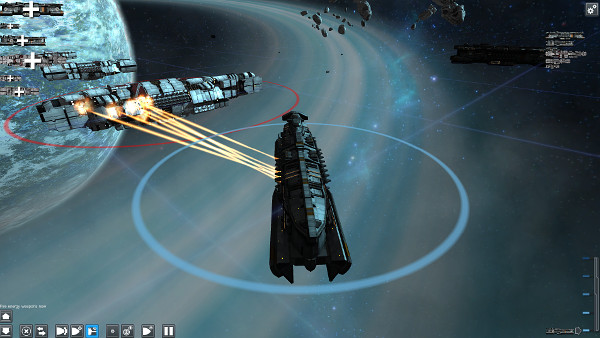 Once upon a time there was a game called Homeworld, the revolutionary and eternal real-time space strategy game by Relic and Sierra Entertainment (now Gearbox's). The special Homeworld. The perfect combination of narrative, freedom and decision-making set in space. Then came Nexus: The Jupiter Incident, perhaps equally revolutionary and good to a large degree (although tough as hell!) but targeted to a slightly different audience, one more avid for battle tactics and ship management than resource management.
After that, perhaps only Sins of a Solar Empire managed to leave a (very) strong impression on the space RTS genre, where the focus is more on space battles than base building.
All this to introduce you to Contact Vector, a space RTS currently on Kickstarter that will probably fit somewhere in between the three games mentioned above. Of course, I say "will" because Contact Vector is still in the prototyping phase, and its developers ask for support to build a space RTS "where how you use your units is more important than how fast you can produce them".
The basic gameplay in Contact Vector is controlling groups of ships. It's about how, where and when you choose to fight. You will be able to customize load outs for long and short range weapon systems to accommodate your tactics. The weapon ranges will overlap, but typically certain ranges will favor missiles or energy weapons. -Stephen Moorhouse (Contact Vector Kickstarter)
There's a playable demo available for Windows and Mac.
I played the demo. Basically, you can assign movement orders and attack orders for now, choosing between missile and beam fire. You can also deploy different kinds of ships and see the battle unfold giving orders in between. All this in 3D, or at least with five different height levels. It's basically a proof of concept demo. The visuals are stunning by the way. You really feel that you're in space, giving orders to battleships and destroyers. You can see that real effort was made to make the spaceships look as beautiful as possible. And, being this a prototype still there's high hope for a quality product in the end, at least from an aesthetics point of view. Also, nice music guys!
Promised features include single player gameplay with story elements played in random maps. Combat is the focus here but there's also a strategic view planned of some sort, although I couldn't gather much on that for now. But, base building and unit creation will be mostly nonexistent, if at all present.
"There will be no constructing or producing of units during a battle although it will be possible to rearm and deploy mobile defences during the battle if you can find a safe enough place to do so".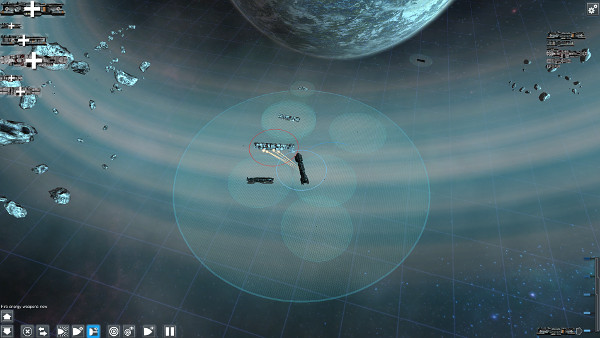 Stephen also mentions that although battles are fought in real-time, you'll be able to pause the game at regular intervals. Also planned is a supply system, ship customization, two types of weapons (missiles and energy), stealth, a decoy system, electronic countermeasures,  6 ship classes with different roles and fleet task groups.
Stephen asks for £85.000 with stretch goals for modding and different multiplayer modes, including a multiplayer campaign. The current plan is to release for Windows PC, Mac and Linux in June 2015.
In sum, I would say that if the gameplay proves to be at the same level of quality of the visuals I've seen here, than this could turn out to be a really interesting game. And it's not like there's many new space games focused on tactical combat around. If you're into that, perhaps you should have a look at their Kickstarter page.
Subscribe RSS
24 Comments
Related Articles:
Post category:
Kickstart
,
News & Announcements