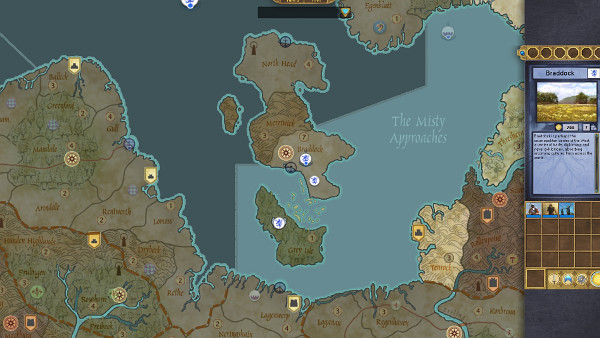 Matrix Games has announced that they are now accepting beta sign ups for their upcoming turn-based fantasy strategy game, Sovereignty: Crown of Kings. Sovereignty is a grand strategy game that incorporates an intriguing mix of strategic management, tactical combat, trading, and diplomacy. They state that the purpose of this beta is to "explore Sovereignty before release, report any bugs, issues or findings back and contribute to a flawless release later this year."
Just this past May we posted an article based on our visit to the Slitherine press conference. When asked, Sovereignty was described as a game primarily focused around war, though some scenarios may allow for other victory conditions. Whether or not there will be a lot of depth or strategic choices outside of warfare remains to be seen, but both the aesthetics and gameplay of Sovereignty certainly appear unique compared to other upcoming titles. I'm certainly curious to learn more, but unfortunately no official videos have been released thus far.
There are a few additional sources of info out there for those of you who are curious to learn more, most of which are accessible from their forums. Their forum contains spotlight articles on many of the factions. Also, while as I mentioned no official videos have been released thus far, there is a youtube video about the game that was taken during the annual conference this past May.
If you're interested in signing up for the upcoming beta, you can do so over here. You will need to create a Slitherine user account to do so if you don't have one already.
Subscribe RSS
20 Comments
Related Articles:
Post category:
News & Announcements