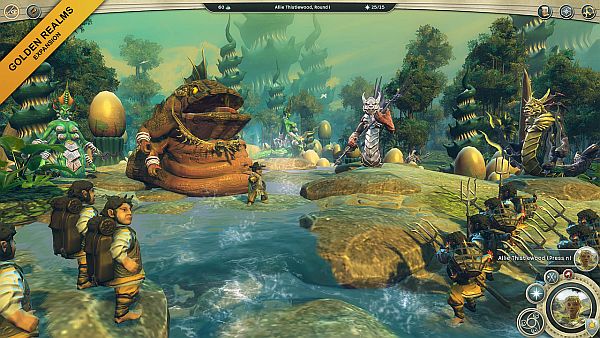 Tactical combat fans take note, Triumph Studios has announced "Golden Realms", a new expansion to their turn-based strategy game, Age of Wonders 3. While Age of Wonders 3 wasn't a title I was entirely thrilled with, it did offer quite a few hours of enjoyment. With a new expansion now on the horizon and several patches already under its belt since my review, I'm certainly interested to see if they are moving in the right direction.
Golden Realms is adding quite a bit of content, but what I am perhaps most intrigued by is the new alternate victory condition, the Seals of Power. A lack of alternate victory conditions is one of the things I singled out as an issue in my review, and these Seals are something I've been interested in ever since they began discussing it back in June. Essentially, these seals will introduce a King of the Hill style victory condition by allowing players to receive points by taking and holding specific magical points on the map. My hope is that this will help cut down on the number of battles I have to face later in the game and prevent it from dragging out for too long. I may not even have to play hide and seek with the enemy leader anymore.
While the Seals have me excited, there is certainly much more on offer here. A new campaign, new maps, and a lot of new fantastic artwork for a start. New empire quests have been added, and though they call them quests they appear more like global achievements. To the victor goes the spoils, so only the first to reach these achievements will reap the rewards. The rewards themselves seem quite thematic, with for example the first true evil leader receiving a free army of evil units to do evil things with. Triumph is also introducing a new specialization called Wild Magic. Wild Magic is just what it sounds like, relatively random, sometimes overpowered and sometimes devastatingly bad, but it should certainly spice up combat and keep you on your toes.
Those looking for a bit more variety in their unit and race options are also in luck. A new race, the halflings, return from the past. Full disclosure time, I've never been a halfling fan in any game. They do bring a new ability called lucky along with them, and this ability allows them to occasionally avoid damage completely if they have good morale. They also have beer, ponies, and jesters… so there's that. Aside from the halflings, Triumph is adding a new neutral race of Naga including a devastatingly obese unit called the Glutton who can eat units whole. Though if you kill him, you may be able to rescue whatever is left from his belly. That's not all they've added to the unit pool either, as they are also introducing locations that can unlock special mystical buildings in your city once conquered. These locations may offer bonuses to the city itself, but they can also offer new unit recruitment options like mermaids and feathered serpents.
Despite it's excellent tactical combat, it's been a few months since I've been inspired to start up Age of Wonders 3. That may very well change this September. The Age of Wonders 3: Golden Realms expansion is scheduled to release on September 18th, 2014.
Subscribe RSS
21 Comments
Related Articles:
Post category:
News & Announcements