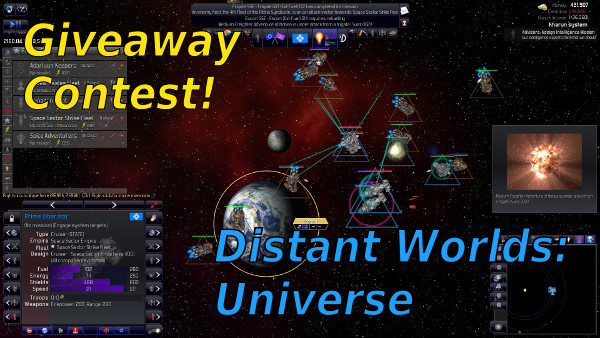 I'm pleased to announce that it's time for another giveaway contest! :) This time we're offering copies of Distant Worlds: Universe, the excellent real-time space 4X game by CodeForce, Matrix Games and Slitherine.
Matrix supplied us with 6 games to offer! We have 5 vouchers for the full game (download copy) and as a grand prize we'll give the top winner a full boxed copy, with the nice glossy manual that goes with it and everything (the boxed copy also grants you free download of the game). The vouchers are redeemable to Steam keys.
So, what do you need to do to win a game?
How to enter the contest
It's very simple to participate and have a chance to win one of the 6 copies of Distant Worlds: Universe. All you have to do is the following two steps:
Follow SpaceSector.com on twitter OR follow SpaceSector.com on facebook OR follow us on Google+ OR register the SpaceSector.com newsletter (you are only required to do one of these actions)
Leave a comment in this blog post (below) stating which of the actions above have you done.
Note: If you already follow us in some way just say which in your entry comment.
Examples of how you should post your comment to become eligible for the contest:
[your twitter id] follows SpaceSector on twitter

OR

[your facebook name] follows SpaceSector on facebook

OR

[your google+ id] follows SpaceSector on google+

OR

Registered the Space Sector newsletter with [your email here]

etc …
If you don't want to specify all that information in the comment (like your social media ID or email), send me an email with the username you used in the comment and the rest of the information, so that I can track you and get you in the contest.
And, that's it, you're in! :)
How and when will the winners be picked
The 6 winners will be picked randomly with the help of random.org on September 9th, 2014. I'll check those to see if they fulfilled the entry steps. The top winner gets the box copy with manual plus free download, the remaining 5 winners get a download copy.
The contest closes on September 8th, 2014 around noon EST. After that point you can no longer enter the contest. I'll signal that by changing the contest status to [CLOSED] in the post's title.
Game prizes will be provided as full vouchers which can be redeemed to Steam keys. The box prize winner will be contacted by Matrix Games to arrange the details for game shipment.
Here's our review of the game.
Good luck everyone!
Many thanks to Matrix Games and Slitherine for sponsoring this contest. If you wish to follow their work more closely you can follow their facebook or twitter feeds. Or, you can buy Distant Worlds: Universe or any other of their games here.
Subscribe RSS
332 Comments
Related Articles:
Post category:
Contests