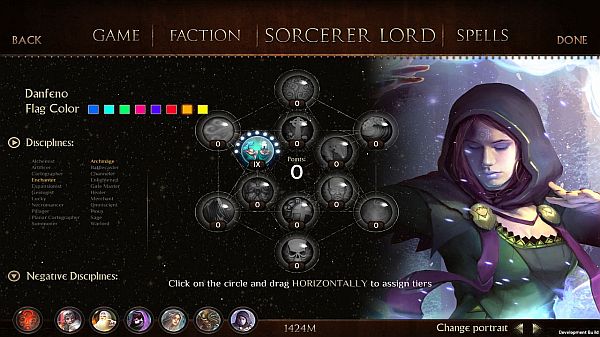 With its recent release on Steam's Early Access program, Wastelands Interactive's turn-based fantasy 4X game Worlds of Magic has taken one step closer to achieving its goal of becoming a truly worthy Master of Magic successor. Early Access is set to run until at least February 2015, at which time the game is currently estimated to officially release.
With not one, but two successful Kickstarter campaigns in its rear view, it seems a fair question to ask why Early Access, and why now? The Steam store page reveals that Worlds of Magic has entered Early Access in order to bring in additional feedback and the revenue needed to make the game as complete and polished as possible. These aren't reasons we haven't heard before, but if history is any indication, their desire for feedback is genuine. After all, Wastelands Interactive and developer Aaron Ethridge have been taking suggestions and criticisms from backers on a private discussion forum for quite some time. Worlds of Magic has been shaped heavily by the small community surrounding its Kickstarter already, and I'm sure they are hoping that the larger Steam community can help it develop further.
Worlds of Magic currently has "most of the game mechanics at your fingertips from the moment you buy the game." What it is missing now is additional content, such as the remaining races, spells, sorcerer lords, and planes of existence. In nearly all cases, around half of the eventual content is now available. Aside from this content, the game still needs a lot of polish and AI development.
First Impressions
I spent a few hours with Worlds of Magic this weekend in order to provide some brief first impressions to those who may be wondering about the state of the game as it stands "right now". It is important to keep in mind that the "right now" status of a freshly launched Early Access game is elusive, and daily updates and changes can resolve or create issues that ultimately lead to a different experience than I have had.
Worlds of Magic, more than any other title I've played in recent years, feels like a game from my past. More specifically, it has a very similar feel to Microprose's classic, Master of Magic. This should come as no surprise, given their stated goal to be a true spiritual successor. While bringing this beloved game back to life is in many ways a positive thing, this reunion isn't without its negatives. In some aspects, I think this is by design, but in others, I am almost certain it is because the game is still in a late alpha stage. I'll be comparing Worlds of Magic and Master of Magic a lot, for reasons that will soon become very obvious, so I'll be using the abbreviations WoM and MoM respectively throughout this impressions piece.
Worlds of Magic does a great job at recreating the Master of Magic sorcerer lord creation system. Aside from the graphical enhancements and UI changes, the system is almost identical. When creating a custom lord, you will select a portrait from one of the existing lords, as you do in MoM. You will then divide a set number of points between your desired skills, called disciplines in WoM, and your spell spheres. You then proceed to select your starting spells dependent on the points you spent in each spell sphere. While all of this sounds mechanically identical to MoM, there are some key differences primarily having to do with how magic is designed.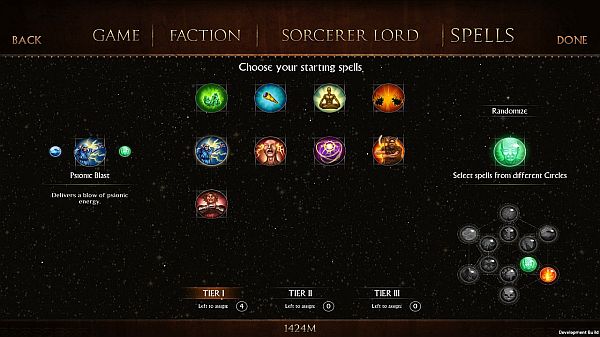 The magic system in Worlds of Magic is perhaps its most unique feature. Rather than offer just 5 basic schools of magic and around 200 spells as MoM did, Worlds of Magic features 11 spell spheres and will eventually feature over 400 spells (though currently it sits at around 200). This sounds like a lot, and it certainly is, but it is important to realize that in many cases spells will overlap into two different spheres. For example, an enchantment might fall under both the Life magic and the Augmentation spell sphere. Putting enough points into either will allow you to cast the spell. This allows for some more intense customization, and if for example you enjoy city and unit augmentation spells, as I often do, Worlds of Magic offers a path that allows you to focus on exactly that.
The city management and economic system is, once again, almost identical to Master of Magic. While the UI is slightly different, the options and information on offer are very similar. On the left side of the screen you are presented with your city, and each city is dynamic in that it displays new buildings as they are built. New population members are displayed on the right, rather than on top, but you can still assign them to farm duty, production duty, or research duty. City modifiers to production of food, building/unit production, and gold are dependent on nearby terrain tiles as well as your citizens, though information on how certain tiles modify things really needs to be further explained. The economy uses a basic tax system that is empire wide, and much like MoM increasing tax increases unrest across all cities. When it comes to this aspect of the design, it is fair to say Worlds of Magic is nearly an exact duplicate of MoM right down to the buildings on offer and the trade goods/housing construction options.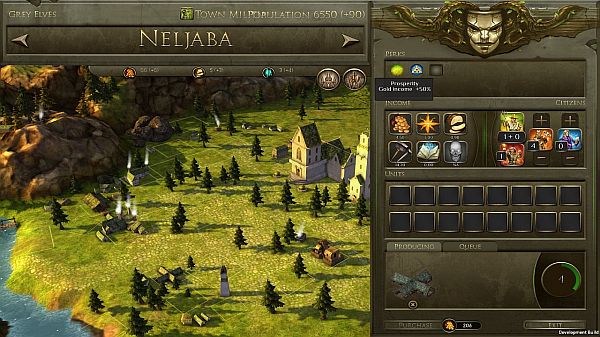 Graphically, the game is quite a bit behind its competitors. While graphics certainly aren't the most important aspect of a 4X game, certain aspects of the graphics and animations in Worlds of Magic leave a lot to be desired. The spell effects, for example enchanting your city with a harvest spell, present what appear to be very basic grass looking artwork and animation that is not on par with similarly priced titles that are currently available. Constructing buildings in your city is done without much grandeur. The buildings themselves are uninteresting and bland. When constructed, they simply appear and lack even the fade-in effect that MoM contained. While graphical elements aren't necessary for gameplay, some of my fondest memories of MoM center around the animation cut scenes that would appear. For example the city screens that would appear when enchantments like Wall of Stone were cast, and the summoning screen where your lord would pull up enchanted weapons or summoned creatures seemingly from the netherworld. Leaving these out is leaving out a lot of the charm that the classic title contained.
When it comes to exploration, Worlds of Magic already includes a variety of buildings and special minerals to discover and interact with. While my favorite building thus far is the Lost Tribes, a site that immediately provides a free population to one of your cities, there are many other useful locations. The oracle can provide you with a glimpse at far off locations. The watch tower can extend your view. Dungeons and bandit camps can provide loot and experience. While there is no quest system or force driving you to conquer these locations, as we've seen in other recent 4X games, I've found it is still worthwhile to seek these out for the benefits they offer. There are also numerous special minerals and resources across the map, but unfortunately I've found little in-game info about the specific benefits of each of these. I'd be remiss to not mention the neutral cities that you will also run into across the map. Thus far they seem to all be high men cities, but I assume this is alpha placeholder stuff. These cities do produce units that will wander around, and along with the occasional wandering monster, these can make you think twice about leaving your capital city undefended.
I'd like to go into greater detail about how the game progresses past the 50-60 turn mark, but I've been prevented from doing so due to some game halting stability issues. Despite saves and reloads, I have found I always hit a point where the game freezes trying to process one of the AI's moves. I'll be left with little more than an hourglass a developer console popup indicating a code error such as "Array index is out of range." This is expected out of alpha software, but since you may be considering making a purchase, I feel it is important to note that at least some people may experience critical game halting bugs. This is why aspects like artifact creation, unit diversity, and advanced spells can't really be evaluated at this time. While I'd like to see if my initial findings hold true deeper into the game, I suppose that will have to wait for a full preview article closer to release.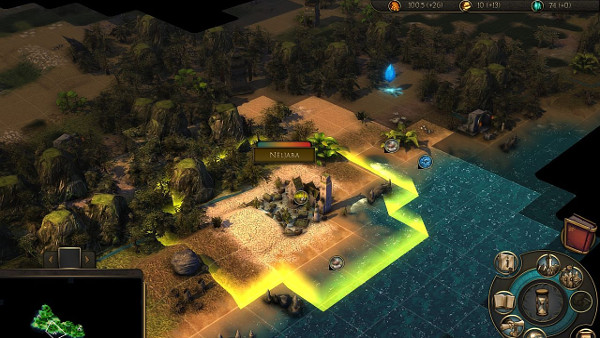 Worlds of Magic is doing a good job at emulating its mentor, but this alone is not going to be able to carry it to success. In some cases it has borrowed too much without learning from what other newer titles have evolved on. A prime example would be the tactical combat system, which feels clunky in its animations and uninspired in its design compared to recent 4X games featuring tactical combat. In other cases, it has lost some of the most charming aspects in this new incarnation such as the summoning animations and the interesting looking cityscape.
With nearly half a year until release, I firmly believe it is possible to polish the game and turn it into something truly special. I truly hope Worlds of Magic will begin forging its own path, as just being an imitation of Master of Magic, however nostalgic we might feel about it, simply doesn't feel like enough in an era of very tough 4X fantasy competition.
Subscribe RSS
36 Comments
Related Articles:
Post category:
Game First Impressions
,
Game Previews