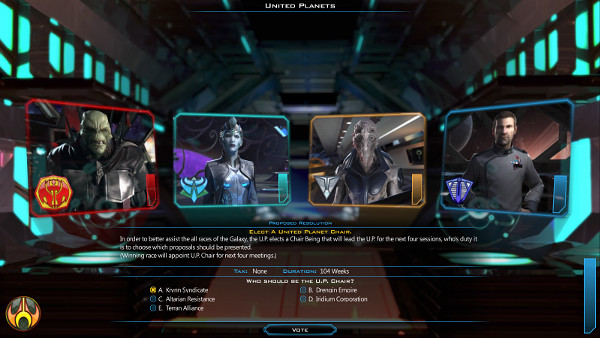 Yesterday, Stardock released a new major update for Galactic Civilizations 3, the new installment to their space 4X flagship series, and with that the game entered "Beta 2". This update brought diplomacy, trade, different victory conditions, a special diplomacy feature called "The United Planets", a "new" (brought back) race – the Krynn, and global events. Further along the path until release (tentatively April 2015), there's a "Beta 3" stage, which should bring space combat, ground invasions and the Yor race (from GalCiv2). Two more other races are expected to be added in early 2015. Being we effectively 6 months away from release, I thought this was a good time to host an interview with Stardock. The lead designer, Paul Boyer answered our questions regarding this beta 2 update, the project status and what's yet to come. Enjoy!
SS: So, diplomacy will be available on Early Access in Beta 2. What would you say is special and different about diplomacy in GalCiv3 from other 4X games?
Paul Boyer: I think what makes GC3 special, when it comes to diplomacy, is the same thing that makes it special over all: the scope. Not only are there more things to trade, more treaties to make, and more alliances to be formed, there are more ways to do it.
In GC3 when we talk about diplomacy we really include several things; Classic Diplomatic Trade, Techs, and Resources. There is also, Interaction – how different AI characters will treat you and each other, making sure your actions not only affect your relations but their mode. And finally we have Trade Routes – forming trade routes with other races can greatly affect how they feel about you, not to mention make credits for you both.
SS: Trade was also unlocked in Beta 2. There's mention of trade routes and trade route raiding. What exactly can you do with respect to trading in the game?
Paul Boyer: Trade routes in beta 2 are still pretty basic. You can now trade with other races by sending freighters to their worlds. They can be very profitable depending on the wealth of the planets trading, the distance of the route, and how long the route exists. As mentioned above they are very helpful in establishing good relations as well.
We will be introducing several new types of trade routes as well; routes that boost influence, research, etc. You will even be able to establish slave trade routes, which boost population and production, but anger all the non-slaving races.
Raiding will be done a bit differently in GC3. A player will park an armed ship on a trade route, and select "Raid." Once raiding they will become visible to both trading partners. The longer they last on the route the more credits they make. Last long enough and the trade route is broken.
SS: There's also "The United Planets" new feature, which I suppose is something like the World Congress from Civilization 5? Could you explain how it works? Is there a United Planets leader? If so, how are you elected and what sort of galactic laws can be passed?
Paul Boyer: Perhaps what I am most excited about in GC3 is the new United Planets system. You can now get elected Chairbeing of the U.P. and choose what proposals can be put forward. This allows you to use the U.P. as a part of your arsenal. By making friends with enough other races you can use your clout to get resolutions passed that can be very beneficial, or even save your butt. You can also use the U.P. to strike out at your enemies. I think that the new UP will add an entirely new aspect to the Diplomatic Game, especially as we roll out more races. Our goal is to let players play games with as many as 100 races, each with votes and agendas of their own. It's going to be really cool.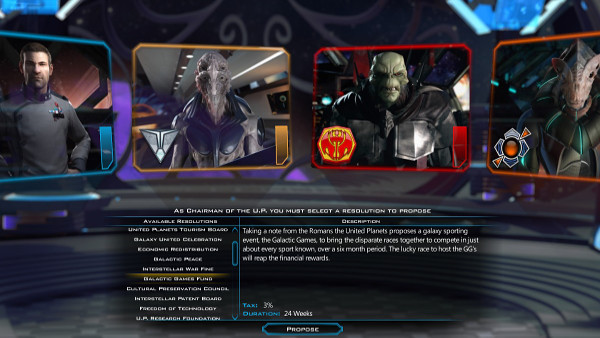 SS: Global events are also listed for Beta 2. You mean random events? Could you give a few examples? How do they impact the gameplay and can the player do anything about them (perhaps even to prevent them)?
Paul Boyer: Yes, in beta 2 we start bringing in Galactic events. These will start off pretty simple, like things that boost everyone's production or growth rate, etc. Others will require an ideological choice. These will give you different bonus and ideological points, depending on the choices you make. They will affect game play substantially.
That said, we still have Mega Events planned for a future beta. These are the Big Ones that can totally change the flow of the game. These are so big that we actually make them an option.
SS: Walks us through The Krynn new faction. What's special about it? 
Paul Boyer: When the Krynn were introduced in Twilight of the Arnor, they were actually a collision of smaller races and their primary focus is their religious zeal. In GC3 the still want to spread their religion across the galaxy, but the recent wars have taken their toll and the darker side of their culture has become more prominent.
In GC3 we have fleshed out their culture a bit more, creating several new branches in their tech tree, the most noticeable of which is "The Path". The Path is more than their religion, it is also the key to their influence and approval, giving them a big advantage in the influence game.
They also have "The Shadow Path." This is more or less a religiously sanctioned underworld that steps up to do the dirty work when needed. They are not afraid to extort, smuggle, or downright kill, to make sure that the unbelievers in the galaxy find "The Path".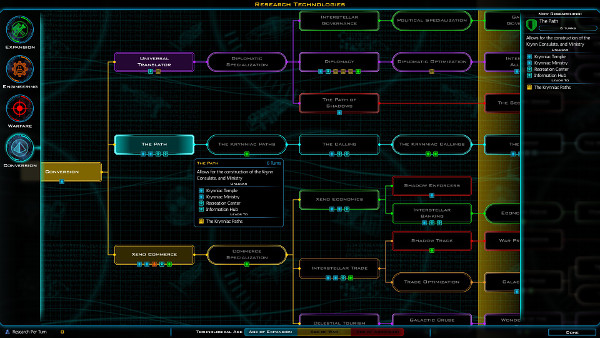 SS: Are there any other features, major or minor, available in this Beta 2 update that you'd like to mention besides the ones mentioned already?
Paul Boyer: There are too many small change to list, however there are a few that we are excited to get out to the testers.
We have enabled Influence, Technology, Diplomatic, and Ascension Victories. We have also added in some of the more often requested UI features, better management of Colony ships and transports, Rally Points, more mini map controls, and Huge Maps. We have also hooked up "Commands" which allow you to give civilization-wide orders to all your ships, planets, and Starports. These are amazingly useful on larger maps.
We have also added Precursor relics, which are similar to the old-style resources in GC2, and by studying them you can get civilization-wide bonuses.
SS: How is the AI coming along?
Paul Boyer: The AI is getting smarter, but we don't want to over-sell it at this point. There is a long way to go. It's smarter at how in manages planets, shipyards, etc. It's a bit better at hunting you down and killing you. Our main push into AI is yet to come.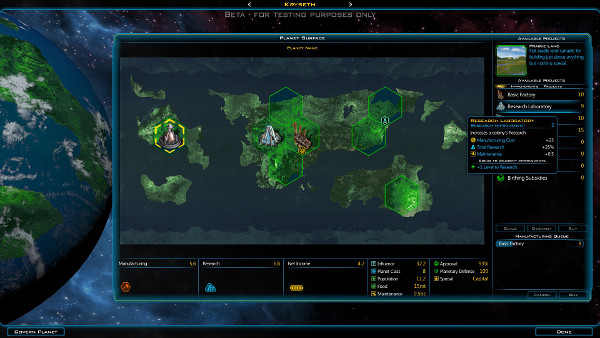 SS: What's your favorite aspect or feature of GalCiv3?
Paul Boyer: It is really hard to say; as the designer I tend to see the entire game as one big moving part. It's hard for me to single anything out. That said I got my start in GalCiv2 as the Art Director, and the Ship Designer has always been my baby, so I will say it holds a special place in my heart.
In general I think what I love most about GC is its flexibility. Depending on map size, map settings, etc., it can be so many different types of games that you can play over and over and still find fun new strategies. I always know when something is working because I start feeling guilty for playing the game too long, and not working on it.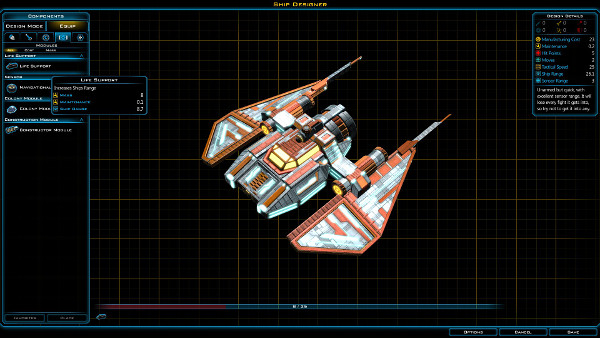 SS: What do you think about GalCiv3's Early Access experience as a whole from your point of view as lead designer? How helpful and successful do you think it was to the development process? And, what's your approach when sorting new ideas that come out from Early Access feedback? Could you give us some examples of features that were actually included in the game from the Early Access feedback process?
Paul Boyer: We have always done early access of some kind here at Stardock, the only real difference is that these days steam has broadened the audience quite a bit. We get some great feedback; the Founders program in general was very useful. We got a lot of very good feedback on small tweaks, and usability. Not to mention all the help we get finding the weirder bugs that keep us up at night.
There were a few notable changes that came out of the early access release. We brought back Starports (Now Shipyards) because players did not like only having one queue on their worlds, and we also brought back the concept of Military and Social spending. This greatly affects the pace of the game and the player's sense of control.
SS: With GalCiv3 well into development now, what would you say are the most significant differences between GalCiv3 and GalCiv2, in your opinion?
Paul Boyer: Once again I would say scope. GC3 is going to be a bigger and richer experience; we did not want to make a completely new game, we wanted to make the GalCiv2 of our dreams.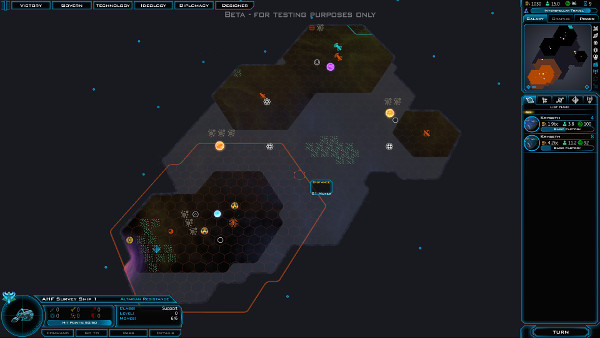 SS: Being this a sequel to a franchise it's expected that there will be innovations. What would you say are the percentages between features kept from GalCiv2, improved features and innovation to the series?
Paul Boyer: It's hard to say as there is almost nothing from GC2 that has not been re-done, at least under the covers. I would say we kept more of GC2 than most sequels, primarily because we think it's a great game. But we have added a lot of new depth and features even to old GC2 mechanics. I think the Adjacency system on the planets is a great example of this. I think interstellar terrain, strategic resources, smarter UI, much bigger and richer maps, and an overall more player-friendly learning curve are great places to start.
Of course there is always the new 64-bit engine that drives the game, allowing us to give each race its own unique style, a large variety of ships, unique technologies, and personalities. This really becomes important as we roll out larger and larger maps. Internally we are already testing the "Insane" map size which has over a half million tiles, and games with 100 races. These games are crazy because when entire Galactic Empires rise and fall on the other side of the galaxy and you don't even know it, it makes for a very immersive experience.
SS: Hexes. How solid are they at this point? And, what was the rationale for including them in this iteration in the first place? Why are they better for this design in your opinion?
Paul Boyer: Hexes have worked out well. We like that movement is clearer, and it also helps with the layouts of star systems. It's always hard to do circles on a square tiled map. On top of this I think it just looks better, more "sci-fi," and it gives the ships a bit more room to strut their stuff.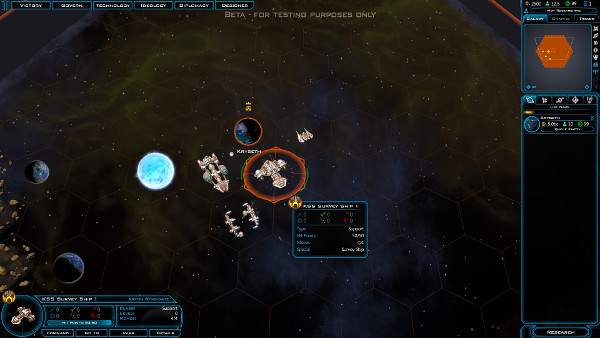 SS: So, combat is expected to be in for Beta 3, which should happen around the end of the year. What can you tell us about it at this point? How will combat work?
Paul Boyer: We are still keeping combat a bit under wraps, but we can say we are very excited about it. We did not want to go to a full battle simulation where players gave commands to individual ships, it adds too much micro management and a late games player would go mad when there are multiple battles per turn.
Instead we are focusing more on Fleet makeup, and we will have special components that give ships unique abilities in a battle. Building your fleet will become an art, almost like a deck of cards in Hearthstone. It will be pretty easy to learn, but will leave a lot of room for mastery and nuance.
SS: Release should be roughly six months away, according to the game's tentative schedule. So, regarding the project as a whole, how is it going? What other major features are still left to be revealed, and what do you think is or are the biggest challenges ahead?
Paul Boyer: I am very happy with the game so far. I have a great team and we are all very passionate about the game. I think we will be able to have the game as designed, fun and ready to go on time. That said, you can't work on something like this without getting some really cool ideas for the future. So I am really excited about future expansions, and DLC. This should be good news to our Elite Founders, who will get them all for free.
SS: Thanks for your time.
Galactic Civilizations 3 is developed by Stardock and is set to launch in Q1 of 2015 for Windows PC (64-bit). It's currently in beta on Steam Early Access.
Subscribe RSS
33 Comments
Related Articles:
Post category:
Interviews