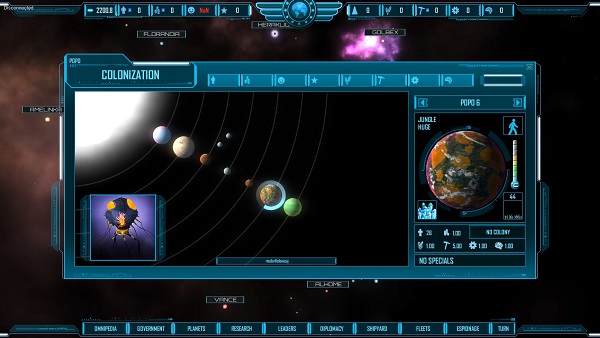 Last week I was able to have a chat with Marcin Bednarski from IdeaLcenter about M.O.R.E. We were able to talk about M.O.R.E. and were offered a live demonstration of the state of the game. It should be noted the game is still in a very early stage of development (pre-pre alpha of sorts) and not all the components are implemented, many more elements are not fully functional, and lastly the game still uses plenty of place-holder assets. The purpose of this preview was to get an idea of the direction M.O.R.E. is going into.
For those that are new to M.O.R.E. it is a turn-based space 4X strategy game that will have turn-based tactical combat. The game chimes to be inspired off of Master of Orion 2, a classic of the genre. They've recently released their second Kickstarter, which SpaceSector has previously covered here. Currently, IdeaLcenter is doing regular update videos to showcase more elements of the game.
The Basics
One of the many things I am curious about when it comes to 4X games is diversity of options given to the player when setting up a new game. Naturally I decided to probe into this area during the demonstration. Overall, there seems to be many options to tailor your galaxy, along with the 20+ races to choose from which you can customise as well. Each race tends to have their own unique technology branch in the tech tree. Races also have a diverse array of habitats and biochemistry (not all life is carbon based, and some races live in regions like the Corona of Stars and Asteroid Belts). The player can also disable random events including disabling only specific events; other game settings include victory conditions.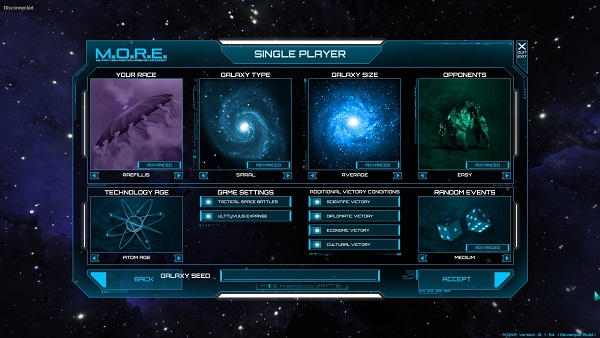 One thing to note, the screen is pretty compact and the basic choices are presented immediately, each category has an advanced tab that places the more detailed selections inside of it. Example, selecting the shape and size of your galaxy is pretty straight-forward, but the player can also expand into selecting the number and type of stars specifically, and the density of each type of worlds as well.
Another feature the game will have is an Omnipedia which acts like an in-game encyclopedia about everything, such as game mechanics to lore bits (which the community has been helping to flesh out).
Galaxy Map
The game is set in a fully 3-dimensional galaxy, as many of the game preview videos have showcased. The galaxy will contain many features such as wormholes, neutron stars, black holes, and even nebulae of varying kinds. The game will have the traditional trappings of spheres of influence, sensor range, and even limits on fleet ranges. It was also informed that the player can send a ship to any point in deep space; this includes even having a rally point just outside of a system 1-turn away from invading. However, there are costs to have a fleet far from its home base and having fleets in a holding pattern outside of a star system.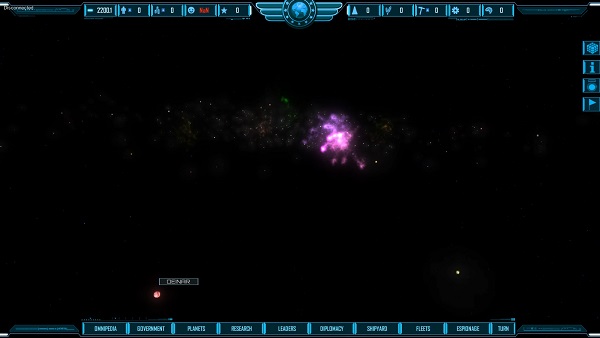 One concern I had is ease of navigation. I was answered that such concerns are already being addressed. At the moment, the player can filter what they see in the galaxy map such as planets he owns, only planets from a certain range from the selected point, or seeing the current sector only. Also, coordinates can be given to fleets directly to have them go directly to a given coordinate in space. I still feel more tools could be useful, especially being able to get such coordinates easily, but from what I saw IdeaLcenter is aware of such considerations.
Planetary Systems
Perhaps the meat and crux of any space 4X game are planets since they serve as the backbone of your economy. Like in most games, you have a planet view panel. There you can filter them as you wish and order as necessary. This is important as from what I gathered from the game there will be a lot of worlds to explore, as you have many star systems, each with a set of planets that may even have their own moons. Filtering will let you only select colonies or filtering planets via other criteria. More importantly due to the diversity of worlds, practically any planet criteria can be used to order a planet and many of which are also filter options.
One thing I noted was that the diversity of worlds is huge. Aside from the typical planetary types and resource levels, the game seems to also factor conditions such temperature, gravity, and biochemistry. The design choice of the game was that there is a multitude of worlds but only some of these worlds will ever be useful for a given race. Though technology can be used to expand ones comfort zone and make less comfortable planets more comfortable, not all worlds will be viable and even by the end-game you will have a vast number of useless rocks in your territory.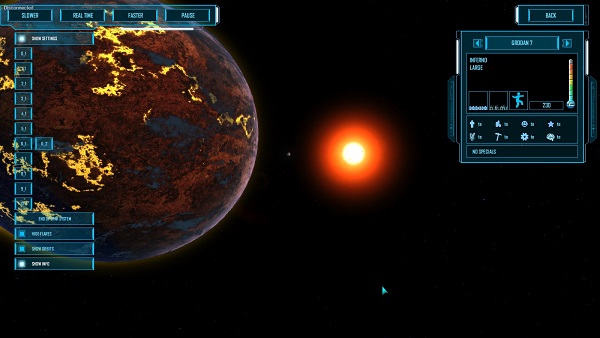 The player will be going far and wide to find the worlds they need with many planets being unusable between them. This also means because of the racial diversity of alien life, there will be planets you will not be competing for and the possibility of a mixed-space is quite possible.
The player can go to the system view which gives an overview of the system, showing every world inside and allowing the player to quickly select and at a glance to get the basic information they need to know about the selected world. The player will also be able to get information on the star and on the asteroid belts in a given system as these may be places of interest for certain races that live in such environments.
The game also features a sort of cinematic view of inside the star system, showing the worlds orbiting their respective stars and moons around their respective planets. Settled worlds will show sentient activity as space build objects will be seen orbiting their respective worlds. This view also gives the player an idea of what the local 'topography' would be during a system bound space battle. Overall, the view seems to be visually rich and was a request of many backers.
Colonies
All these planets would be useless if one would not be able to exploit them. Though the game's economic models have not been implemented and placeholder art is still abound I was able to see some elements of how colony management will work. The basic economy is similar MoO 2; where you have farming, industry, and science, but you also have mining which supplies resources to feed the industry. The game uses freighters to help distribute food and minerals as well, allowing players to set up agriculture planets and mining planets feeding their science and industry planets.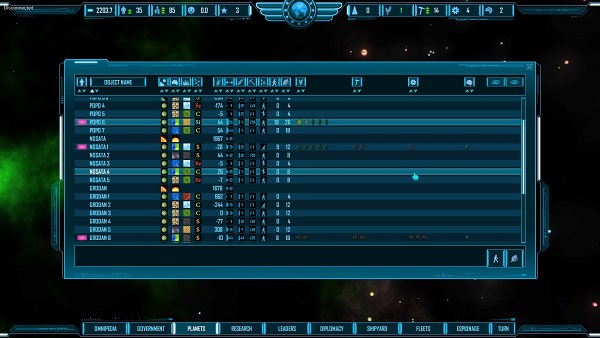 The player is given many tools to help micromanage such as the player can set growth direction (as in which area new population is placed), assign a flag category which makes any other planet with the same flag get the same change, and the use of saved build-order templates. The player can build civilian and military structures, orbitals, and obviously spaceships. Like in many games, if you have enough money in your treasury you can speed up production immediately.
Technology and Leaders
The game will use a tech tree similar to Master of Orion 2 where the player will have a choice between each branch but only receive the one they researched and skipping the ones they have not selected. Two key differences were observed: most techs will have an automatic tech above and beyond the one the player chooses acting as a sort of baseline that everyone can get; the other is that every race has its own unique branch which helps further distinguish each race from each other.
The game will have a wide variety of leaders. These will be captains and admirals (commands spaceships and fleets), diplomats (improves relations with other races), scientists (improves research and may even give free techs), spies (improves espionage), and managers (colony governors). You will be able to get leaders from exploration while others will come and offer their services for you. There is also a sort of leader market where factions can place bids on potential leaders. Leaders will also have recruitment requirements as some leaders will join certain type of empires, such as those that are at war or that are a certain type of government.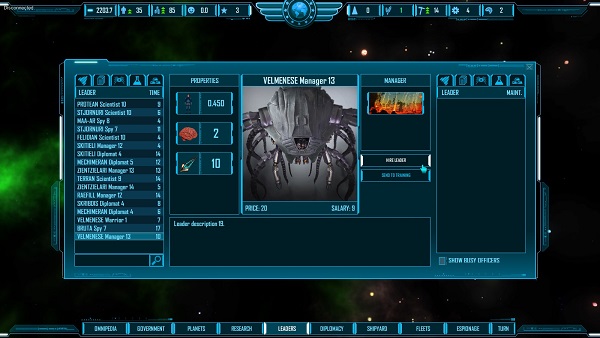 Diplomacy and Espionage
The diplomacy kernel seems to be far from complete, but Marcin assured that a lot of work will be placed into it. The game will have the traditional treaties one would expect, the ability to trade techs, and even the possibility to coordinate with allies. Also, relations will be bilateral which means liking a race does not mean they will like you. There is also a sort of global opinion for each race that acts as a sort of reputation or karma meter which shows your overall standing in the galactic community. This can have a serious impact on which race is willing to deal with you. Lastly, it was mentioned that there will be inter-species councils though not much detail was given on this subject.
The game will also have an espionage system. The player will assign agents to either espionage or sabotage to any number of opponents and even select focuses within each. Espionage will focus on stealing tech and gaining information, while sabotage is about weakening the enemy by causing acts of violence, or sabotaging their economy or research. The player can also assign agents to defence; however, the counter espionage and counter sabotage require their own agents.
Fleet, Ships, and Combat
There was not much that was shown in these areas as the game is still in a very early stage of development. The game will allow the player to customise their ships by adding modules and components, allowing the player to influence their ship's esthetics and combat capability. IdeaLcenter intends to have a wide variety and modification to weapons: having weapons that can bypass shields, armour penetration, or envelope. Ships will have many different defences such as armour and shields, and point defences. Ships will also have statistics such as 'noise' which will determine a fleet's detectability. The fleet screen is designed to give the player all the relevant information on many statistics.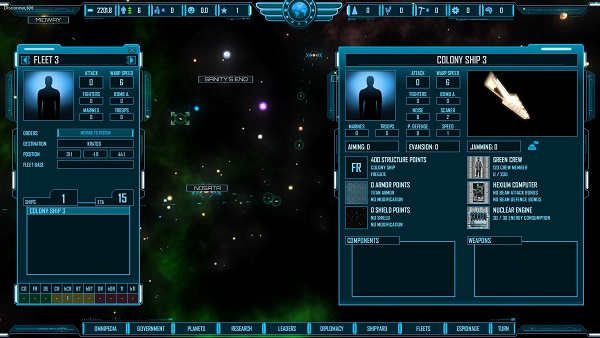 Not much was shown about combat, but facing will matter as weapons will have firing-arcs. Additionally, a star system's topography will matter as ships will be able to take cover behind moons and asteroid belts. Again, none of these have been implemented yet, most of this was discussed and renders were shown from inside the game's program. One bit of information that was interesting is that the game will have space monsters and one of the alien races will be able to tame them for personal use.
Final Comments
The core concept of M.O.R.E seems to be including many elements that veterans of the space 4X genre may be looking for. Though I have not seen the game be actively played, I was shown the engine in action and many key gameplay elements inside the game. I have seen no functional AI, and there has not been any mention of one being developed. When asked, I was told the bulk of the AI will be developed later but no timeframe was given as to when even a basic AI would be implemented. The game will support modding, but yet again not much details were given on the matter except that the game will be friendly to modders.
Hopefully, IdeaLcenter will be able to continue with the progress on the game and be able to show us more about their title in the future. The game still has quite of bit of work left before hitting the Alpha stage and I do wish them luck on this endeavour.
(Updated October 9, 2014.)
You can check out M.O.R.E. at their official website here, you can also go check their second Kickstarter page here. The regular updates can be found here. There is no official date given when the game will be complete and when the alpha will be available for backers, though the project is nearing the alpha phase. My personal opinion is they should not rush the game, as this has been a bane for many of the indie 4X games that were released lately.
Subscribe RSS
55 Comments
Related Articles:
Post category:
Game Previews
,
Games Under Development