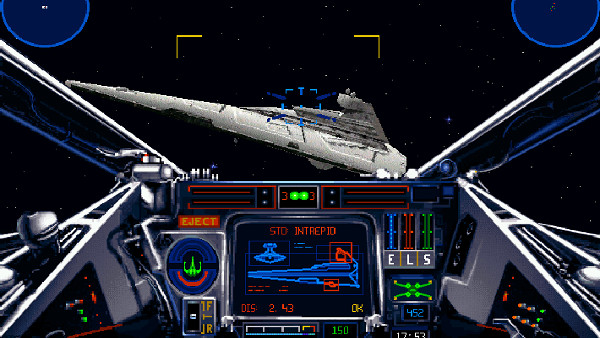 The day has finally come. GOG has just announced that they've teamed up with Disney for the digital distribution of more than 20 of their Lucasfilm games in DRM-free form. They've started today with 6 titles, among which are two cult space simulation games from the 90's, Star Wars: X-Wing and Star Wars: TIE Fighter.
GOG's X-Wing edition includes the Imperial Pursuit and B-Wing expansions while TIE Fighter includes the Defender of the Empire expansion. Both games are both for Windows (XP, Vista, 7, 8).
By the way, the other 4 Lucasfilm games released today are: Sam & Max Hit the Road, The Secret of Monkey Island, Indiana Jones and the Fate of Atlantis and Star Wars: Knights of the Old Republic.
I grew up playing these games, a time where playing a flight simulator with the entire keyboard and a mouse was a lot of fun :) The graphics are obviously a bit dated, but back in the day they were pretty much state of the art. But, if you, like me, couldn't play the game on high settings back then, then here's your chance to give it another go now.
Use the force, Luke!
Subscribe RSS
22 Comments
Related Articles:
Post category:
News & Announcements