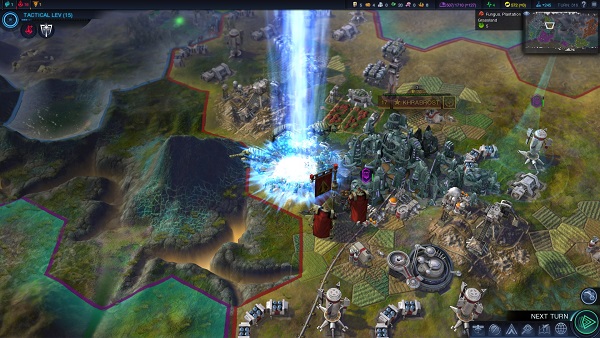 Sid Meier's Civilization: Beyond Earth hit worldwide release on October 24, 2014. Developed by Firaxis Games and published by 2K Games, Beyond Earth takes Civilization back into space and tackles the challenges of colonising an alien world. This time around the game stays closer to its recent predecessor's approach of doing things, and in many regards Beyond Earth will feel very familiar to the fans of Civilization V since the game uses the same engine and overall gameplay mechanics (1 unit per hex, Social Policies in the form of Virtues, and other mechanics).
Overall the game is enjoyable. However, with expectation set high because of the return to an alien world (Sid Meier's Alpha Centauri remains a fan popular and classic to this day), and with the standards that the previous Civilization games have set, it is not hard not to feel a little disappointed with Beyond Earth. We need to remember that the release version of Civilization V was also a rough game at the start, and only after two expansions and years of community feedback it got to where it is today. The question remains, how well does the game hold up on its own?
Despite its shortcomings, and the overall lack of personality the game has with its factions, the game remains a solid and enjoyable experience. It offers a lot of new and interesting mechanics like unit evolution, a quest system, and the affinity system. The end-game mechanics could use some touching up however, but overall I've been enjoying my time with Beyond Earth. The game is far from being a masterpiece though and it definitely needs more polish as some elements don't mesh perfectly. The game balance is also off in some areas, but it's still a decent and fun game.
Check our previous write-up to know more about the basic concepts of the game as the review will focus more on how well these features were implemented and on things that were not explored in-depth in the previews.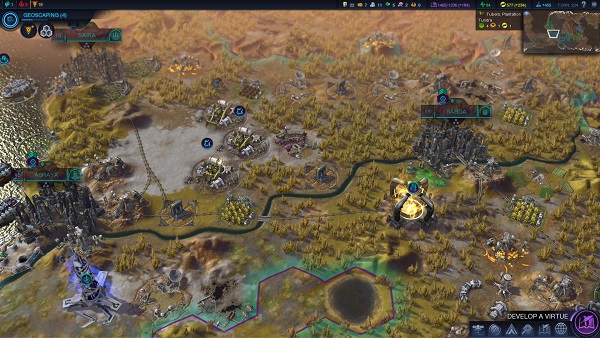 Presentation
The overall visual quality hasn't changed from Civilization V. The graphics do appear to be a little crisper this time, but it is hard to tell. Most of the differences comes from the alien setting and the new futuristic buildings and units. The presence of futuristic units and tile improvements does lead to some interesting visuals on the screen. Many of the end game units look good and have very distinct styles to them which bring the ideas of each affinity to life.
The game's audio track is pretty good with memorable melodies, the problem is there doesn't seem to be a large soundtrack, one thing that its predecessor had. For a game that you will play over 100+ hours with, the reduction of tracks is noticeable, more importantly the lack of faction specific tracks has a significant impact on immersion. This is probably one of the many reasons why the factions do not feel distinct and makes the game lack some personality of its own.
The UI is a sleek and minimalistic, using soft dark tones and white highlights to represent visuals. This leaves the game looking rather blend and sterile, and though it does have a sci-fi feel to it a bit more flair could have helped. The fonts can be small and the tone of the writing meshes too much with the background colour, making the text sometimes hard to read in the Civilopedia and sometimes even in the UI itself. Many times it will take time to find an old familiar feature, which can leave new players looking or wondering if an element does exist , like opening your list of old buildings and scraping them. It also took me a few moments to figure out how to change the focus of a city.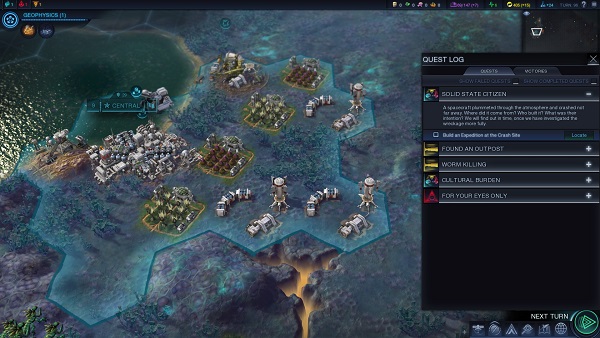 The problem lies in that the UI doesn't explain itself. A good UI needs to be intuitive at a glance, and the tutorial doesn't cover everything. This doesn't mean the UI is a mess, quite the opposite, it is too sleek. Despite this, some menus look less organised or legible, like the diplomacy and military overview which feel cluttered. Overall, the new placement of many of the old options from previous games feels better but it does take a while to get used to if you are familiar with the older placements. The new UI is certainly efficient if not too efficient at times.
Game Setup and Options
Unlike previous Civilization games, your faction plays only a small role in your starting situation. In Beyond Earth, most of the faction's customisation will come through play and each faction only has small bonuses that don't stand out as much as one would usually expect. This sort of reactive growth is interesting but it feels that too much was sacrificed from the distinction of each faction.
Allowing each faction to be able to adopt different strategies efficiently doesn't mean they can't have a strategic bias or distinct elements that distinguish them from each other mechanically, and still be able to aim for any Victory Condition. For instance, the different factions don't have unique buildings or units. Considering that the rest of the new game set up is selecting your load-out, makes one wonder even more why the faction's unique trait couldn't be more pronounced.
The rest of the Seeding Process is selecting your colonist (a basic bonus you get for each of your cities), and space ship and cargo (starter bonuses that help shape your beginning experience). This tailoring feature is interesting but unless you tweak your map setting, you don't know what you are getting, so a lot of these choices are made partially blind. Albeit it makes sense you won't know all the details. A nice touch, but the player will usually find the one or two options they really like and stick to those, although there are enough differences in factions to change what load-out you will use if you select another sponsor.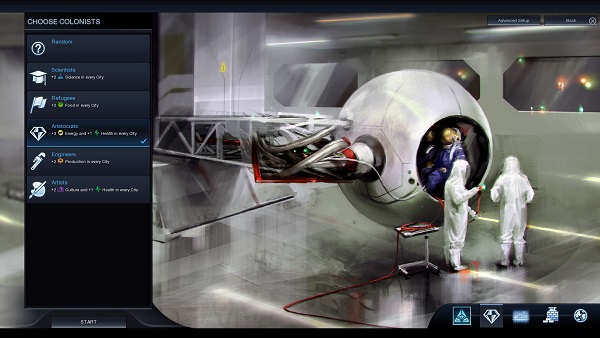 The player, as always, can select game pace, overall map size, difficulty level, and the overall planet type. Also, for those that want to tailor the game more there is an advanced option screen. Here you can select the number of opponents, pre-select them, define your planet even more (like in previous Civilization games), select the terrain type, enable or disable victory conditions, and several unique features like rampaging aliens and others we have become accustomed to in previous Civilization games.
What I found missing is the ability to have ocean-less (be it with lakes or no lakes) maps that loops East to West. This sort of map can only be achieved with the Skirmish map which is a fixed bordered box. An option to have skirmish like maps (which are very customisable) that loop from East to West would have been nice. So any dream of exploring a dry desert world with no water is dashed unless you are willing to do it on a skirmish map. Also, the Score Victory can't be disabled.
Affinities
Affinity plays an important part in Beyond Earth, more so than your actual faction. Affinities represent your overall view on the future of humanity and they unlock specific buildings and units. So, having the tech will not be enough, as many techs will service more than one affinity. You will also receive additional minor bonuses as you level up within your affinity. This is actually one of the criteria of achieving an affinity victory.
Affinity will be earned by researching the corresponding techs and by completing quests. Affinity also plays a very important role in keeping your army modern as the upgrade phases occur based on affinity rank. Overall, each affinity favours different focuses in gameplay.
The different affinities are: Purity, Supremacy and Harmony. Purity will be good at having very effective farms and have better culture from tile improvements along with late game culture wonders; they will also gain some Health building benefits. Supremacy will have solid science and culture specialist buildings, and access to additional resources via satellites. Harmony will have the most spread-out bonuses and means to offset overcrowded penalties for individual cities with bonuses to health and growth.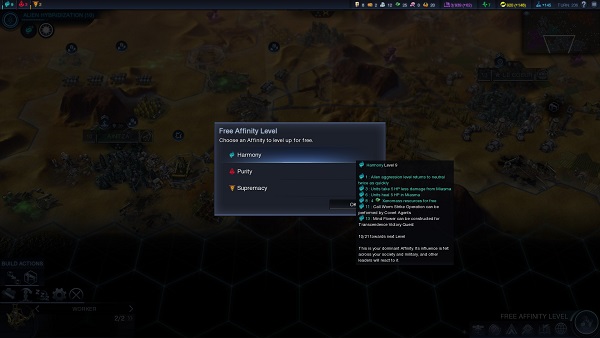 It should be noted that although some hybridisation is possible, the player is strongly recommended to focus on one Affinity first and only have a few points in the others. Only in the late game there may be advantages of getting a few off ranks, but even then only a few is needed. This said, some affinity rank abilities are too hard to pass up. Supremacy level 3 is very useful for a faction that will build a lot of roads, while Purity level 1 is a must for anyone in the early game as it renders your explorers immune to alien attacks.
Overall, affinities are an interesting addition. They act a bit like Ideologies did in Civilization V: Brave New World, except they are even more pronounced on your faction than they were in BNW. They will influence the type of technologies and specialties the player will go for as well. The largest impact affinities will have is on your military, which will be covered in a later section.
Exploration and the Aliens
Exploration plays an important part in Beyond Earth, actually despite the sci-fi setting there is no 'map reveal' tech. To uncover the map one will need to reveal it manually. Though this can make exploring an alien world interesting it can feel a little out of place in the late game. Having the satellite coverage act as an unexplored tile reveal would have been a good middle ground, but alas only physically exploring the map is possible.
What does help is that the average scouting unit – the explorer – is a cheap unit and acts like an 'archeologist' of sorts (when compared to Civ V). Each explorer can only do one expedition dig, before the need to go back to a city to recharge (they are not consumed). However, a building quest, virtues, and an affinity rank give you extra expeditions that the explorer can use before needing to recharge at a city. These digs can uncover interesting things, including a shortcut to one of the victory conditions. Civ 5's Goodie Huts are also back, in the form of resource pods.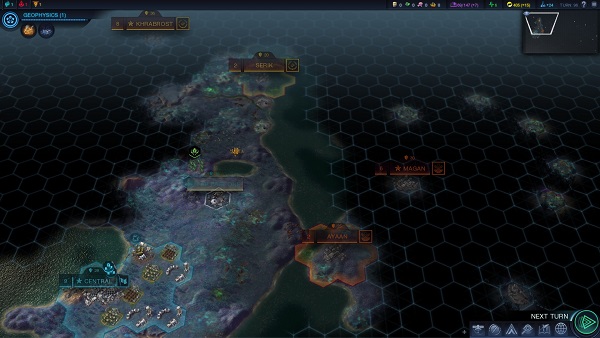 The aliens are one of the defining features of the new planet. They tend to spawn from nests and these nests can be re-spawned if not capped by the player. Unlike its spiritual predecessor, the aliens are not a constant threat and can usually be dealt with by the mid game easily. This might disappoint those that want a more brutal planet that always fights back; this will be welcomed by those that actually prefer a planet that can be beaten to submission to make way for humanity (which one affinity is based off of actually).
Doesn't matter which end of the spectrum you fall however, it seems the aliens are too easily dealt with. This is partially due to the fact that the hostility increase that was seen in the live streams pre-release doesn't seem to happen now. Though aliens will get slightly more aggressive and start chasing down units, I never saw an alien attack a city even after I went Starship Trooper on them. Also, they seem to cluster amongst themselves making it a lengthy grinding experience to clear out a nest area in the late game as the individual units won't be a threat but there will still be many to kill. This clustering also means they don't cause havoc for the player if you happen to be far from them.
This is either a bug or that the initial alien aggression was toned down way too much by accident. This is a common thread in Beyond Earth, where there is some balance issues present in several locations. Also, there seems to be some issues on the method of 'befriending' the aliens which is normally achieved by letting a nest grow in your own borders. Normally this turns the aliens friendly and allows you to harvest the Xenomass resource naturally; however, the Xenomass is not always collected and the game does a poor job explaining the process to the player.
Cities and their Neighborhood
Nothing has changed from city management since Civilization V. To those that are new to the series: the system is a simple mechanic of building buildings or units within a city. Also, the population will either work on tiles on the map that will give yields or work in specialist's slots within certain buildings that also give yields. It's elegant and simple, factors terrain that is around of the city and not just the tile the city is built on.
Just as in Civilization V, the well being of your people is represented by a global stat, Health. Just like its previous incarnation this is reduced by the number of cities and the number of population that you have. This makes city spamming a quick way to lower your Health. Also, health buildings that offset this penalty are capped by the number of people in your city, making Health from Wonders and Virtues important to offset high unhealthy values.
This time the system is less punitive than Happiness was and the bonuses of positive Health are more permanent. This system is more rewarding and less penalising; however, it has the disadvantage that extreme values are not as worrisome or rewarding. Once above 20 Health the extra health feels like a waste of effort (unless you take certain virtues), and being below -20 Health results in not caring if you go down even further. Since the system is less punitive, playing at these low levels of Health is a viable tactic.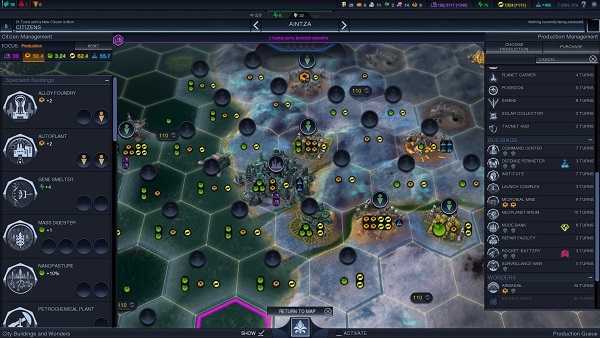 The largest change from previous Civilization games is that without Great People, special improvements are now tech based. Mid and late game techs will result in the ability to build high tech tile improvements that give special yields. Also, some techs will boost conventional improvements. Example: Going Purity will allow the player to turn farms into very useful tiles that offer both Energy (money) and even production. This gives a lot of tailoring to the player on how to shape city production.
There is an issue with automated workers though; sometimes the Route-to function will not work. Also, when Terrascapes are researched workers will lock into only building these. This can be seen within AI factions that will slowly carpet themselves with these expensive and long to build tile improvements. Also, an extra layer of management is in the use of satellites which the player can use to boost outputs of the city. This is sort of an interesting way to buff your cities, however most of these satellites tend to be in the less explored parts of the tech tree (to be discussed later).
The player can also build wonders; however many wonders will be mere 'super buildings' with slightly better stats than other buildings. Only a few, and oddly enough the ones that are earlier in the tech tree, will be interesting to build because they offer unique bonuses. This makes a lot of the end-game wonders disappointing mechanically and not just because of their weak presentation.
Trade and Espionage
Trade routes are per city this time, which considering how useful and even powerful they are will encourage the player to spam cities. Each city can wield up to 3 trade routes, and this will include puppet cities (cities that you conquer but don't annex immediately) too. The reason trade routes are so useful is because external routes with other factions and stations (which are like independent mini-cities) can provide a strong science and energy boost (and a diplomatic bonus), while internal trade routes offer a food and production bonus to both cities. The only limit for internal routes is no mirrors.
Trade routes are useful as they offer strong bonuses and it is easy to power up your capital and still reap rewards for the donating city as well. Setting up trade route rotations internally can also increase output dramatically of all your cities as there will still be enough routes to gain the energy and science bonuses for external routes. The more cities you have the more internal loops and the more outward routes you can use. This is another element that causes the player to favour expansion over focusing on a few well built cities in Beyond Earth.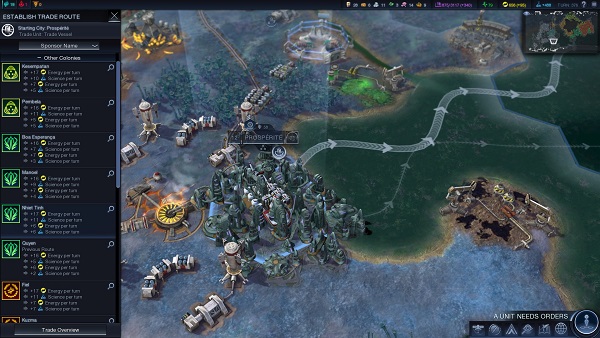 The player can also trade with stations which is one of their two purposes (the odd quest being the other). However, trading with stations is usually not worth it when compared to internal routes or external routes to other factions. There is a Virtue that does help, but unless that Virtue is taken, and the player can skip it even if they go deep down that tree, there is very little reason to trade with stations.
The other problem is that the player will need to manage a lot of trade routes by the end game as 3 per city can quickly build up. The game gives no means to auto repeat a past route, and it is sometimes difficult to see the previous route because of the game's font. In addition, these lists can get huge as the AI also tends to play expansionist resulting in a really long list of cities to select a trade partner. Since the system is straight from Civilization V, it is hard to imagine why the management system has not been improved.
As for Espionage, it's an interesting system as the player can gain science and energy from a target, and even steal tech. At higher levels players can also gain free troops, disable satellite networks, and even take a city peacefully. Science, tech, and defectors' covert actions are extremely useful as it can be an alternative method of gaining these resources. Defending is easy enough with the aid of mid game buildings and even a late game satellite which will block the worst elements easily.
The two problems that arise however is that the affinity based spy actions are at the same rank as flipping a city, making them less than interesting to use as an extra city is usually a more appealing prospect as the player can also flip the enemies' capitals. Also, with the way how intrigue and the spy network establishment work, it is easy to exploit the system to raise your intrigue very fast. There are strategies out there on how to win Domination within the first 200 turns by flipping all the capitals quickly. The system would be great if it were better balanced.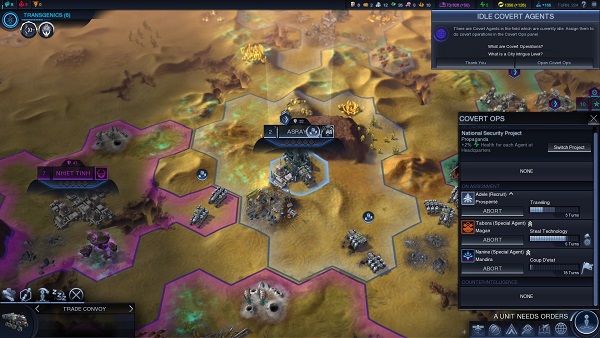 Technology
The Technology web is another difference in this title. This time, techs are broken into branches, which act as advancement points on the web, and leaf techs, which are sub techs that take longer to research than an equal tiered branch tech, but less time than a branch tech of the next tier. Also, pre-requisites are not a case of having all previous connecting techs, having any one of the previous tech along the line will allow the player to move on forward. This encourages players to sometimes skip entire branches of the tech tree.
Skipping leaf techs are expected as many are situational and tied to an affinity. It's more efficient to focus on a primary affinity first so the player will quickly start skipping the leaf techs of other affinities. The goal was to have the player only research a select number of leaf techs and even skip a few branches at times. In this the game succeeded, though many circumstances will make the player regularly skip the same branches.
The downside of all this though is that many of the more interesting satellites are in these less then often explored tech paths. This under serves one of the new elements added to the game. The player will forget they have access to such devices because they either show up too late that you are used to playing without them, or you did not get a chance to even research them in the first place. It doesn't help that the orbital attack satellites are both end tier techs, both the weaker and stronger one, and the stronger one is on a branch that connects to a tech needed for one of the victory conditions.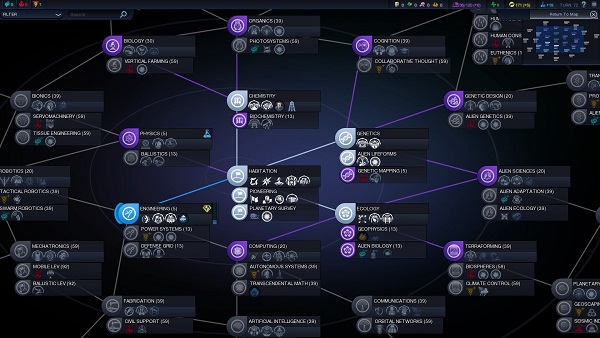 Overall, the tech web is a good idea and does give the player a lot of choice and exploration of the technology system. However, the placement of some of the satellites needs to be reconsidered to encourage their use in the game. Also, it is sometimes hard to tell wonders from buildings in the tech web, due to its monochromatic presentation and that they are written in the same format so that even the mouse-over tool-tip doesn't help differentiate them.
Virtues
Civ 5's Social Policies have been replaced by Virtues and they operate exactly the same way with one key difference. Each tree tends to go 15 policies deep but there are only 4 trees. In addition, spreading out is also rewarded along with going deep. These synergy bonuses and specialisation bonuses will give the player a lot to think about and give many tough decisions as many virtues are also useful in only certain points of the game. It also follows the same rules the tech tree does; you only need one of the previous connecting lines to go down in the tree. Overall, the system is interesting.
The only real criticism is that there may be balance issues. At the moment, only the Prosperity Tree seems to be effective at getting rid of unhealthy. Within 3-4 policies of each other you can go from -30 Health to +30 Health, but this requires going deep into the tree. This doesn't mean the other trees are useless; actually they tend to be all very useful. It is just that Prosperity is also the growth tree, so there doesn't seem to be many alternatives to having high health even if you focus on building up as opposed to expanding.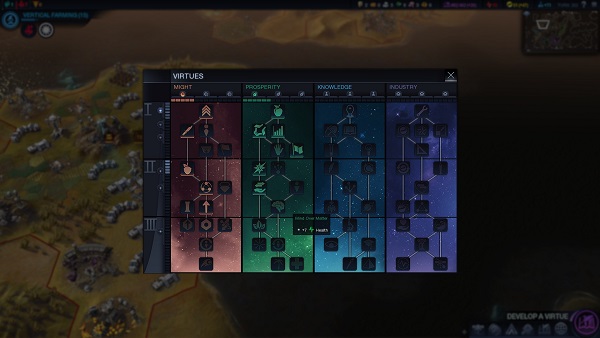 Quests
The quest system is the way Beyond Earth tries to convey a sense of lore and story to the player. The system acts as a way to help the player steer through the tech tree and aid in shaping the affinity preference of their faction. Actually, in the early game, quests will be the largest source of affinity points. Also, in the mid to late game the player will receive affinity specific quests. These quests help define the setting and the path the player chooses, though the simple presentation might cause many to just read the bonuses and skip the lore.
Occasionally the player will also receive quests from stations. They will sometimes give quests that will require you to attack another station or establish a trade route with them. Some affinity quests will also involve stations as well. Some of these can be skipped as the player might not be interested in destroying a station as it can cause severe diplomatic repercussions. These can become annoying when a primary affinity quest does entail a station's destruction.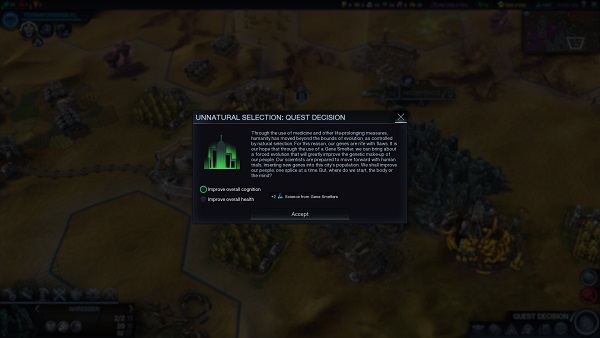 There is another type of quests that the player will receive and these are the quests to customise additional bonuses for your buildings. When you complete a building you will receive a quest with a short narrative where you pick one of two possible bonuses. This gives a lot of discovery for a first play through; though they can get a little repetitive they still remain an interesting source of customisation. Also, the lore for some of them is interesting.
The one problem with these quests is many of the choices are no-brainers or very situational to take the other. For example, +1 Trade Route per city with an Auto Plant or having your Trade Routes immune to alien attack by having a Perimeter Fence are obvious choices. Most are simple choices giving a bonus here or there; they seem minor but can add up. The system does give that extra layer of customisation and a bit more lore for your faction.
Diplomacy
The Diplomacy system seems like a trimmed down import of an earlier version of Civilization V's diplomacy system. This makes diplomacy one of the weaker elements in Beyond Earth. The leaders use repetitive one-liners, and the text is generic between leaders and the only variation is in affinity based banter and introductions. Also, the exploit that you can offer EPT (energy per turn) for a lump some of energy, then declare war on your target to cancel the EPT term is back from the release version of Civilization V (which was corrected with expansions).
There is no way to see the deals and relations between leaders except for cooperative agreements. There is no way to see which station each leader is dealing with, which makes it easy to generate an unforeseen diplomatic incident when you decide to attack a station. Though the player will receive notifications for wars, there is no way to verify these quickly, while information like relations to stations will always be hidden.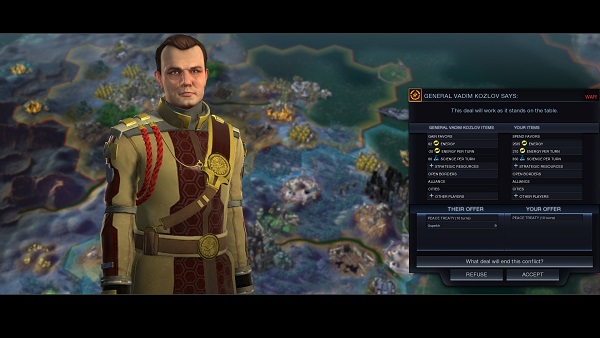 Considering that the AI is very sensitive with attacks against stations (I have seen these acts trigger as much hostility as wiping out a Cooperative Partner of the same Affinity), it feels having this knowledge hidden is inappropriate. Also, the information that is present seems cluttered and not neatly presented. Though it is possible to maintain friendly relations with opposing affinities, the AI is very sensitive to transgressions and not knowing all the ties can cause what appears to the player as erratic behaviour.
It doesn't help that the AI can make requests the player can't, like stopping attacks on stations. So, unlike the AI that will go full insane on you for the same act, you can't even ask an ally to knock it off. Also, the taunts from hostile factions have returned; even if there is nothing to be taunted about, a generic "we hate your affinity", and when that is not available a taunt about just being silly will be issued. These tend to come often even from just one opponent. This was one element that should have not been lifted from Civilization V.
The game introduces the ability to give science to an ally. This literally is giving science, effectively slowing down your own progress. Since all victory conditions are so dependent on this, it feels like a trade offer no sane player will ever agree to and can be devastating as an extortion of a defeated war victim.
The player can also accumulate favours but the system is not as interesting as it sounds. Favours seem to be given not as a fair trade but as a token for accepting a request for aid. They can be used to get something back later but it seems the trade-back value will always be lower than what was given for it. Also it is dependent on your relation status, so if you have become hostile all the favours will depreciate from being worthless to useless. Sometimes it seems favours can be used to ask an opponent to stop spying on you and the like, but the window it can be used for this is tricky and it won't be uncommon that the player will miss the window. There also seems an opportunity lost that favours can't be used to forgive the indiscretions of the player.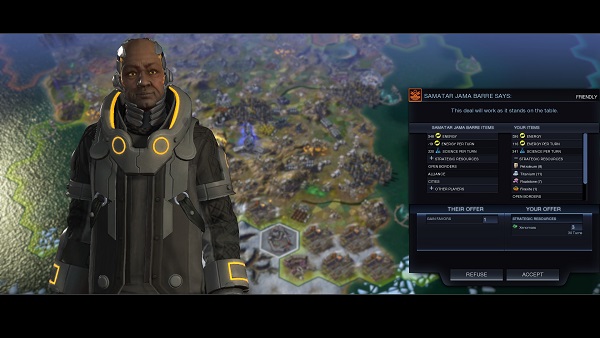 Favours are not completely useless, but it will take a large number of them to get anything of value out of an AI. However, because of favours, the AI doesn't seem to offer fair trade offers anymore and only makes requests for aid for favours (which are rarely traded back for the same value even at high relations). Sometimes it is better to just counter-proposal a fair trade unless the goal was to gain the diplomatic bonus 'accepted a request for aid'. The system can be interesting but definitely needs more work to be considered a worthwhile feature.
Units and Warfare
The biggest change in Beyond Earth is the unit upgrade system. The player doesn't need to worry about unit upgrading as all units will receive the evolution after it has been selected. Also, the unit upgrade occurs based on affinity, which means any tech will increase the player's military capability as the military tech level will be a natural representation of the overall tech advantage. However, since affinity is also gained from quests this transformation can come quickly and early for the player if they focus down one path.
This doesn't mean that military techs are not needed, since these tend to unlock special units especially those that are exclusive for an affinity, but one will need to meet the affinity requirement to be able to build them. These units are extremely powerful and can tip the scales of battle. A single CNDR unit can tip the scale of battle in the early game for a Supremacy player, while Power Suits can be a reliable backbone of a conquering Purity player. The Harmony player will enjoy rapid moving lone wolf units that thrive in miasma.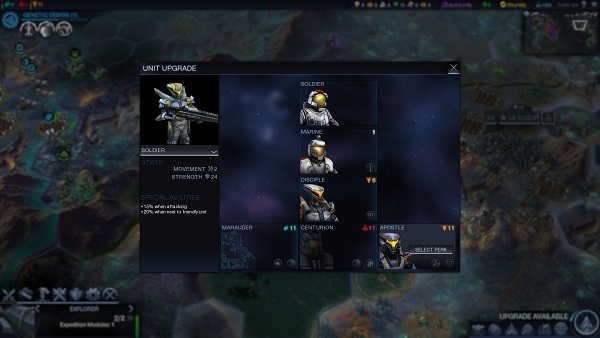 The evolution of units is interesting as it makes the player make choices on what sort of military to field. Will it be defensive, offensive or balanced? Will it specialise in taking down cities or military units? Will most of your Harmony units be better in miasma or be lone wolves? How adjacency dependent will your Supremacy troops be? Will range be favoured over speed for your artillery units? These are all interesting choices that will shape your battle strategies.
The game does have a lack of air and naval units though. It has only one air unit and only two naval units: the carrier and a ranged gunboat. The ability that some vehicles will hover in the late game offsets this a little for naval warfare. However, it would have been nice to have melee naval units and at least one more air unit. Fortunately the roster of land units is healthier; though the player will still feel the game lacks units. Some of it is a perception issue since a Ranger and Gunner will feel like the same unit. It actually is no different than researching a crossbowman to replace archers in Civ5. This said, the player will still feel a genuine lack of diversity in some areas (naval, air, and no anti-armor or anti-air).
One thing to note is that cities are far more fragile this time. Cities that do not have defense structures can be easily one-shot by siege specialised end game units. Even regular units can make quick work of a fully defense structure deprived city. This balance may be frustrating for some that have come to rely on a city's natural resilience from Civilization V, but it should be noted that this new balance might have merit. It focuses the player to actually build defensive structures to protect cities or have armies fight the enemy on the field.
Your city is not your first line of defense anymore; it is your last as it should be. A fully warded city with a ranged unit can hold its own decently well even against siege masters, and can be difficult to take with no specialised units. This however does mean the early game can be very fragile as some of the best city defenses come in a little later or the player did not have time to build them yet. The difference between a warded city and one that is without protection is day and night. Overall, it gives importance and value for such buildings now.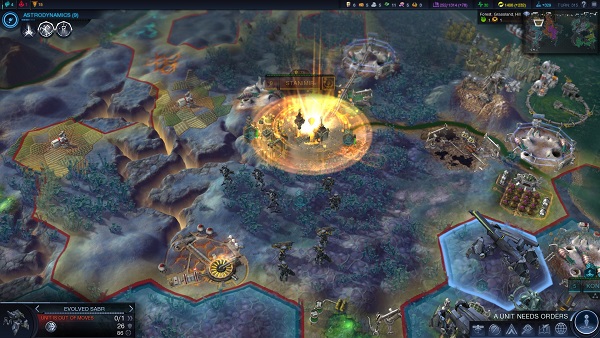 Military AI
The failing in the military AI is that it can't use terrain to maximum effect and can't multi-task. When presented into a multi-front war it will focus on one flank to get decimated in the other. It is not hard to trick the AI into this even in a single front war by using smaller attack forces from different angles, or waiting till the AI attacks and while defending launching a simultaneous assault on its own lands.
This can also be a serious issue when the AI happens to lag behind affinities, which happens too often at the mid-range difficulty settings and lower. Since military units upgrade based on affinity it is not hard for the player to exploit this gap and curb-stomp the AI with far superior units. The reverse is also true, but only at the higher difficulties will it have a chance to do this and it won't exploit it as often.
Also, while at war the AI has trouble expanding which means a long 100 year war will slow down the AI's growth which the player can exploit by still growing themselves. This doesn't mean it won't expand but it will only if it has a completely safe direction to expand into and has enough cities away from the front. If the player can press each city or the AI is boxed in (this includes the presence of miasma and alien nests), then the player can contain an AI by just staying at war.
The positive side of the military AI is that it doesn't place its artillery units in front of its melee units, though a clever player can easily trick the AI in thinking the wrong side is the front it does help that the AI won't do this by default anymore. Also the AI will use satellites to great effect, dropping down a line of Tactical Satellites on a war front. Sadly, these show up in the mid to late game only and won't be seen often. Overall, a tactically competent player will be able to win most wars even if outnumbered or militaristically behind.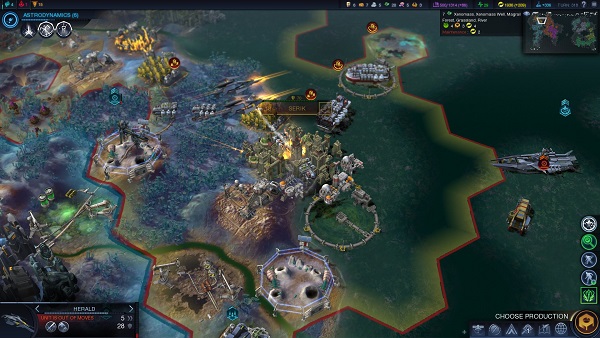 Overall AI
The AI overall seems to be a little on the weak side, it has trouble competing with an effective player. The normal mode is easy, and the hardest is probably comparable to hard or very hard (a little under Emperor in Civ V). So nothing comes close to an insane or impossible difficulty setting. The main difference between the higher difficulties and lower ones is the bonuses the player and the AI receive, with the higher difficulty giving the AI faction health, economy and science bonuses, and unit health bonuses.
The game will not challenge a player who tends to play these games at the highest difficulties. However, it will offer proper resistance for a more relaxed player. The AI is able to race to one of the none-combat victory conditions as well. The AI does have trouble invading fortified islands and secured continents, or pulling off the Purity victory condition quickly. A skilled player will be able to handle the AI easily in most cases.
One chief problem, as mentioned earlier, is that the AI seems to lag behind in affinity growth, because a lot of buildings require higher affinities to be unlocked it causes the AI to be stunted a little economically. This is in addition to the vulnerabilities it causes militaristically for the AI. Only at the highest difficulties will the AI be able to keep up or even surpass an effective player in affinity ranks, but only by a little, usually. The most skilled players will stay ahead of the AI, as some strategies are just too 'useful' and some exploits can be used to push you ahead of the AI easily.
Also, the AI seems to have trouble dealing with aliens, and expanding into alien infested zones. This causes the AI to be only competitive if it has a safe expansion window free of aliens (or was cleared by a rampaging player) to expand into. This causes the AI to get boxed in too many times; you will always see a few on a large map and will always see it happen on smaller maps. This makes it easy to defeat the AI on duel sized continental maps at any difficulty level as the AI will need some breathing room to be an effective opponent.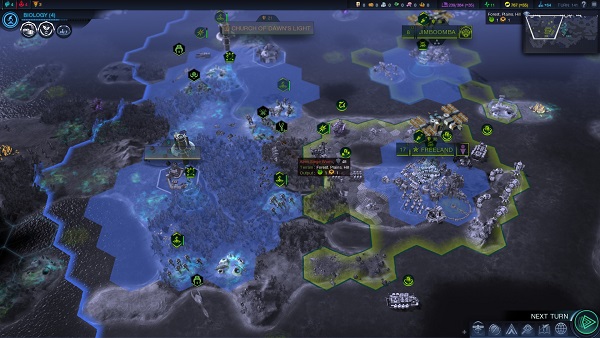 The Tedious Road to Victory
The victory conditions are conceptually interesting but tend to suffer several flaws which do impede the end game. Overall, the game offers 5 victory conditions; however, in a normal play through you will only have access to 3. This is because 3 victory conditions are based on affinities. Since, you will be racing the AI for winning the game, trying to top off more than one affinity will not be viable (usually). The goal was to make the end game process more involved but in some ways it does the exact opposite as it feels drawn out and sometimes requires tedious micromanagement to complete. The only condition that is simple is Domination, which requires one to be the last to still hold their own capital.
The Contact victory is the mirror of a science victory in Civ5. Though it does require you to go down branches that you don't normally do for affinity based techs, it can be snuck into it quickly. You can trigger the victory process pretty early compared to the other victory conditions by using free tech opportunities to speed down the path. Also, since you can get lucky and find a code fragment during an archeological survey, you can begin decoding the signal and building the beacon in the mid-game before anyone else has even gotten close to theirs, while still researching other techs and building up your faction.
Some of the affinity based victories suffer from a very basic flaw that is they are needlessly micro intensive. Though Supremacy is manageable and has the interesting side-effect that to achieve it you must sacrifice troops, the same troops you'd use if someone was to go to war to stop you, Purity can be a nightmare. Unless the player knows beforehand, not building a mag-rail network before you begin the process makes the micromanagement even more painful. It requires summoning in manually, each turn, and one at a time for a total of 20 colonists, which you must settle using city spacing limits. This will require about 4 separate spots. This can be needlessly challenging if the game is played on an island map.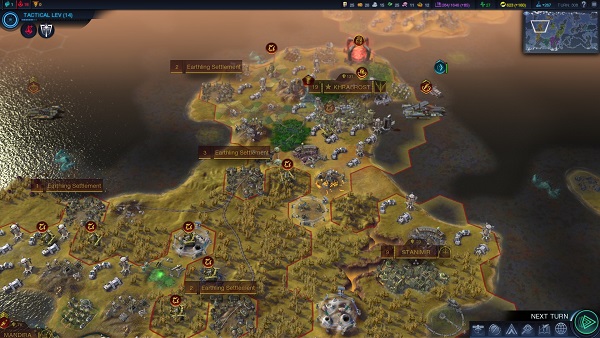 It should be noted that these affinity victory conditions are pretty much another type of race to the finish line victory condition. Requiring getting a few specific end-game techs combined with enough leaf techs and completed quests to hit rank 13 in your primary affinity. Once that is done, you can initiate the victory process. There is very little another faction can do to stop you unless they race faster to their own, or attack you and destroy your wonder while protecting theirs. Though the project is vulnerable to attack, it still remains a race style victory as opposed to a tug-of-war mechanic like the Diplomatic or the Cultural Victory was from Civilization V: Brave New World.
Also, the way the end game is designed, the player, or AI, will rush to a victory condition which will trigger the final stretch of the game before any other end game tech is researched. Thirty to forty or so turns (build time plus activation) is usually not enough to experience the plethora of end game techs as you will only have time to research only a few of them. Furthermore, the player will probably be focusing more on military production and actions to prevent the AI from winning while they complete their own victory terms.
Lastly, the Victory Screen is just that, a screen. There are no Demographics comparing your standing with other factions, and no graphs and map replay. Though the graphs can be found in the "Other" menu on the title screen, this will only offer the player the basic graphs. It feels bizarre such comparatives are missing on the Victory Screen, and even the replay doesn't have the level of detail most players are used to. Also, there is no way to disable the Score Victory.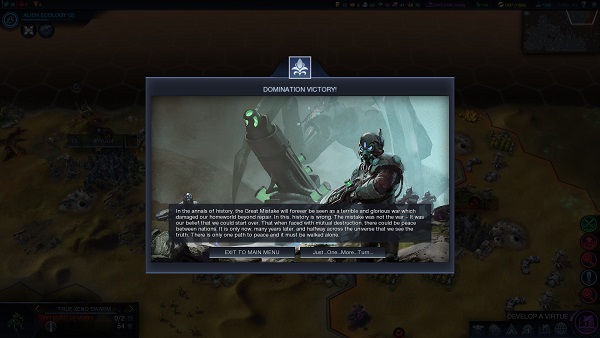 Quest Bugs and Stability
Overall the game runs smoothly. This said, there have been reports of players having trouble to run their games. I have not seen any of these issues personally, nor as anyone I know who played the game experienced them either, so I have no first hand or second hand knowledge on these issues. There have also been reports of issues in multiplayer (crashes and glitches if loading a game). The only technical issues I got was the game's process won't completely shut down when exited, which requires the user to manually end the process in the task manager; this happens often but usually ends on its own after a few moments.
There are a few minor bugs and graphical glitches, along with several quest problems. The most common one is how a unit remains in the upgrade screen when you are viewing another unit. This doesn't break anything, but is odd to see and happens quite often.
There are quite a few quests that do not update the location or even update the next step. You will experience an average of one or two such quests per game, such quests can't be completed and since these tend to give the player Affinity Points, it can be frustrating. Another quest glitch is when a quest asks the player to build a building in a city that can never build such a building, causing the quest to be stuck.
Replayability
This is a mixed affair, though mostly positive. The game definitely has the one more turn phenomenon; however, due to certain weaknesses in the end-game, bland factions, and the AI's overall weaknesses the game is not as tempting as its predecessor. The early game is definitely fun but can get drawn out for too long for a bad start, while the mid-game is certainly interesting. These two elements combined is usually enough to try a new game on a different map or attempt a different play style. The end game can have interesting warfare as many of the units have reached their full maturity and you have access to your faction's special units.
This said, the AI still has trouble dealing with a well prepared player making some of the late game battles lop-sided. Also, the victory conditions can cut the end game short despite their tedious nature, the player will not fully experience many of the late game techs. In addition, as mentioned earlier, some of the end game mechanics can be a little boring and tedious (victory condition management and trade route management) which makes them something the player isn't too eager to initiate.
This sort of weaker end game makes the prospect of replaying the game not as enticing as it could be. Most of the interest will be for the early and mid-game, and the chance to use some of the late game units for those that like warfare. Also, players that are used to playing at the highest difficulty will find the game too easy which can also hurt replayability considerably.
The current bugs, balance considerations, and quest issues can be frustrating. But, overall the game is addictive, though the lack of immersion does hurt it.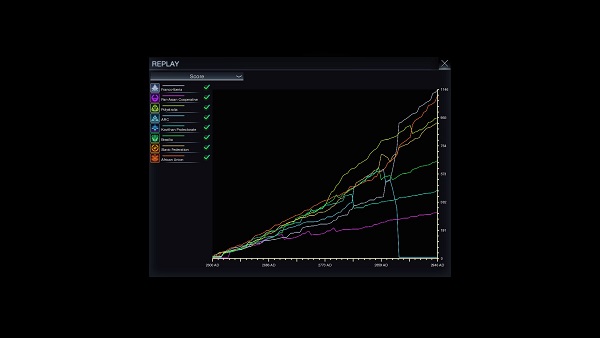 A Long Word on Immersion
Civilization: Beyond Earth lacks personality, especially involving the other leaders. Though difficult to put into words, after much thought I believe I can phrase why. Without history as a reference it leaves the game entirely on its own to weave the immersion of the world to the player. Furthermore, Beyond Earth focuses on a more open-ended narrative (being closer to Historical Civ than to SMAC) which means the little things will be even more important in weaving this sense of wonder. It is within these little things that Beyond Earth did miss its mark.
Even within an open-ended narrative the characters can be given very distinct personalities and have their persona shown to the player. Though the affinity growth is shown on the characters, their dialogue tends to be generic except for the few spoken dialogue, the written diplomatic dialogue is mostly the same between leaders. This is compounded that many times there will not even be a spoken one-liner. Though each faction AI does seem to have different play-style personality, they do not shine through nor are they obvious as global circumstances might force the AI to play differently.
The atmosphere could have been better; the lack of unique musical themes for each faction is subtle but noticeable. Without any unique themes or any theme playing during diplomacy doesn't help the game set personalities for each leader (this was one of the subtle ways Civ V achieved personality with the separate leaders). Considering factions have no unique units and buildings on their own, the lack of music compounds the effect that each faction feels the same. Most of the differences develop during the game via virtues and affinities; however, most of these will not be obvious from the player's perception when dealing with the AI factions.
This goes with the game's lore as well, though the in-game database is expansive and can be quickly accessed from the tech screen or other screens with a right click, it can't be accessed from their own pop-up screen. Requiring the player to go into menus to look up the lore of what they just discovered or built. It becomes all too easy to not dig these things up and merely play with what bonuses you receive for unlocking techs; often times not knowing or understanding what the quote was trying to reference.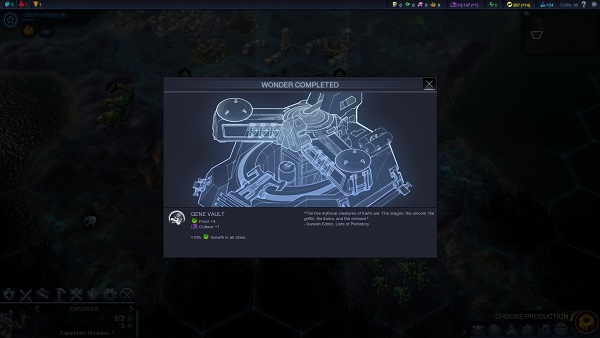 Wonders use 'blueprint outlines' like art as visuals, which on its own wouldn't be bad but it doesn't help create immersion either. Also, the wonder quotes tend to not illustrate or describe the wonder you just built, seeming to be more random without context to connect them with. This leaves the player detached from his achievement. This is quite a shame as a lot of the other written material is quite interesting.
Also, all the quotes in the game are read by the narrator even those that are written by the faction leaders. I did enjoy some of the quotes and made me curious to read on more. You don't feel any differentiation between 'random excerpts' and those written by the sponsors, making each quote feel like a historical excerpt only. The lack of making each leader more pronounced combined with the easily skip-able tech lore makes it easy to not feel as immersed when playing the game.
The only real distinguishing differences between the factions as they grow in the game are from affinities chosen and the extensive virtue system, which are done very well, fortunately. This leads to powerful customisation of your faction but little difference in making them feel separate at the start, and even in the late game the only apparent difference will be the affinity as the other layers of customisation will not be immediately apparent.
However, this doesn't mean the game is without atmosphere. The evolving units, visual style of the environment and the aliens, the central sound track, the visual style of each affinity, and the quest system help weave you into the game. The texts of many of the quests are interesting combined with the pick-your-own adventure choice-trees of follow-up quests is definitely nice. Even the texts of the building upgrade 'quests' are interesting to read. Though a little more visual flair for the more important quests would be nice, it does get you engaged into the game.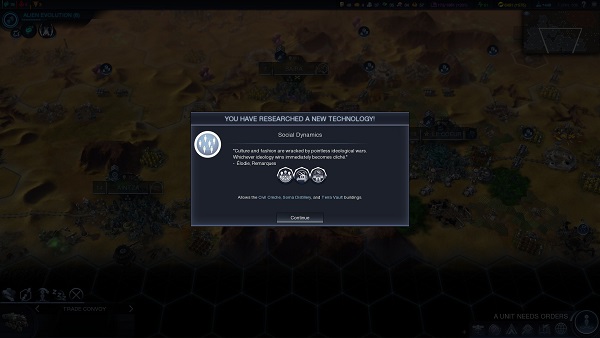 The quotes for the techs and the affinity are quite interesting sometimes, though many of these quotes will be more like short "quotable" one-liners than something long and thought provoking. This written material in the database is quite interesting and seems to be written from the perspective of even further in the future looking back. However, none of this helps differentiate the leaders from each other during play and most of the interesting lore is hidden from the player's immediate attention. This makes the game far less atmospheric than it could have been.
The written material is there, but it seems that the execution of relying it to the player via gameplay was not properly handled.
Overall Thoughts
It seems with the heavy focus on affinities, the game forgets the individual factions is the way the player experiences the game and is the main source of interactions as the AI led ones are the players competition. Relying on setting and lore is not enough. The characters need focus too as they act as the windows to the setting. This also holds true for a strategy game with a 'rich setting' as well, and this is one of the biggest weaknesses in Beyond Earth as it fails to deliver a fully immersive experience to the player despite the background that is there. Also, the game fails to build context for many of the elements it does present.
Gameplay wise the game is fun, but this will depend on how much you liked Civilization V (or other 1-unit-per-hex combat mechanics). The new unit mechanic is interesting and deals away with the need to upgrade units and offers powerful customisation to shape your military the way you want it to fight. Very important trade-off choices are made here. The Virtue system with both deep and wide synergy bonuses make for interesting and difficult choices. The wide selection of tile improvements will also give the player some interesting choices to make when customising a city.
However, it feels some things were not fully thought out. Many end-game mechanics seem micro intensive for no good reason except to be micro-intensive. You do not fix the boredom of hitting end turn till something happens by giving a repetitive but critical task to do. These include some of the victory conditions and late game trade route management. Also, a second air unit and one more naval unit would not have hurt. Many of the more interesting satellites appear too far into the tech tree, at which point you will be on your final steps to victory by the time you research them.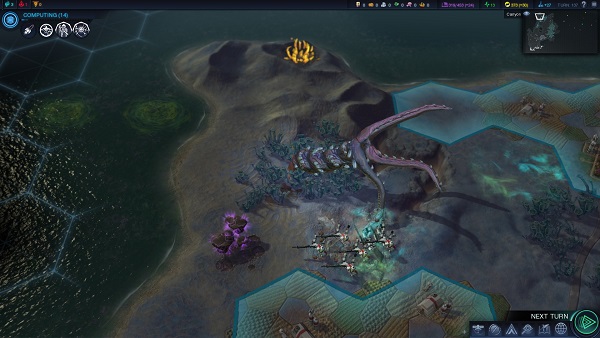 Despite its strong resemblance to Civilization V, the game does enough to be considered a separate game. Being innovative or changing things for the sake of innovation and change is not always a good thing in my opinion. However, being closely based does leave one rightfully expecting more and Beyond Earth is a little shy in this department. The quest system needs more polish as the number of quest issues reminds me of an MMORPG's release. Also, there may be some issues in game balance, as focusing on rapid expansion is always preferable at the moment and too many exploits are present especially in diplomacy and espionage. The AI also needs to be brought up to snuff and higher difficulty levels added to the game.
Overall, I enjoyed the game and it is definitely addictive. It does have the one more turn down pat, at least for the early and mid game. The game suffers from the Firaxis Curse though, that upon initial release the game is lacking a bit and requires expansions to make it into a true gem. This said, the release version of Beyond Earth does fair decently well when compared to other initial releases.
Hopefully, Civilization: Beyond Earth will see continued support because I do think the game has a solid framework to be a great game, even if immersion will probably remain the weakest link the game does have enough to make up for it if polished and improved. Let us not forget the transformation Civilization V went from initial release to the Brave New World expansion. However, Beyond Earth must be reviewed for the state it is in now. Hopefully, we will be able to revisit this title in the future.
The game has full mod support via Steamworks and there're plenty of mods already out such as new Sponsors and game balance mods. The game also requires Steam to run. Only PC version available now, Mac and Linux versions should be available by the Holiday Season of 2014.
| | |
| --- | --- |
| | good |
The Good:
– Visually good looking (not the UI) with solid sound and music
– Customisation and choices made via Virtues, Tech Web, and Affinities
– Affinity based units and unit growth offers interesting combat
– Diverse game set-up offers solid replay value
The Bad:
– The game lacks atmosphere, especially due to bland faction leaders
– Aliens do not pose a real threat, even to those that prefer it that way
– Balance issues, quest bugs, UI issues, and weak AI signals a lack of polish
– End game is a chore because of trade routes and victory condition mechanics
Subscribe RSS
81 Comments
Related Articles:
Post category:
Game Reviews