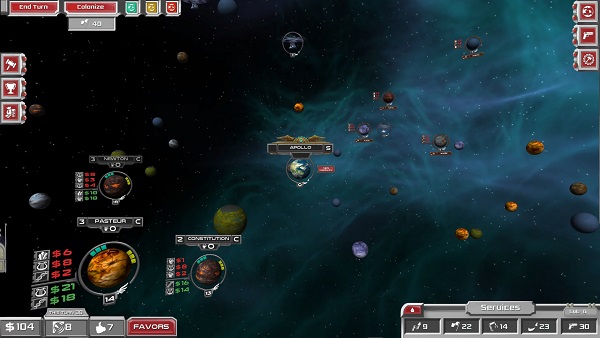 As mentioned earlier we've had a recent resurgence in the 4X genre with many games trying to explore their own paths. One of such titles is Apollo4X, a space 4X that doesn't follow on the traditional footsteps of the genre (I'm referring to the Civilization series here and not just the Master of Orion one). Apollo4X is developed by Digi-Ent (Digital Entertainment), a small indie development company.
Apollo4X is more of an economic trading space 4X game, which uses a tactical maneuvering combat system involving decision making but not grid-map movement, which the term is usually more associated with. This is an odd blend and one should consider mechanics you would see in both board games and trading card games (physical ones), combined with Tycoon style games. The premise of the game is that you are a recovering world of humans with multiple nation states. You play as the head of the Apollo Trading Company, a powerful corporation who has been given monopoly on the space expansion program. You will oversee colonisation, colony development, and help form a unified republic on your planet, while fighting off the Centaur menace. You will also command its military to defend your colonies and seize Centaur worlds.
SpaceSector was able to play the latest build of the game, and to speak with the team at Digi-Ent to ask them a few questions. Currently the game is available at GamersGate as part of their Early Access program and is up on Steam Greenlight in order to get the game on Steam as well. They also have a quick FAQ page and a YouTube channel that both showcases the game and offers tutorials. You can also go to their official site if you wish to know more.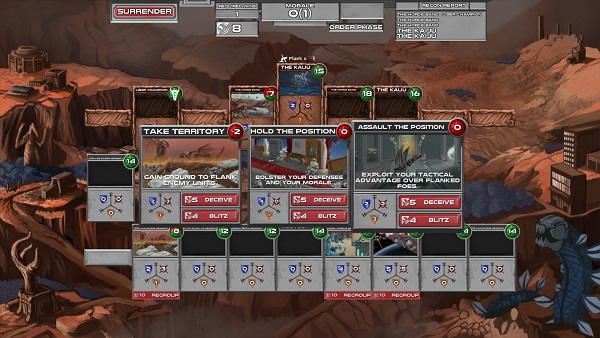 About the Game
Apollo4X is a turn-based space trading 4X game. However, it takes more inspiration from economy games such as the Tycoon series. It still has the traditional 4X elements but does them differently. You'll still explore outwards (but not with a ship), colonise planets, built up these colonies (economically), and then lead your military into battle to eradicate the Centaur menace. However, unlike your typical 4X games you don't command fleets, control the local economy of a planet or fight for space superiority. Instead, you gather favours by fulfilling colonial demands (which cost you your services, but are used to bring Apollo together), gather political clout from becoming more dominant (which you can spend to do things which you normally can't), and run the space trading economy to make profit (which you spend to expand your reserves and purchase services). Services are the game's usable resources. These will be used to expand economies, colonise, recruit troops, develop colonies, fulfill colonial demands, and fuel your expanding merchant fleets.
As mentioned earlier, you make money by running the trade routes, which is a core component of the game. You basically grow the infrastructure of each colony and assign minor corporations to run the demand side of the economy, you then select trade routes to fulfill the demands of each planet to make your fortune.
The game also doesn't have building queues. Instead, the player buys what they can afford and tries to make more money so that they can buy more and expand their influence and use it with the services purchased. The player will expand the clout of their company. The closest to 'building-takes-time' is colonial infrastructure, which is gained per turn from cities (which are paid for with services). The player uses these to expand their colony locally by improving supply and demand, or by expanding the stellar net or growing the local fleet (for trading). However, these too are directly applied, you spend the infrastructure and get what you want if you have enough.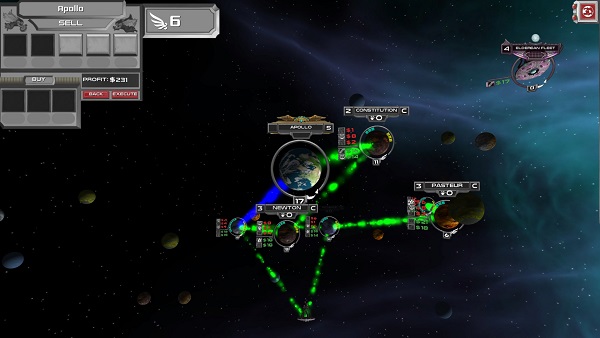 As the FAQ explains, the Centaurs don't care about space supremacy, they gladly let you land on their world. As for themselves, they seem quite adept to invade your worlds as well. This is one aspect that makes Apollo4X different as it doesn't have space combat; instead it focuses on ground warfare. Ground combat is handled via a card battle system (not as in cards are used to influence combat, but as you have the mechanics represented by something similar to a card game).
The combat is about selecting the correct units to make up your army, selecting which unit to activate and choosing the action it will take. The system is not about luck, but about making the correct choices. You will need to exploit enemy weaknesses and get status effects like flanking to maximise your troops. Also, morale plays an important part. You don't have to kill all your enemies though; you just have to make them flee to win. It should be noted that the Centaurs are a race that revels in war, so you have a difficult task ahead of you.
You succeed if you are able to achieve multiple agendas. One is naturally defeating the Centaurs, but this also includes growing your economy till you become the economy of Apollo, unifying the republics of Apollo, expanding the stellar network, and allying with an ancient alien race. You can also lose by being voted out (losing all your favours) or by having Apollo overrun by the Centaurs.
Though there are several factions of Centaurs, they do not play the same game as you. The term asymmetrical gameplay is applicable here. They just expand and go about claiming territories for themselves, sometimes a neutral planet, sometimes one of your own, and as I said earlier Apollo can be next on their path.
The game offers a lot of customisation at start-up and instead of a typical difficulty slider you choose how lenient or strict your economy is, how many Centaurs are present, how capable they are, and how difficult it is to run your expanding empire. The game also offers a 2D map mode for those who are jarred by the 3D map, and a casual mode that prevents you from losing traditionally.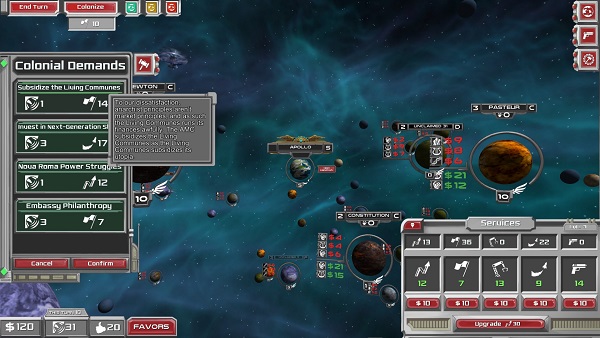 The Reasons and Inspirations for the Game
The game is definitely off the beaten path for a space 4X title, so I took the liberty to ask the developers a few concept questions which you can read the answers for here. Here are a few highlights to those who are curious:
4X is stuck in a rut. All these games rely on the Civilization 1 economic model. We've had 20 years of it now. "Food, Industry, Science" which leads to "population, build queues, and a tech tree." There are some really good "MOO-Too" games out there, but nothing that has an economy that considers supply and demand economic forces in a way that satisfies us.

With Apollo4X, we targeted the amazingly under-serviced market for people who like a little "tycoon" in their strategy game. And those tycoon genre games are a pretty narrow selection as well, being mainly theme park, airport business, and city manager type games. Nobody has done this in space until now. Instead of laying down buildings and trying to attract customers, we have the player building trade ports on colony worlds, dictating import demands that they profit from shipping around the galaxy, and leaning on politicians with their money and influence to influence politics in their favor. We're not into minutiae management here; it's very top-level delegatory "make this happen, now!" CEO stuff – the player isn't designing products or stocking shelves.

Apollo4X is all about "It takes money to make money" in that you're investing in colonial economies and market bending bribery to maximize your income from your shipping business. This is all inspired historically by the East India Company, and its interactions with Imperial colonies and the government, eventually becoming the government because the officials in power were utterly inept. In our fiction, Apollo has about a dozen nations that are all squabbling and unable to unite, the infrastructure is in total decay, and the economy is in shambles. Meanwhile, the equivalent of a Mongol horde is spreading across the galaxy and the Apollo Trading Company decides "Alright, someone has to assume leadership of this rabble and save our bacon." You need troops, but those cost money. The tools at your disposal are capital gained by trade, political approval earned by resolving colonial demands, and corporate clout that comes from building infrastructure to unite the colonies.

At no time are you worrying about build queues or what to research next and how many tens of turns down the road you'll see the fruit of it. Apollo4X is played in business quarter length turns, and you're dealing with commodities that already exist in the market space, which fluctuate in availability based on economic forces you are subject to, but not in complete control of. If you can afford it, it's yours. –Digi-Ent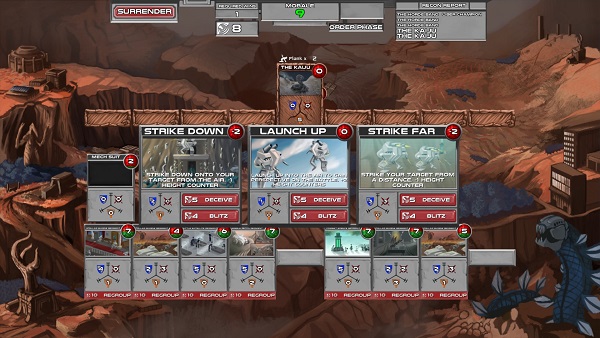 Combat being another less explored path; naturally I decided to ask them about it as well:
Combat is heavily inspired by Games Workshop's "Warhammer" series. We wanted something that had the depth of chess, but looked approachable like checkers. There's a lot involved in creating a tactical electronic board game where they player moves little tanks and soldiers around on a map and that was frankly beyond the scope of this game, and would be a distraction from our economic simulation goals. So, we adopted a familiar looking card combat mechanic that just about everyone is immediately familiar with conceptually. However, unlike contemporary card games there aren't a huge number of different units, but each unit can be given orders that make it behave in completely different ways.

There are units that are good for scouting what the enemy strategy is. There are units that heal or protect friendly forces, or inflict debuffs on the enemy. Orbital strikers have freedom to choose what targets they will engage, and can bombard, disrupt, or support other units. Marines can hunker down defensively, assault directly, or attempt to place a flanking debuff on the enemy that makes other marine attacks much more effective. One political faction grants a special Praetorian unit that exists primarily to assassinate enemy champion units, which are otherwise rather difficult to kill with standard troopers.

Finally, we also model battlefield morale, which you aren't going to find in any other card combat game. Fighting a giant alien monstrosity tends to be a psychological contest as much as one of attack and defense. You'd better kill it fast with concentrated fire, or your troops are going to break and run. Historically, so much of warfare is more about making your enemies unable to continue the fight rather than killing them to the last man. We simulate that with battlefield-wide morale calculations. -Digi-Ent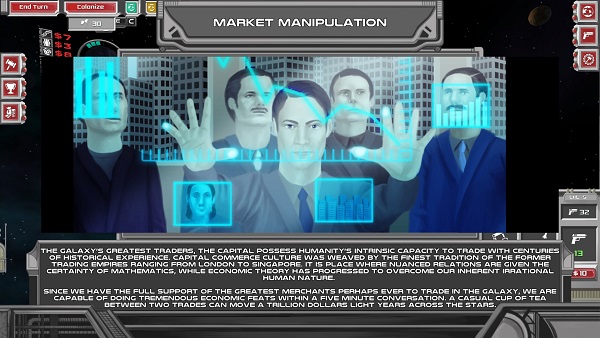 A Quick First Impression
As mentioned, I was able to play the game a bit so that I have first-hand experience with it. Naturally, as mentioned earlier, this is not your traditional 4X game as it doesn't follow the Master of Orion style or the Civilization style 4X template. However, it may still be worth the curiosity, especially if you're looking for something that is different.
The build I played was still in development with not all the components fully implemented (some City-States and Centaur factions were not yet added), and naturally the game hasn't been fully balanced yet for challenge. That phase will happen once all the features have been introduced. The next patch will finally add all the features, and the final process of polish and balance will begin. Despite this, the game ran surprisingly well, naturally there were some oddities that one would expect for a project still in development.
What I noticed about the game is that there is no such thing as an idle turn. Every turn you will do something, though sometimes you will have to hold off to another turn before doing one of your bigger actions. These 'smaller' turns will still require several critical actions, and you will still do a lot in those turns. Even on the default settings I've seen the Centaur menace expanding, and the combat did make me consider my options.
At this stage it's hard to give a more detailed opinion, and the traditional risks for Early Access games still applies, but the game is exactly what it says it is. Also, many events in the game get event pop-ups that explain what is happening, this also happens when you use certain clout abilities for the first time. This event pop-ups really help drive the story of your successes and establish the lore for the setting. SpaceSector will certainly keep an eye on this title. Feel free to ask any questions in the comments section below.
Apollo4X can be purchased at GamersGate in Early Access for $19.99 and is currently up on Steam Greenlight for approval. The game is available for PC, Mac, and Linux. The estimated release date is for Early 2015. They're also looking for testers to help test the game (which is separate from the Early Access program and anyone can apply), you can apply here.
Subscribe RSS
25 Comments
Related Articles:
Post category:
Game Previews
,
Games Under Development