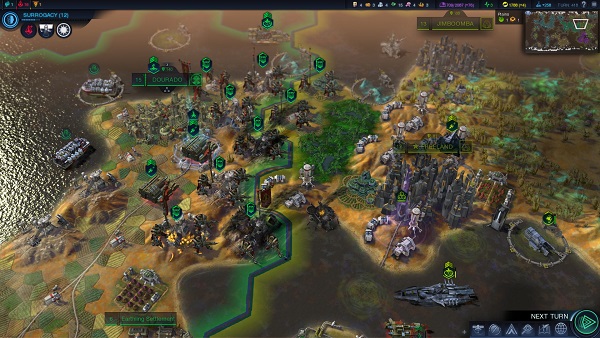 Firaxis Games is keeping in the tradition of releasing mega-patches in the fall. This time they chose to release one for Civilization: Beyond Earth. There was also a smaller patch for Civilization V: Brave New World that did some balance changes to Tradition and Piety by changing prerequisite paths, along with a few other changes which can be read here. However, the larger patch was for Beyond Earth which was in serious need of one to address many of the issues with the release version of the game.
The complete list of changes can be seen here for Beyond Earth (an alternative site here). The patch is fairly large as it attempts to address most of the technical and balance issues with the game. I will cover some of the highlights that might address some of the concerns people had with the game. It should be noted that many of the more deeply rooted problems, like the end-game monotony of the victory conditions, were not significantly touched, and as said in the review it will probably take an expansion to address these core issues.
The List of Significant Changes
Espionage: The exploit where a player could quickly raise their Intrigue by 'spamming' Establish Network was fixed (it now has no difficulty, but provides zero intrigue).
Diplomacy: Lump Energy can only be traded with a Cooperative Agreement active (similar to what Civ V does now). Also, Warmongering penalties are capped for each city and defenders receive less Warmongering when capturing cities from an aggressor. This is very welcomed as fighting a defensive war to a stalemate was the only way to avoid killing your reputation before the patch. It is also easier to see which factions are at war with which factions.
Eudaimonia Prosperity Virtue: The effects were reduced, thus reducing its usefulness as the end-all be-all of Health Virtues (other Health Virtues now provide a comparable reward, though Eudaimonia still remains a strong Virtue for expansionist empires).
Health Rebalancing: Health now has more gradual penalties and bonuses as the player acquires or loses Health. This really helps with wild early expansion as the player can't just expand while their Health drops to -70. This also helps with really high Health, as the player will get more bonuses and not just cap off at 20 (which was easy to reach).
Sponsors and Colonists: Many of the sponsors got a balance pass, improving the weakest ones (PAU and Brasilia both received buffs) while making it harder to skip to end-game techs (Slavic Federation and Franco-Iberia's Free Technology bonus have been replaced). This doesn't change their lackluster nature, but it does address some of the obvious deficiencies and exploits some of the leaders had. Health rewarding Colonists (Aristocrats and Artists) had their base bonuses improved but their Health bonuses removed, making quick expansion more costly as none of the Colonist choices give a Health bonus.
Tech Rework: Wonders are now clearly visible from regular buildings, and some Satellites have been switched around making the Orbital Laser not obsolete anymore (since Planet Carvers are now harder to get). A few other items have also been moved around (mostly the Miasma Removal techniques in the early game), nothing significant however.
Stations: Better station placement and delayed arrival, thus reducing the chance for a station to land on that perfect spot before you can colonise it yourself.
Affinity Perk Change: Harmony level 1 is now more practical all-around bringing it up to snuff to the other level 1 affinities, while Purity 1 has been reduced to only offer a strong bonus to Explorers on defense against aliens. Along with the buff to Explorers' combat value, an Explorer with Purity 1 can survive alien attacks but is no longer immune to their attention (which previously permitted the player to do some really campy things).
Quests: Have been modified to allow a smoother Affinity Growth that the AI can keep up with, and also many fixes to bugged quests or quests that asked you to build impossible buildings (now these quests will always ask for a building that has no special resource requirements). The down side is that the late affinity quests (those that prime to your highest affinity) don't fire anymore. This is a shame as some of those quests had the more interesting flavour texts and highlighted the ideology of their corresponding affinity.
Now the player only gets the less interesting quests (such as the repetitive building quests), which is far from an improvement to the already weak immersion factor the game suffers from. It should be noted that quests are still in the code, and have been 'fixed' from their bugs, but they don't trigger to prevent the human player from getting too much of an edge over the AI. It would have been more logical to balance all the affinity quests instead of having them not trigger anymore as these were actually the interesting quests that added to the immersion.
Unit Balance: Resource cost of many end game units has been reduced making them easier to field and the off-affinity requirements of hybrid-affinity late-tier units have been increased. This makes it much harder (if not a little too hard) to get these alternative variants, but it does match the slower affinity growth curves of the 'pure' versions. There has been several stat changes in the ongoing attempt to balance the units of the three separate affinities and the core units. The most notable were the nerfs to the Tier 1 Affinity Units.
Late Game Progression: It seems harder to skyrocket your affinity and rush one of the affinity victories now. This change comes from the cumulative effort of quest rebalancing and tech growth (by changing the output of external Trade Routes). The positive effect is it requires more effort and is harder to overshoot the AI in Affinity progress and science. This does slow down the default Contact Victory, but a lucky player/AI can still trigger this way too early.
One More Turn: Finally, the one more turn button now works when you're beaten by the AI at one of the conventional victory conditions. About time, this was rather frustrating in the release version of the game. However, you still can't disable the Time/Score Victory, but at least you can continue your game now.
AI: Improvements and tweaks across the board, while higher AI settings are given better bonuses. The AI seems to perform better even on Moderate Difficulty; however, it is probably due to the fact it is harder for the player to overshoot the AI in Affinity scores. This overall does give a more challenging game with a smoother progression.
City Screen: The city screen will finally say what was just built. A little something past Civilization games had and finally Beyond Earth caught up.
Trade: Trade has gone through the most changes. The UI was made clearer and previous routes have their own section on top, making it significantly easier to renew the previous route. Trade Depots can't be speed purchased with Energy anymore thus preventing the player from creating new routes out of a freshly founded city. The Auto Plant quest doesn't give a bonus Trade Route anymore (cities are now capped at 2). These two changes help a lot with the trade route spam of the late game.
The largest change is the yields which are much more moderate for internal trade routes and external trade routes to other major factions (making the Virtues that boost them worthwhile and Trade Routes with Stations actually meaningful even before the corresponding Virtue is taken). The only down side is that internal trade routes will always benefit the larger city first, effectively denying the player the ability to boost a lagging city or having a choice of which direction the benefits go. The reduction is welcomed, but it would have been better if we still had the ability to decide which city benefits the most.
Other Changes: Numerous bug fixes including those that were tied to quests, multiplayer fixes including improvements to stability, improved modding capabilities including the fix that lets 2D Leader art coexist with the animated 3D models (before you had to set Leader Quality to minimal to use a custom leader).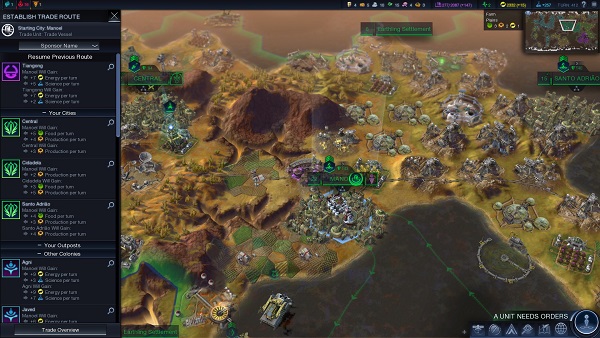 Overall Thoughts on Patch (after playing it)
It is nice to see that Firaxis is trying to address many of the issues and is listening to feedback. Though some of the changes might be a little too 'harsh' while others may not feel enough, with many other elements that felt like this patch didn't touch. However, the patch did do a lot to improve the game and it's definitely a step in the right direction. The problems with the end-game as a whole still remain (and it might require an expansion to address them); however, the pacing was addressed, but there is still more that can be done to improve the end-game that can be easily handled with patches.
Personally, I still find it frustrating that you can't disable the Time/Score Victory. After a patch that addressed the straight forward problems, this getting overlooked when it was pointed out many times is disappointing. Also, the Alien hostility still scales poorly due to the method it is calculated, another thing that should have been addressed in an early patch. The lottery nature of a super-early Contact Victory is still in the game, even if it's rarer this should have been addressed fully since the fix for it would be simple enough. Lastly, seeing the more lore interesting quests gone does feel like a mistake. This shows that Beyond Earth still has a long way to go before it can proudly wear its franchise's title.
Overall, if you enjoyed the game pre-patch and just had issues with trade routes or bugs then the patch will certainly be welcomed and make the game more enjoyable. However, if you felt the game was lacking in its core elements then the patch is only a small step. These players will certainly feel the patch didn't do enough and may want to keep the game shelved till further patches or even perhaps an expansion. Hopefully, future patches, if they happen, will address these more deeply seated issues and other issues this patch didn't get a chance to address.
Subscribe RSS
15 Comments
Related Articles:
Post category:
Game Patches
,
News & Announcements