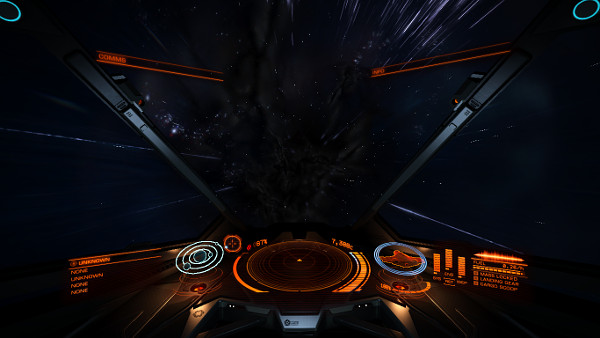 Elite: Dangerous is the birth child of the founder of the Space Sim genre, David Braben. The original game called "Elite" changed the lives of many gamers when it was released in 1984 on the BBC Micro, Acorn Electron and later the Commodore 64 (my system of choice at the time), with its 3D vector style graphics and open universe game play which had never been seen before on any system, and deserved the Game of the Year awards for many of the gaming magazines of the day.
A sequel called Frontier: Elite II was released in 1993 which expanded on the original with 3D polygon style graphics, realistic star systems and planetary landings to enhance an already legendary game. I myself lost many hours of my youth to Frontier trading, pirating and flying around an isometric universe.
The original Elite had a total of 8 galaxies, each with 256 planets to explore. Elite: Dangerous has a total of 400 billion stars all with the potential to have planets and space stations. By my rough calculation that amounts to 60 stars per player if every person on the planet decided to play the game. This shows how enormous Elite: Dangerous is and how much potential there is for growth within the lore of the franchise.
During the kickstarter process many of the original backers were under the impression that the game would be able to be played offline, however this game is online-only. A solo option for playing without other human players is available but you still have to launch the game through the online launcher.
Elite: Dangerous offers you two play modes: – Solo, which has you as the only human player in a universe of NPCs (I'll talk about the NPCs later); and Open Play, which has you playing with people connected to the same server and a universe of NPC characters as well. Another game mode being planned is Private Group which should allow you and your friends to play and share rewards but at the time of this review it hadn't arrived yet.
I have heard stories of players waiting at new player spawn points to attack new players instantly. Many users have complained that this will kill the community as players won't bother with the game. On one hand I see the point of not being happy about this but on the other hand this is an open living universe where crime can occur and I hear reports of people "reporting" the location of these Pirates so more experienced players can attack them and claim the bounty. My solution to this issue would be to have NPC System Police forces based in the new player systems and surrounding areas that could be called to assist new players to offer some protection.
Now onto the NPCs, they are characters created by the server who fly around the galaxy making the universe feel alive. They can be aggressive and attack you or just fly around the galaxy going about their business. How you choose to interact with them is up to you. You can let them go about their business or attack them and steal their cargo, but remember these NPC characters will have different levels of dogfighting skill so only pick a fight if you feel you can win because the moment your shields drop and you see your cockpit window crack from weapons fire it's very scary and can be expensive as when you die you lose everything, cargo, upgrades and ship unless you've paid for insurance. If you are killed in combat with no insurance you'll spawn in a random station with the base ship for the role you picked so basically you are starting again, so make sure you get insurance!!
An issue I have experienced with NPC characters is some of them have no idea how to dock with stations and will hover over the landing pad until they get blown to bits or bounce around launch bay until they blow up. This needs to be fixed fast as it causes major issues when the NPC crashes into your ship as it bounces off the walls.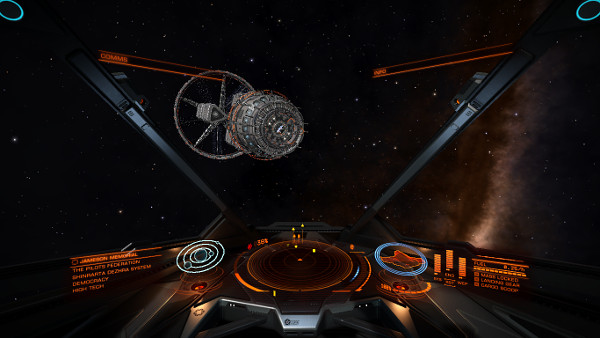 When you initially start the game you have to decide which of the starter packs or professions on offer you wish to pick, each will set you up with a different ship/loadout and a small amount of credits to start you off. These are Imperial Bounty Hunter, Federal Trader, Pirate, Independent Trader and Explorer. You can be a pirate if you pick the explorer pack but you might need to purchase additional equipment, so it's best to pick the style of gameplay you wish to follow from the beginning of your adventure and change professions later in the game if you want too.
Now, the exciting mind blowing enormity of the universe around you becomes a reality. You start docked inside a space station and after a bit of tinkering with equipment and maybe purchasing a few of the station commodities on offer you select launch and watch as your ship is lifted out into the vastness of space. Your initial station is random spawn point dependent on the style of play you've picked, there's no point a trader spawning in a station light years away from the trade lines and there's no point an explorer starting in the middle of Federation space.
This brings me onto the factions in the game, there are currently 3 main factions who control specific areas of known space: – The Federation are based in Sol (where Earth is); The Empire are based in a system called Achenar; and The Alliance which are based in Alioth. Each control an area of the galaxy under their influence along with many independent systems with no allegiance to any side. You have a reputation on each faction dependent on how you act within their borders and towards the other factions. Kill an Empire ship and gain a small amount of reputation with the other factions; get caught carrying slaves in federation space and you'll drop in reputation with them.
Now, many people's first impressions are that this is just an open universe trading game with a few added jobs to keep it going. I don't share this view. When Frontier developments were asked about "missions" within the game they replied:
"Think of it like a soap opera or box set TV series, where you never know what your heroes or villains will do next. Here you can help (or hinder) them. We will test players' skills, knowledge and morality, and tell an unfolding story in real time, in which players decide the outcomes and can be the stars" -Frontier developments
This response excited me enormously as the galaxy you "live" in will change and you can have a say in how it changes, as these events unfold. Want to be in the thick of the action deciding who becomes the new emperor? Take a flight to the systems in the thick of the action. Have no interest in politics? Stay in the outer rim trading, exploring etc. Myself I haven't experienced the story events yet so I feel like I'm watching a documentary rather than an action packed episode of Breaking Bad or The Walking Bad. I do think a better system of delivery for these "story" messages is needed, maybe when you dock a newsflash comes across your cockpit telling you a story event is unfolding as they seem to get lost in the Galnet newsfeed. I have noticed systems changed between Federation and Empire and also independent systems aligning with one of the factions which shows the universe is constantly evolving.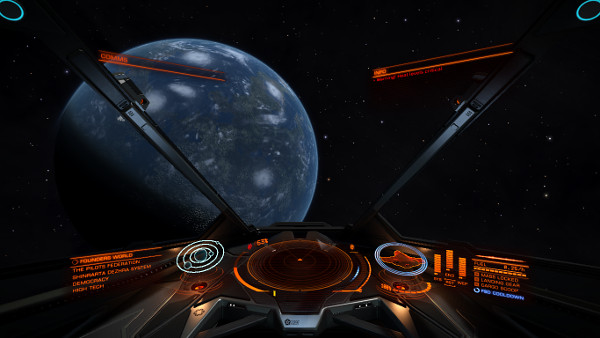 Before I continue I feel I need to point out some information about the controls of the game. Nearly every key on the keyboard has a function, so playing on a laptop requires at least an external mouse to play. The Elite community are currently swearing by the Thrustmaster HOTAS joystick, which sold out at Amazon UK due to the demand at release, as a must. But, I have found that a correctly configured Xbox One controller works well for the less hardcore among us. To be honest, I spent my first few hours flying around the space station fine-tuning the controls and configurations of the controller and keyboard. This is another reason that makes Elite: Dangerous stand at the pinnacle of Space Simulators, you can configure everything, it supports multiscreen so you can have each control panel in its own monitor. Add to this the head motion tracker or Oculus and you can make your own cockpit in your bedroom.
Now back to my first few hours of the game. I spent my first few minutes in the Elite universe staring at my screen because, I kid you not, it looks spectacular. You see distant stars, galaxies and nebulae in amazing detail that I've never seen before in a space simulation. It makes you feel very small and also a bit nervous as to what's waiting for you out there. Add to this the classical style musical score that alters depending on the situation and you will have an audio/visual bonanza of stimulation that leaves you stunned.
Anyway, back to my adventure. So having got all the settings to my liking, and feeling a bit more confident with my ability to fly my ship without crashing into a star or planet, I had chosen the explorer starter pack as it starts you in a good distance from the pesky noob pirates I hear from the community are targeting other new players in the more populated system. I set course for the nearest unexplored system and heard myself saying "Engage" as I started my jump drive. A few Star Wars/Star Trek style of warp seconds later my jump drive disengaged and I found myself flying full throttle into the system's sun. I hadn't realised that you jump into a system at the central point, i.e. the star. I veered off as I entered the corona and my temperature shot up to 145 degrees. I took a few seconds to compose myself because my heart was racing and my palms had become rather sweaty.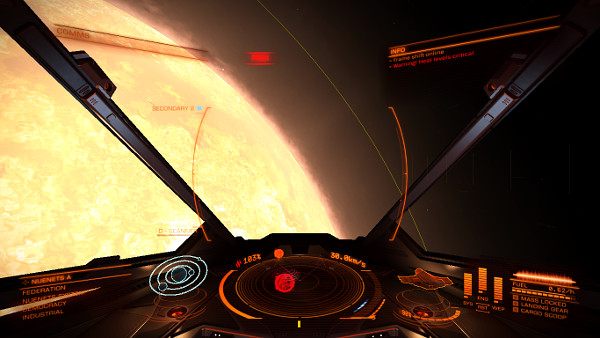 Now it was time to be the Marco Polo of space. I turned to face the star and my Discovery scanner started scanning. I few seconds later the sun was scanned and I turned my attention to find the hidden gems (planets, asteroids etc) in the system. To do this you have to "fire" your discovery scanner to ping the system, this will show you the orbit of objects that you have to fly to and scan just like you did with the star. Be warn, some objects can take a long time to reach. It took me over 15 minutes of flying at full throttle to reach a planet. Some people would call this boring while hardcore space sim fans will understand that space is vast and you can't just expect to get from A to B in a few seconds.
The more you scan in a system the more credits you can get paid so it's worth scanning everything you can reach within your fuel limits. This is where it got a bit interesting. I noticed movement on my radar and was told I'd been scanned. I was being stalked by an NPC who was after my cargo of Food Cartridges I'd bought at the space station. I was ordered to dump my cargo and leave the area. Like hell I will. I throttled up and spun my ship around to face my aggressor who began opening fire at me. The dogfighting reminded me of my time playing Wing Commander, you'd spin your ship around to face the enemy, he did the same, the speed towards him firing all your guns, he does the same, the pull away at the last minute to repeat the process until one of you is destroyed. I'm sure fighting a real person is a completely different kettle of fish but in my time of playing I haven't come across any aggressive players, yet.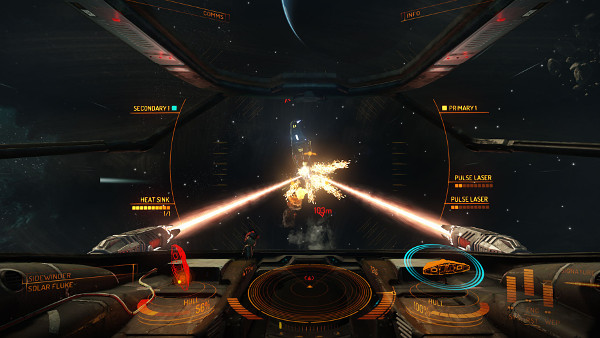 This is the beauty of Elite: Dangerous. If you feel like being in the thick of the action killing players who have bounties on their head you can do it. If you feel like getting away to a quiet corner of the galaxy for a bit of low risk trading you can do it. I heard the game described as "A vast universe with the depth of a puddle". To me this is something someone with no imagination would say. The game is whatever you want it to be, basic space trading game to full on Wing Commander style space battles against other players.
Every game has issues though, there are still a few bugs and server issues even though the game is in full release. But, to Frontier's credit, any problem you have is always answered so you feel valued as an Elite pilot and feel like you're helping to build the game into the monster it will become.
Frontier have promised future expansions and updates to add new features to the game and you have to ask "Where are the Thargoids?" and when will they make an appearance. If you didn't play the original Elite, the Thargoids were an insectoid race who were the "enemy". I see an alien invasion of our universe as a possible expansion in the future.
I can't finish this review without mentioning the already brimming community of players who have supported the game through kickstarter to where the game is today. Without them Elite: Dangerous wouldn't even be off the drawing board and they deserve a lot of credit for sticking with it through to where it is today. The Facebook page is full of friendly advice from players and I have asked many questions there myself and get replies pretty much instantly so a big well done to them.
Verdict
I now have many hours of gameplay clocked into Elite: Dangerous and wanted to share my experienced views and opinions. As I said early, the game is enormous. Is this a good thing? I'm not sure yet. I enjoyed the flying from system to system, exploring, trading and collecting bounties but spent a lot of time feeling like the universe was devoid of life. The potential is there, don't get me wrong, but the developers need to keep their eyes on the ball and not ignore Elite for different projects because it needs expanding. I believe the developers are using this stage of release to iron out any bugs or gameplay issues that might exist, which is great, it shows a dedication and attention to detail which some developers don't seem to have these days.
Elite: Dangerous is a game that many "Children of the 80s" have dreamt about. Now it's here, is it making those dreams come true?
As one of those children I say it probably will. You are a small piece of a universe size puzzle that you have the power to alter in whatever way you see fit. Not many games have had the ability to do this with probably the exception of EVE online but not having to pay a monthly subscription fee gives Elite: Dangerous the potential to be the stand out leader of space simulators. The arrival of Star Citizen later this year may try and knock Elite off its perch. Will it? We'll have to wait and see and if it keeps heading in its current direction Elite will be with us for many years to come.
It's vast, it's engrossing and a game that you can play your own way without limit, and when Frontier begin releasing additional content this game could become an all-time great.
| | |
| --- | --- |
| | great |
The Good:
– Vast, open universe with endless possibilities and affected by your actions
– Amazing graphics and soundtrack
– Customisable controls to suit your style of play
The Bad:
– Can seem a bit "empty" at times
– NPCs committing suicide
Andy Monks, also known as andyM here on SpaceSector, first started getting into gaming when he was 5 years old playing games like Pong and Pole Position on the Atari 2600. He then progressed onto the Commodore 64 playing classics like Manic Miner and Jet Set Willy. His real love for games came when he was bought his first PC with the game Theme Park, this opened the doors to the world of games like Command & Conquer, Wing Commander and Civilization. Andy has a passion for PC, XBOX & PlayStation games and enjoys grand strategy, management, 4X and RPGs. He looks forward to writing for Space Sector in the future and hopes his work is enjoyed by you all. See all of Andy's posts here.
Subscribe RSS
48 Comments
Related Articles:
Post category:
Game Reviews