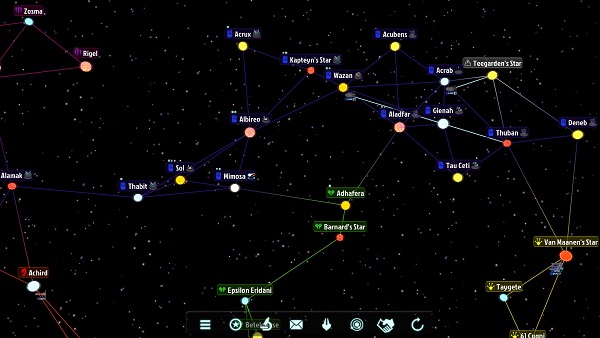 Galactic Inheritors is a new turn-based space 4X strategy game by Crispon Games and Argonauts Interactive that focuses on the macro-scale elements of managing a space empire. The game entered Steam Early Access on February 10, 2015 and the plan is for it to remain in Early Access for at least six months before release, though no official release date was confirmed and the estimate is based on a roadmap the developers published on their forums (also on Argonauts Interactive's website).
You can read our earlier coverage of the game where we asked Chris King a few questions about his reasons for making Galactic Inheritors here.
Galactic Inheritors focuses on managing your empire through a streamlined mechanic. The star system as a whole acts as the basic economic unit instead of individual planets. The game also focuses on a more war-like experience where there are no formal alliances. It has no tactical combat or ship customisation, as the player produces their warships via military contractors that improve their capabilities the more they produce allowing the player to shape the specialisation of each of their firms. The game introduces media as a means to influence interspecies relations and your empire's readiness for war, taking the place of traditional diplomacy.
State of the Game
The game is still very rough around the corners in polish, presentation, and UI integrity, but that's not unexpected for a game that is currently in a mid-Alpha phase. There seems to be very few show stopping bugs; the only crash I experienced was during the later tutorials when clicking on the help button. The only glitch I experienced was the music not loading when the game is initially loaded (the music returns when you return to the title screen from inside the game, however).
Visually the game is rather simple looking. Though high quality graphics are rarely needed for a good game, and many games that we consider as our favourites had poor visuals, a certain visual flair can help. It should be noted there is very little variation in visuals in the game at the moment. Ships of all races look the same; even ship classes of the same size look the same. Though the game is not in beta yet, and these art assets may change, I'd recommend more variation in graphical assets. The UI is also very rough around the edges, but the roadmap for the game lists this as one of the many areas they are planning to improve.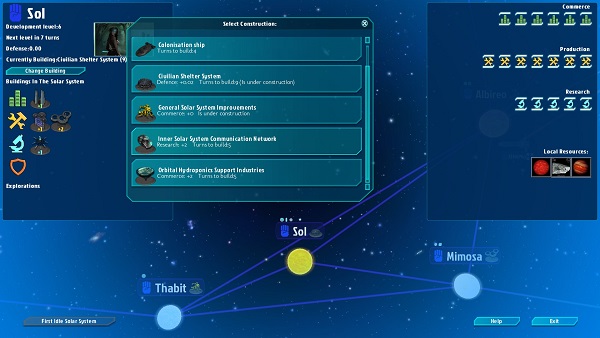 Game Elements (as of Early Access release)
Set Up:
Choose between 5 different races, each with their own set of bonuses and penalties.
The game at the moment has only a few galaxy options, mostly impacting size. There are only two shapes and three difficulty levels.
Strategic Gameplay:
Travel is done along Jump Lines; ships travel 1 jump per turn. Though not a popular choice for many fans of the genre, it makes sense in this game as a lot of the strategy will be focused on taking control of choke points both during the expand and exterminate phase.
Research tech within a traditional tech tree similar to those found in the Civilization series; the player will unlock new units and structures with each tech. Each tech provides one unlock.
Explore new systems and explore systems for resources. Explorer ships can also be consumed to exploit these bonus resources, giving a permanent boost to their respective star system.
Upgrade star systems as a single economic identity. The game abstracts each star system as a single object. However, the game doesn't treat it like one planet per system, but more like the whole system is handled as one object for you to focus on.
The player will build infrastructure that will increase the system's Potential Commerce (money), Potential Production, Potential Research, and Defense (which slows down systems from being cleared).
A system's output (Commerce, Production, and Research) will be dependent on its development (Growth) and capped by its maximum potential which is assigned to system and increased with infrastructure. Each development level fills in one slot in each of the three output fields.
Building Colony Ships stunts growth and drops the system's development level by one tier. This means the player will have to plan their expansions carefully in the early game.
System resources offer permanent bonuses to a system's output when exploited by an Explorer Ship (which is consumed).
Player can build Galactic Exploration Wonders, but it seems their effects are not implemented yet.
There are only two victory conditions at the moment. A Tech victory where the player unlocks the secret of the ancient mass drivers that looms in every system which achieves dominion over all others or by wiping out all the other races old school style.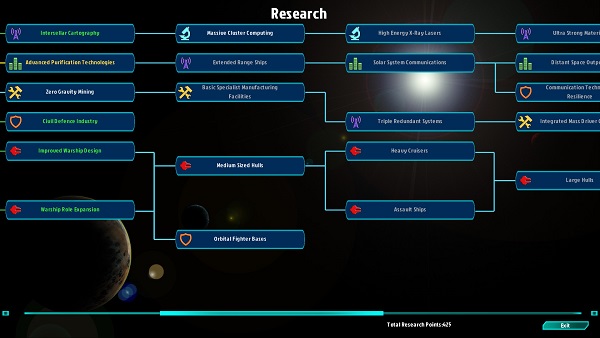 Warfare and Military:
Vessels are produced by your Industrial Complex which costs money to produce and maintain (the game's economy doesn't seem to be complete as there seems to be no visible treasury).
You have 3 companies, with 3 docks each. Each dock can produce 1 ship, and each ship grants XP to increases the level of that company.
The player can spend XP to buy upgrades for each company independently. The upgrades will grant different bonuses, giving each company a different specialty.
Ship combat is abstracted. The system seems simple as the player has no influence over it except with what ships they built and perks chosen when leveling their companies. There is also no visual representation of what happens as the results are quickly presented.
Undefended systems can be bombarded till the system is rendered uninhabited (there is no invasion mechanic, systems are cleared out and then colonised by the victor).
Media:
The game does not have Diplomacy in the traditional sense. Instead the player uses media to influence their own people and other races. Positive Media can be used to form agreements that help soften relationships and stall a war, while Negative Media can be used to generate events that increase your race's desire to start a war. Once a player has enough Hate, Fear, or Greed they can declare war. The player can also offer a cease fire that will end a war early. It plays a pivotal role to stall wars you do not want to fight or provoke a war, or start one of your own.
It should be noted that the developers stated their intention to improve the media system during the Early Access period, as one can read in the roadmap below.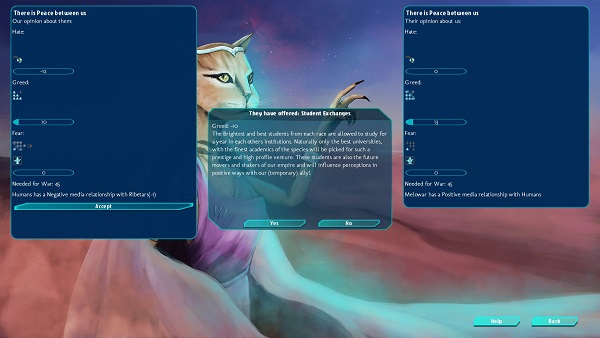 Roadmap
According to the devs' roadmap, the game should be in development for at least 6 months more. As for the update/patching process the "plan is to patch at least one to two times a month, of course major problems will be fixed sooner through hot fixes outside that schedule", states Chris King from Crispon Games.
A summary of the planned schedule:
February: Fix bugs in main game; improve the AI; upgrade to the interface, art and balance.
March: Ships and Combat. Improving and adding additional algorithms for combat which will improve diversity in ships and companies.
April: Improving Economic and Solar System management by expanding options available.
May: Media and Government improvements, this will improve what media can do, and even play a role in peacetime management of your empire. Also, expanding on diplomatic options, the game's focus will remain "kill all aliens in due time" but some additional options will be added.
June: GUI and content, improvement to the GUI and the possibility of adding new content like new techs, ships, improvements, and the like.
July: Polishing and balance phase.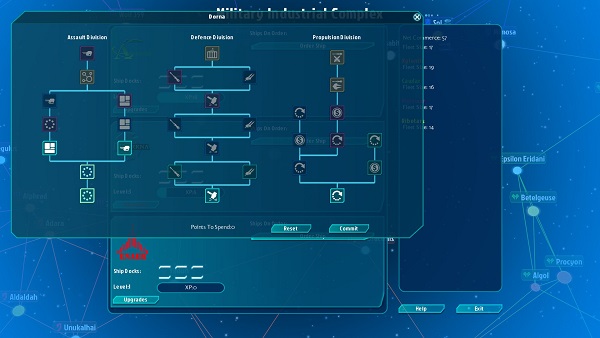 First Impressions
It is hard to get a full first impression on a game this early in development. Overall, from what I have played the game seems a little thin. Since it doesn't offer the wide scope of several different mechanics it is entirely dependent on its primary focus. The media system, though interesting, doesn't seem to play a role outside of triggering wars. The development roadmap mentions improvements to the media system and this will be welcomed. I do recommend they focus on making Media play a significant role in the game outside of just manipulating declarations of wars.
The military and combat is another area they need to improve. A game that does not have traditional diplomacy, trade, or tactical combat needs something for the player to sink their teeth into. As mentioned earlier, Media is one realm they can expand on to improve the game. The other is to expand on the companies and ship variety. Abstract combat can still contain elements of player involvement. This is especially true for a game where war is the primary means to winning the game.
One aspect I did like was the small flavour texts one would receive when exploring or colonising a system. The exploration flavour texts were very interesting as they presented some of the lore of the setting and dabbled in some of the themes one would find in science fiction stories. That sometimes helped create the feeling that each of these systems may have had a history of their own further highlighting your achievements as you traverse space and settle new worlds. These flavour texts were minor, but they were still a nice touch.
As usual, Early Access carries a huge risk and players should show caution. The program is for the truly dedicated or the entrepreneurial individual who wants a chance to give direct feedback, but there is no guarantee the finished product will turn out the way the buyer expects.
Galactic Inheritors is available on Steam Early Access for $14.99 USD. The game can also be purchased on GamersGate, the Humble Store, Green Man Gaming, and Neuronzone. However, each of these distributors only give a Steam Key and the game requires Steam to install and play.
Subscribe RSS
28 Comments
Related Articles:
Post category:
Early Access
,
Game First Impressions
,
Game Previews