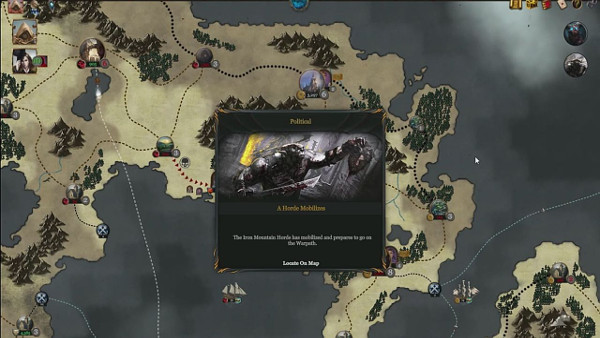 If you don't already suffer from insomnia, developer King Dinosaur Games' upcoming 2D turn-based strategy game, That Which Sleeps, may prevent you from ever sleeping again. That Which Sleeps is a unique strategy game that was funded through Kickstarter last year. It takes clear inspiration from Cthulu, fantasy, steampunk, and medieval settings. It is not a game for those who are opposed to taking part in nefarious actions against the innocent peoples of digital worlds or for those who have issues taking on an evil role in general. If you don't have a strong opinion or even cackle with delight when you get a chance to manipulate digital empires, then this is certainly one to watch if you're a fan of deep and thematic strategy games.
That Which Sleeps is a game that is difficult to describe due to the fact that it veers far off the well-beaten path and appears to be a rather complex and involved simulation. It is in some respects a grand strategy game, a god game, and an RPG all in one. You take on the role of an ancient evil, a long dormant god looking to return and impose your will upon the people. There are a plethora of activities that you'll take part in to increase your strength at the expense of others. For example, a few things you'll be able to do are deploy and advance agents, infiltrate and manipulate empires and their rulers, disrupt trade routes, bring about wars, kill meddlesome heroes, and introduce plagues.
While this may sound like an easy task for an ancient evil, you are weak and vulnerable when you first awake. You must pace yourself as some still remember you from the stories they've heard of your past deeds. If they uncover your plot to return too soon, your mission may end before you can complete it. Yet, you can't wait forever to complete your mission or the people will become too strong. As the developer himself states, "you can almost always succeed at something, it just takes longer. Time is your enemy."
There are currently plans for 3 uniquely different core scenarios, and each of these also includes 2 supplementary scenarios. Mod support is also planned. Each scenario includes a complete history of factions, their rivalries, their likes and dislikes, their armies, governments, and traits that control their overall AI. These scenarios contain far more than just humans, and you can expect to come across minotaurs, gnomes, orcs, mages, and other unusual races. There are also 8 ancient evils (aka old ones) to choose from and each has their own unique powers and goals, some of which are easier than others, and this helps determine the game length and difficulty you'll have winning the game.
As a game with what seems like a potential for near limitless replayability, we can only hope it succeeds in delivering a well polished and user friendly experience when it releases. As for the current "state of the game", the devs said in a recent update to have been "making great progress every week" but they are also still "very hesitant to set a date" for the Beta at this moment.
Subscribe RSS
12 Comments
Related Articles:
Post category:
News & Announcements
,
Videos