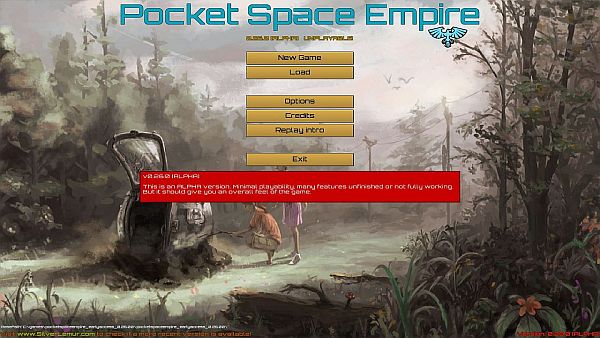 Have you ever felt that, given your status as a galactic emperor, you had an inordinate number of menial tasks that you had to attend to? If so, Pocket Space Empire, an upcoming turn-based 4X grand strategy game from developer Silver Lemur is here to offer some help. Being an emperor doesn't mean handling every mundane and inconsequential detail, but rather, knowing who you can trust in power beneath you to handle them. You call the shots and they simply follow them, or at least that's how things would work in a perfect galaxy. Unfortunately, humans will be humans and things are never quite that simple.
Micromanagement of large space empires in a 4X game is often a huge undertaking. The larger the empire, the more difficult it becomes to properly manage it all. This leads to games that start off filled with interesting and fun turns, but which end with very long and tedious ones. Silver Lemur's approach to this problem has been to integrate automation into nearly every aspect of the game so that your goals stay manageable regardless of the size of your empire. For example, while you can help direct exploration, it will ultimately take place without your intervention. While you do manage some aspects of your fleets and squadrons, the more mundane tasks of repairing them and replacing battle losses are taken care of for you. Combat, at this point at least, is largely abstracted as it is when combat is simulated in many other 4X games. Planets have attributes, special minerals, and an economy you can look at, but aside from changing their specialization, there's little for you to manage as your governor handles the details.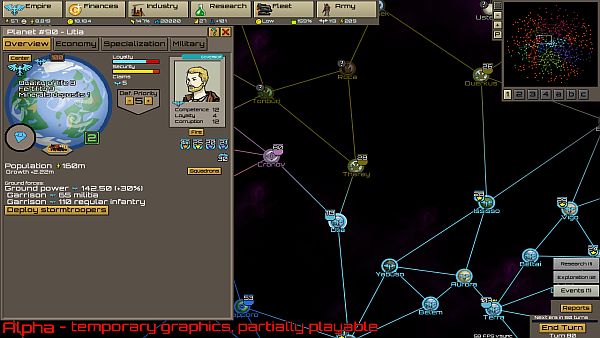 The game will feature multiple scenarios that place the player in charge of an empire that is at various stages of growth. While you can start with a relatively small empire, you will also be able to start with an empire that owns most of the galaxy but which is facing some serious threats such as rebellion. Within each scenario there will also be story based events that require you to respond and react such as usurpers, galactic threats, and the return of ancient races. Victory conditions will vary in each and will require the completion of unique achievements. The AI races and their positions will also vary, and each one has a different AI rule set that will make it play much differently than the player. One benefit to the large degree of automation is that late game scenarios should be far easier to jump right into whereas this would be a daunting task in most traditional 4X games.
By this point, you may be asking yourself, are you playing a game, or is the game playing you? What are your responsibilities as an emperor? Fleet composition, including squadron quantity, hull choices, and deployment is still very much within your control. Which planets you choose to colonize is also your decision. Research is of course vital to any 4X, and in this case research takes place across 5 categories simultaneously. Each category contains a leveled list of technologies, and in order to research a technology in a higher level, you must first research at least one of the lower level ones. While research is simultaneous, you can prioritize certain areas in order to allocate more of your research points to it. There are also other opportunities to tinker with things such as tax rates, industry focus, political reforms, planetary specializations, and ship modernization. There are also diplomatic treaties to be made, although I believe this is an area still being designed/implemented at this point.
The bulk of your duties are actually social in nature. These include managing the composition of your own 18 member personal court complete with specialized departments and political factions. Keeping this court in check is important as failure to do so could lead to your empire's stability falling, a political coup, and an eventual collapse of everything you've built. Every one of your court members has their own name, 3 attributes to track, a faction, and can be fired or reassigned in order to meet your needs. In addition, you'll have an audience every so often where you'll address the needs of your court, including special events, your governors, and even your fleet and army commanders. Yes, all of these individuals have their own unique names and attributes as well. There are tons of people in the game and they also have limited lifespans, so you can enjoy their services, but only while they last.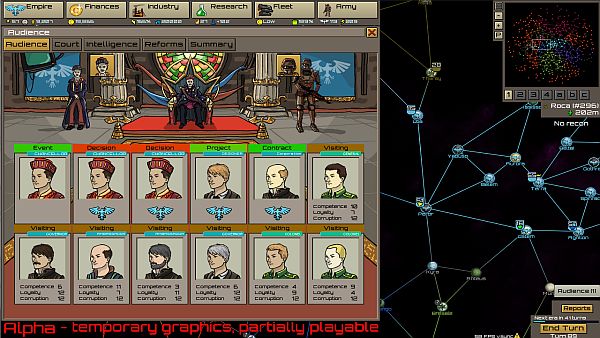 Full release of Pocket Space Empire is scheduled for later this year, but early access will be available as early as this March.
At this point in development, the game is on alpha version 0.27 and is partially playable with several pieces of placeholder art. Being an alpha still under development, it is important to reiterate that many aspects of the game are still subject to change at this point. One thing that won't change, according to the developer, is their core philosophy behind the game that you feel like an emperor. If you want to follow the progress, you can follow them on their website, or better yet their youtube channel.
Subscribe RSS
15 Comments
Related Articles:
Post category:
Early Access
,
News & Announcements