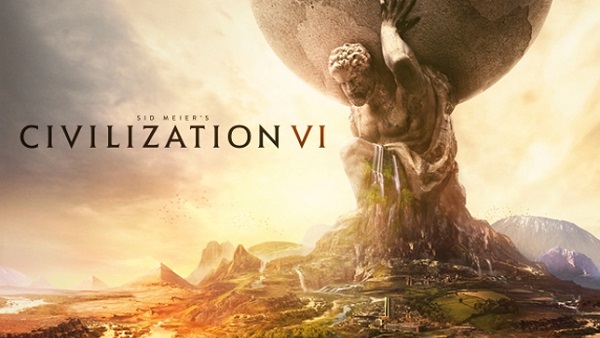 2K Games yesterday has announced the next game being made by Firaxis Games, which is none other than their flagship series: Civilization VI. The announcement has also come with a cinematic trailer, release date of October 21, 2016, and the Steam store page is already up with the basic overview of the game. Exact details are still sparse but there have been a few interviews that popped up, though they all share the same basic information.
Civilization VI has been long awaited by the fans and some in the community have been predicting it will come soon. However, the announcement does come with a bit of a surprise, especially since the release date is close but this seems to be standard for Firaxis now. They did this both for XCOM 2 and Beyond Earth. XCOM 2 was delayed, but initially it was also announced not too long before it was supposed to be released.
The question a lot of have is what will the improvements be, Beyond Earth though far from a bad game did not live up to the standard one would expect from a new Civilization game. Civilization VI will have even higher expectations to surpass but is also closer to what they are used to.
The potential good news is that Ed Beach is the lead designer and a lot of the people on Civilization VI are from same the team that pushed Civilization V to Brave New World. The expansion is highly regarded by many, SpaceSector included. Hopefully, that standard translates to Civilization VI as well.
"A lot of this development team is the same development team that pushed Civ 5 through to the Brave New World expansion. We're very proud of the work we did there." – Ed Beach, Lead Designer for Civilization VI. Courtesy of Phil Savage, PCGamer.
Here is the trailer:
Yes, that is the voice of Sean Bean. It's not confirmed if he will be voicing anything in the game or he is just used for the trailer. (Disclosure: I am a huge Sean Bean fan.)
List of Game Features (from the official website):
EXPANSIVE EMPIRES: See the marvels of your empire spread across the map like never before. Each city spans multiple tiles so you can custom build your cities to take full advantage of the local terrain.
ACTIVE RESEARCH: Unlock boosts that speed your civilization's progress through history. To advance more quickly, use your units to actively explore, develop your environment, and discover new cultures.
DYNAMIC DIPLOMACY: Interactions with other civilizations change over the course of the game, from primitive first interactions where conflict is a fact of life, to late game alliances and negotiations.
COMBINED ARMS: Expanding on the "one unit per tile" design, support units can now be embedded with other units, like anti-tank support with infantry, or a warrior with settlers. Similar units can also be combined to form powerful "Corps" units.
ENHANCED MULTIPLAYER: In addition to traditional multiplayer modes, cooperate and compete with your friends in a wide variety of situations all designed to be easily completed in a single session.
A CIV FOR ALL PLAYERS: Civilization VI provides veteran players new ways to build and tune their civilization for the greatest chance of success. New tutorial systems introduce new players to the underlying concepts so they can easily get started.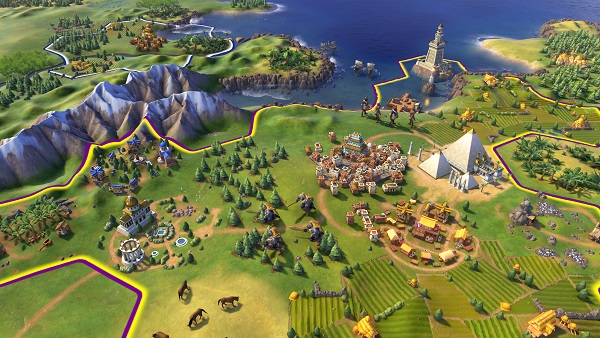 A Bit of Details
Three things caught my attention which was thankfully teased about in the released interviews. These are limited unit stacking, city districts, and the active Tech system. (Information discussed here is courtesy of the answers from the Ed Beach, Lead Designer for Civilization VI, in the PCGamesN article.)
The game will still use the 1-UPH (1-unit per hex) system but it seems like they're trying to address the issues with the "carpet of doom" or being chock-pointed too easily by terrain. Later in the game the player will be able to merge units of the same type together to form a Corp (2) or an Army (3). They will also be able to attach support units like anti-tank and anti-air to normal unit.
It also seems you'll get bonuses to researching techs if you perform a certain task in the game. Like building a harbor will improve research that unlocks naval units, or building a quarry will help research another tech, while fighting barbarians will boost your military techs. You can still research techs you haven't had a chance to perform a task for, but they will take longer.
This system for technology seems to encourage players to react to their environment, but also if they want a certain tech faster they need to proactively do something on the map. So if you want to push for more naval tech, then settling more cities along the coast and developing them along the coastline would be wise.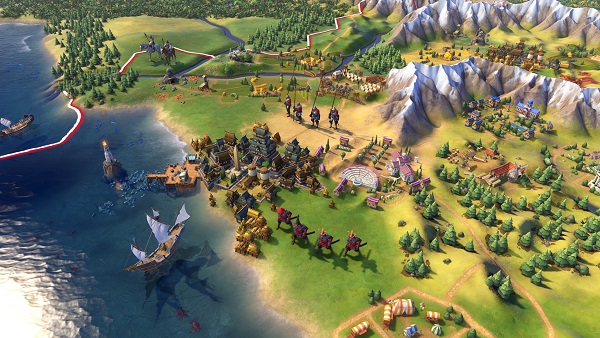 This leads to the city district system. It seems now your cities will place down districts similar to what we've seen in Endless Legend from Amplitude. However, the districts are also specialized and it's where you'll build your city buildings as well. So this is not just a matter of expanding the size of your city but what your city can potentially do. Wonders will also be placed directly on the map as well.
These districts can also be the targets of wars and be pillaged by the enemy, so it will be possible to cripple the opponent's industry, science, or food production individually. This includes using bombers as well to target these districts, while military districts will give more support to the defense of a city for the defender.
They also mentioned diplomacy is getting a face-lift, and they're playing around with the victory conditions as well. Espionage was mentioned but no details have been given.
It's expected that more information will become available in the coming weeks, and if Firaxis continues what they did with Beyond Earth then preview streams of the game will start popping up soon. We will keep you informed as more information becomes available.
Civilization VI can be pre-ordered from Steam and the 2K Store for $59.99 USD, due to be released on October 21, 2016. A Digital Deluxe edition is also available, offering the 25th Anniversary Digital Soundtrack and four DLC packs to be released post-launch, being sold for $79.99 USD.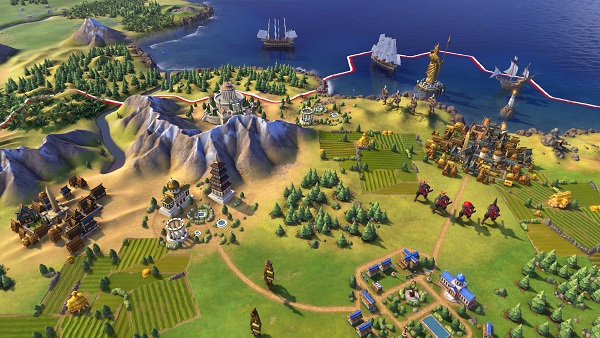 Subscribe RSS
15 Comments
Related Articles:
Post category:
News & Announcements