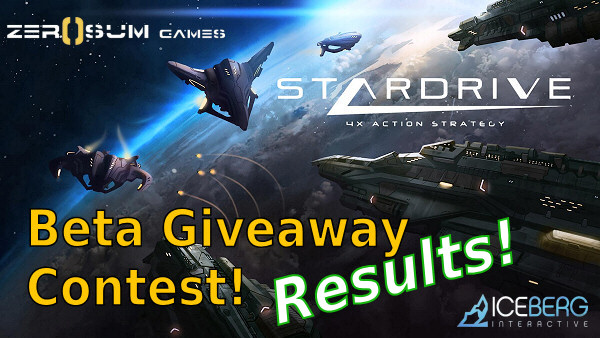 And the winners of the StarDrive Beta giveaway contest are:

Congratulations! The gods were with you today. I'll be sending you your StarDrive beta Steam key as soon as I verify that you met the contest entry requirements. The winners were picked with the help of random.org.
Thanks to all who participated. Hope everybody had a bit of fun. A big thanks to Iceberg Interactive for sponsoring this contest.
StarDrive beta is expected to open to the public on Steam on January 29th. In our recent interview, Iceberg said that the game will cost around $29.99/€29.99. However, there's no confirmation if that will be the beta price. If you want to know more about this new space 4X game, have a look at our most recent hands-on preview.
The contest details and all the people who participated can be found in this post.
Subscribe RSS
18 Comments
Related Articles:
Post category:
Contests