Time for another Kickstarters update. In the last update we covered the successful Kickstarters Strike Suit Zero, a space combat shooter (already out), the space trading and combat simulation Star Citizen, the sci-fi RTS Planetary Annihilation, or the space 4X game M.O.R.E., among others. And, some others that were not so fortunate as well.
Now, here's a new round of successful, and unsuccessful crowdfunding space-based and sci-fi themed gaming adventurers.

Elite Dangerous: space trading and combat simulation  -> Made it!
David Braben, the designer of Elite, succeeded on Kickstarter with Elite Dangerous,  a sequel to the 1984 classic space combat game, now with "stunning visuals" and the ability to "play with your friends" with peer-to-peer technology in a "lobby-less way". Braben admitted that Kickstarter would be used as an experiment, as a way to check if there would be enough interest to justify making such a game. Well, apparently there was :) He asked for £1.25M/$2 million, and got £1,578,316/~$2.5M (126% of the funding goal). After a period of post-kickstarter inactivity, the devs stated the intention to go into full production mode soon, and should be resuming their dev diaries and other feedback to backers also soon. The ETA for Elite: Dangerous is March 2014 for the PC. Mac users will have to wait a bit more.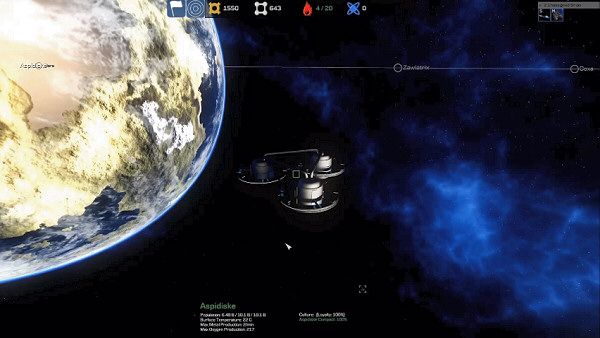 Colonia: real-time space 4X strategy game -> Didn't make it.
Richard Orr proposed a slightly different kind of space 4X game experience. The idea would be not to achieve supremacy over an entire galaxy but to confine the experience in a single star system, with a focus on more realistic distances between space objects. Combat would play a major role, as for terraforming, since there wouldn't be that many worlds to expand to. Unfortunately, Richard was not successful on Kickstarter, achieving only $2,060 of his $12,000 goal (~17%) . The dev didn't leave any hint if development would continue or not, as he didn't post a closing update. At least not yet. And, no game webpage was referenced either, where more info about the game could be found. I enjoyed watching your Kickstarter videos Richard, and I really think you had something here. Better luck next time.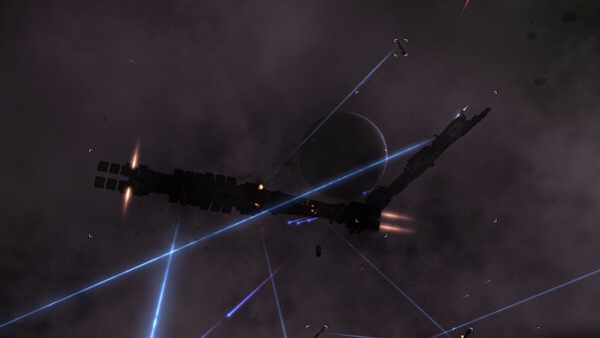 Limit Theory: space combat simulation / RPG / RTS -> Made it!
Josh Parnell proposed a fully procedural sandbox space combat game. Procedural meaning, different space bodies and ships – and its textures – uniquely generated by the computer every time you play, so that every game is different. The idea would be to mix RPG and RTS mechanics by taking control of one ship on a first or third-person perspectives. Besides combat, the game would also offer planet exploration aspects, as for planet buildings construction. Josh was successful on Kickstarter, and by a large margin, achieving $187,865, which was 375% of his initial goal. We'll be able to enjoy Josh's procedural single-player PC game by around January 2014.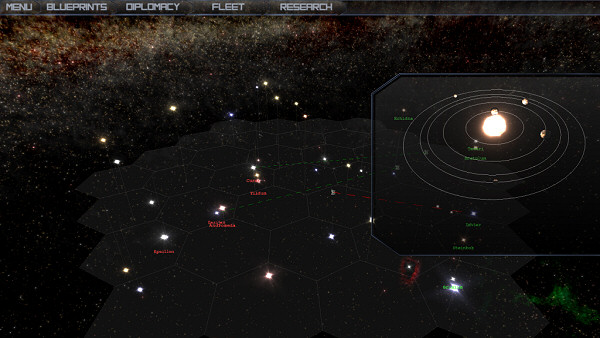 Predestination: turn-based space 4X strategy game -> Made it!
Brendan Drain and his team went to Kickstarter in order to turn Predestination into a reality. And they were quite successful. Predestination is an interesting turn-based space 4X game (it's part of "Sci-Fi/Space Games You Can't Miss in 2013" list) that we were already following before the Kickstarter campaign. What distinguishes it from other space 4X games out there, is the planetary exploration depth that they want to achieve, where it will be possible to explore different sections of each planet. Another particular distinctive aspect is that you can establish multiple colonies in the same planet. They also promise a new approach to deal with excessive micromanagement through the use of colony building blueprints. Multiplayer is envisaged through PBEM, hotseat and LAN. The estimated delivery date is December 2013 for Windows PC. To know more about the project check out our interview with Brendan.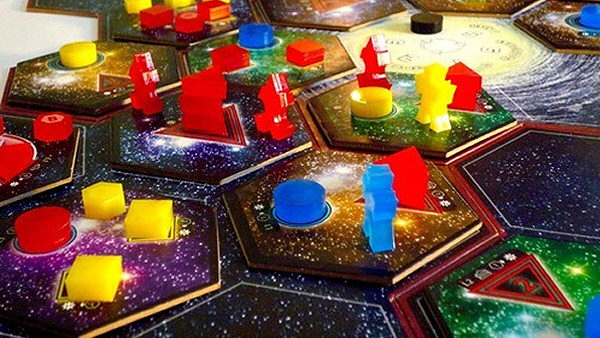 Hegemonic: tabletop space 4X board game -> Made it!
And now a non-computer game for a change. Hegemonic is a space 4X board game by Minion Games, a producer already familiarized with the ways of Kickstarter for launching their tabletop gaming products. KS is a vehicle they use to know how many games they may go ahead and print. Hegemonic was their seventh Kickstarter campaign and their sixth success (they had to re-launch their first KS attempt, but they were also successful at a second attempt). Like in any space 4X game, in Hegemonic you assume the role of a leader or ruler, explore space, expand your dominion, develop your industry, grow your military and ultimately seek to vanquish everyone else through more or less diplomatic means. Minion Games achieved $77,396 of their initial goal of $30,000, for more than 250% funding, and expects to deliver Hegemonic on July 2013.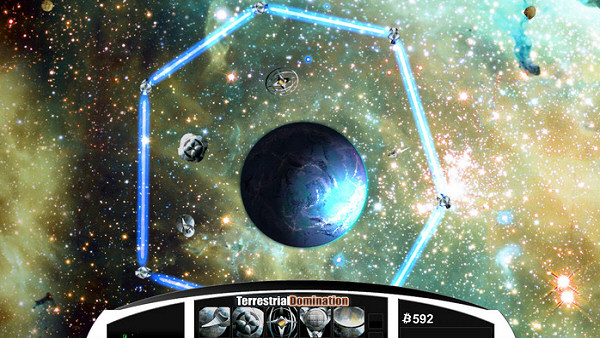 Terrestrial Domination: real-time space strategy -> Didn't make it.
The idea with Terrestrial Domination was to choose a faction and try to conquer your enemy's planet before they conquer yours. The concept is very simple, but what made it compelling in the first place was the amount of interesting things you could do to achieve your goal. You could colonize other planets for resources, or build space stations and ships, but above all you could employ different tactics and special attacks, like cool force field barriers or rotating super lasers. The mechanics looked simple but quite refreshing. However, this didn't seem enough to convince people to support Chris Johnson's proposal. The indie dev is now rethinking his strategy and considering alternatives, like perhaps going alpha funding on Desura, submit a Steam Greenlight or simply re-launch KS with different goals. Good luck on your endeavor Chris.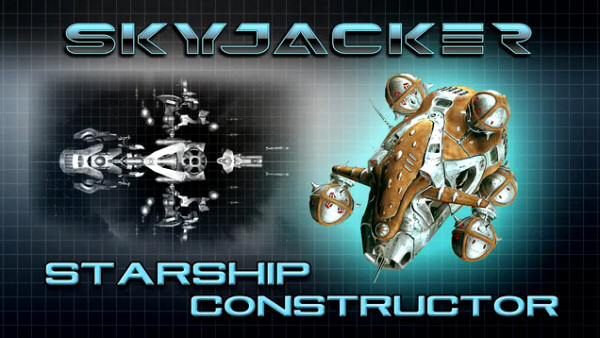 Skyjacker – Starship Construction: space combat / ship design app -> Made it!
And three was a charm. Digitilus went to Kickstarter for the third time to help fund their space combat game, Skyjacker. But, instead of putting the main game on the line, this time they went with a smaller goal: an app to design spaceships, supposedly an in-game tool, which will be included in the main Skyjacker game. This KS campaign was a bit confusing, at least for folks with limited knowledge or simply new to the Skyjacker concept. It was confusing because although the Kickstarter's aim was the ship design app itself, it was clear that what the Digitilus Team were really after was for support for their Skyjacker main game, which was in fact part of one of Kickstarter's rewards. But, they made it. Barely, but they did, with $6,000 extra on top of the $30,000 which they asked for the Starship constructor app.  This app should be ready around May of 2013, while the Skyjacker full game is expected to come around August 2013, for the PC, Mac and Linux.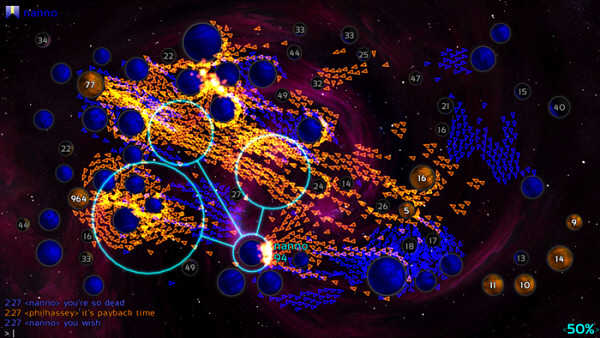 Galcon 2 – Galactic Conquest: real-time space strategy game -> Made it!
He barely made it, Phil Hassey, the creator of Galcon – a simple RTS game where you need to colonize planets and build as many ships as fast as you can. Phil made it on Kickstarter by $2,642 for a total of $25,741 raised. Phil has come a long way with his Galcon concept, and after Android and iPhone and then iPad and Windows (Galcon Fusion) he now went after a sequel to enhance some of Galcon's core features and bring it Windows, Mac and Linux. Apparently, Galcon2 will be free to play and will have the same core gameplay aspects as Galcon Fusion, but with two major additions: a galaxy map to track records and different classes (or powers). Nothing was developed pre-Kickstarter. Phil's idea was to develop Galcon2 in a community-centered way, where prototypes will be sent to backers for feedback. Congratulations Phil, it seems like you'll be able to start your prototyping and bring us your new frenetic-paced space game installment in the near future. The final product delivery date was not specified though.
Conclusion
In this list, six Kickstarters made it out of eight. A very successful ratio I would say. The outperformer was by far Elite: Dangerous, a kickstarter that surely capitalized on the heavy nostalgia effect and on credibility, since the project owner is the same person who was behind the Elite classic space game. A bit like what happened with Star Citizen with Chris Roberts being the developer of the also classic Wing Commander series. In our last update we got six successes out of nine, so the tendency remains consistent.
Of course, this list may not be exhaustive, as there may have been a few other space and sci-fi crowdfunding projects in this assessment period that slipped our radar. The list represents the ones that captured our attention the most. As always, feel free to point them all out in the comments below – only finished and not already covered ones please.
And now our little disclaimer. Till our next Kickstarters update, continue helping our indie sci-fi and space gaming adventurers. But, don't forget to back thoughtfully! :) Crowd funding is still on its infancy, and there's always risk involved. Don't forget to always have that in mind when backing.
Subscribe RSS
13 Comments
Related Articles:
Post category:
Kickstart