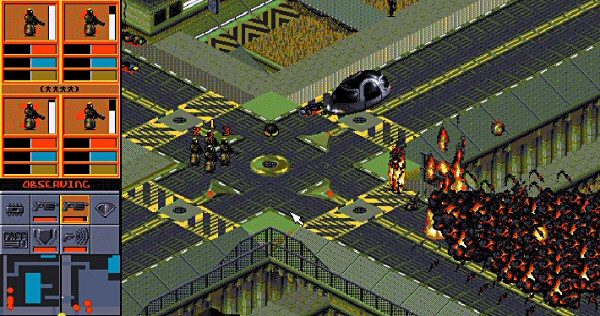 I'm really feeling a bit nostalgic these days :) Syndicate, the original sci-fi strategy game developed by Bullfrog in the 90's surely had some kind of magic to it. The game unfolds on a sci-fi cyberpunk setting where mega corporations have corrupted all the way to governments. Yes there's plenty of violence in Syndicate, and immorality behind all that you do in the game, but there were few things after that that made me feel more powerful then when I used that Minigun and that Flamethrower to eradicate everything in my path. Hehe, it's a game so there's no problem in having a bit of fun :)
Good old Games (or GoG for short) has managed to bring Syndicate to their DRM-free collection of old video games. In two days GoG will start selling this great sci-fi strategy game masterpiece for $6 USD with some additional bonuses: the game manual, dark SF artworks, and avatars. In the meantime they have launched a contest to keep you in the loop.
A new Syndicate will come out this February 2012, but (un)fortunately (depending on your taste) now on a shooter form.
So, feeling in the mood to blow up buildings, shoot stuff and light everything on fire, all that in a sci-fi noir Blade Runner kinda of way? Then join the Syndicate and lead your cyborg mercenaries through missions to get the job done. Accidentally killed some innocents and half the city was left on fire? Well, that's ok, it will take the Syndicate just a phone call to fix all that :)
Subscribe RSS
6 Comments
Related Articles:
Post category:
News & Announcements