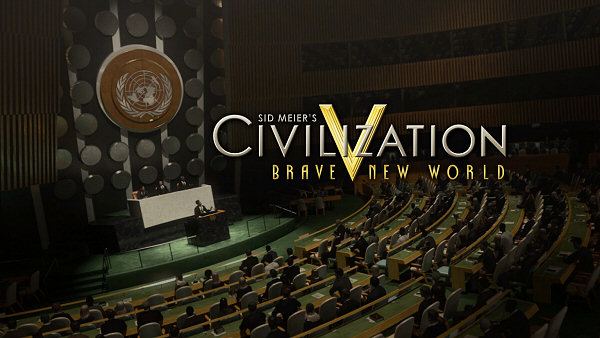 Released in 2010, Civilization 5 was probably one of the worst installments of the entire Civilization series. Its innovative systems, namely the City-States, the 1UPT (1 unit per tile) and the mysterious more "Human-like" diplomacy, were interesting in theory, but ended up being poorly executed for the most part. It worked out to some extent, but in the end of the day the experience was just not good enough to entertain the most demanding fans of the series.
The worst of it all was the overall boredom feeling (not much to do), the completely erratic diplomacy (to say the least) and the very poor AI performance on the battlefield. The original Civ5 release was essentially a Civ game turned into a simple wargame where the AI performed quite badly. But, the game was accessible as never before. It had a lot of glamour and more than enough to entertain the casual player, or the less exigent strategy gamer. But, it was an unrecognizable Civ installment to the hardcore Civ fan. Especially when you consider how epic its predecessor was (Civilization 4: Beyond the Sword). So, myself, and like I came to understand many others, ended up shelving Civ5 not too long after its release, which is saying a lot about a Civ game, I practically played Civ games day in and day out through many years straight.
But, roughly two years after came Gods & Kings, the first expansion pack to Civ5, and it managed to save the 5th installment. In fact, it wasn't just the expansion alone, but most probably the series of patches that have been released since Civ5's original release. But, it was Gods & Kings that saved Civ5 for the most part.
The first expansion improved the game in almost every area. Combat, and the way the AI handled it, was notoriously improved. And, the religion and espionage systems were brought back to the series with an interesting new twist. Religion was quite deep and enjoyable while Espionage was effective enough. So, there was way more to do between turns now. Also, the diplomacy issues that plagued the original version were fixed to a great extent, and lots of balancing tweaks improved the overall experience substantially. Civ5:G&K was definitely a great expansion. Civ5 was now a proper Civ game.
Now, roughly one year after Civ5:G&K's release, comes Brave New World, the second expansion pack to Civ5 with the promise to improve the "late-game" experience, where usually all past Civ games fell short (to a good extent this is a 4X game general issue, one has to say). But, did Firaxis succeeded? Is Brave New World an essential expansion pack? Is the Civ5 experience finally better than Civ4? Does this new expansion justify your time and money? Find the answers below.
Civilization is now more civilized
One thing that you immediately feel when you start to play this new expansion is how more friendly and reasonable the AI plays now, especially in the early-game stages. Initially you may think that the game is much easier now, and to an extent that may be the case, but only in early-game. Though I have to say that, at first, the lack of early wars baffled me quite a bit. But, it was only after my second or third playthrough that I understood fully what the designers were really after with this apparent initial quietude, where Shaka and Genghis Khan seem to be reasonable adversaries.
Firaxis' intention was clear. Brave New World is for the builders out there. The people who prefer to develop their empires peacefully, if possible. So, if warmongering is your favorite play-style, you may be quite disappointed to learn that it's much tougher now to rush early wars and conquer your enemies very early. Wars are still a big part of the game, but just not as much in the early-game as before. So, warmongers and aggressive expansionists, be warned.
Now, big part of the blame for this more civilized behavior on the early-game stages comes from the new Trade Routes system, introduced by Brave New World, which makes access to gold harder in the beginning. You see, rivers and coasts don't give you gold as before. To have access to more gold, you need to either have access to resources that give you extra gold or you need to establish explicit trade routes with other factions now. And I say factions because you can trade with other Civs or with City-States.
So, you can establish land or sea-based trade routes to generate more gold, but the number of routes you can create in the beginning is very limited (you actually start with zero trade routes), and the amount of cash you generate from them will depend on how rich the destination of your trade route is. More trade routes can be established as the game progresses and you'll see their range extended, but until then, money will not be as abundant as before, and so neither you or your opponents will have the means to field a big standing army in the early stages of the game. And that's the reason why I think the game feels more peaceful in the beginning. I'm convinced that this behavior was intentional. I do miss the early strife of previous Civ incarnations, but as I'm more of a builder kind of Civ player myself, I'm not too uncomfortable with this change, although I wouldn't mind that the challenge is increased a bit.
But, trade routes mean much more than just being money boosters. You can also boost science, manufacturing and food production via trade, and you can even use trade routes to help spread your religion to the route's destination city. And, trade also plays a factor in boosting tourism, a completely new resource introduced by Brave New World, that inevitably changes the way you've played the game till this point, even if you're not going for a cultural victory. But more on Tourism and the revamped new Cultural Victory later.
So, because of all of this, the new trade route system is a successful and useful new mechanic in my opinion, and it does improve the overall Civ5 experience. It makes things feel more real and complex without complicating the experience, which is never an easy task. Establishing trade routes is easy enough because the UI is very accessible. And, you can even have your trade routes shown on the map if you choose to. But, you have to protect them. So, be careful before establishing trade routes passing through unfriendly territory. On the other hand you can also pillage your enemy's trade routes, for a good lump of gold.
Apart from the enjoyable trade routes' new system, the second new big mechanic introduced by Brave New World – that also helps make things more civilized – is the World Congress. You can look at it as a mini-United Nations, or kind of a United Nations precursor. When established (around mid-game), some civilizations may propose resolutions, but all of them may vote. The host receives extra votes, or delegates. Having more alliances with City-States will grant additional votes as the game progresses. More votes can be negotiated (bought) from other Civilizations with diplomats stationed on their capitals (a new spy role that doesn't steal techs). Resolutions vary from peaceful competition towards a multinational project, like the World's Fair or building the International Space Station, to much less friendly resolutions, like full-scale embargos, particular luxuries ban or several other initiatives that may hurt your rivals' plans substantially.
And, your actions will not be considered lightly. Every move you take on the World Congress may be the prelude to an unforeseen war, a serious blow to your long-lasting alliance or the start of a beautiful new friendship. So, you must plan your resolutions carefully as they will have a big impact on the diplomatic game. So, because of all of this, the World Congress is another fun system to play. It helps make things less predictable in mid-game to late-game, something that the Civilization series always lacked.
The World Congress is also your new way to win a diplomatic victory now. Where before you were required to build the United Nations and have the most votes (more City-States on your side) in order to win, you're now elected World Leader via the World Congress. City-States' support is still crucial, but there are other factors at play that can contribute towards having the necessary votes, like possessing particular wonders, be the host of the World Congress, having the instated world religion or world ideology. All that counts towards a diplomatic victory. One criticism I have though, is that it's a bit too easy to win diplomatically at the moment. The AI is not competitive enough at buying City-States' support, so, you can easily achieve the number of delegates you need in order to win. Hopefully, they'll do something about this in upcoming patches.
The third, and final, more civilized new mechanic in Brave New World is the new Tourism concept. Why fight wars to conquer and assimilate all your rivals by force when you can be admired and benefit the same way. That's what tourism in BNW is all about, and ultimately how cultural assimilation works in the real world too. Tourism is the basis of the new revamped cultural victory.
You can still have a huge amount of culture but decide not to use it to persuade or dazzle others though. This is understood as defensive, or peaceful culture. It's still crucial to have lots of culture to advance your civilization socially through the game's policy tree, but it will not make you any closer to achieving a cultural victory (in spite contradictory that may sound).
To achieve a cultural victory, you need to show that culture to others, and that's what BNW's Tourism means in the end. It's the accumulated effect of showing off your irresistible way of life. To persuade others towards your culture. So, it's not enough to possess a great wonder or work of art. You need to show it to others in order to win. And you do this by showing your great works of art and artifacts on museums, by building magnificent wonders with great works of art in them, by presenting plays in theaters, by doing concerts in operas and by having hotels and airports (a new building, brought back from Civ4) to bring the people in.
In other words, having enough culture is not enough to win culturally (as before), you must also show it to others now in order to win a cultural victory in BNW.
But, Tourism is not just useful for running towards a charming cultural victory. Creating great works of art or showing exquisite artifacts on your museums, excavated and brought to your empire by your archaeologists (a new game unit), will make the world jealous of you. But, Tourism is not only about generating sufficient points to supplant your rivals' accumulated culture, and win that cultural victory. No. Brave New Worlds' designers were clever and created another interesting use for Tourism if you're not that interested in peaceful gameplay and are not running for a cultural victory all together. After all, better than conquering your rival's by force through war, is to conquer them peacefully and willingly. So, Tourism is also the new influence weapon in Brave New World.
Influence played a big role on Civ4, and it did so by the use of accumulated culture. When you had much more culture in a city than your rival's city nearby, it would make that city flip your side. This was the concept of culture assimilation in Civ4. In a way, Brave New World's tourism's influence concept works similarly to Civ4's culture influence, but tourism is a different resource now. To make things easier to understand, Tourism is your offensive culture in BNW.
So, Tourism is the act of spreading your culture, and that's why it's seen as an offensive act, because since you persuade others to love you, you cause unrest and dissent on your rival's populace in the process, and that's where the new Ideologies mechanic kicks in.
Ideologies is a new concept and game system introduced by BNW based on the political social policies of Gods & Kings with the same name. The idea is that at some point in time you must choose a path, or way for your people. You can choose between Freedom (Democracy), Order (Communism) or Autocracy (Fascism), each with its specific bonus tree. In fact, these were already choices you could make in the previous expansion pack. The difference now is that adopting an ideology has much more profound consequences than before in the diplomatic game. The more influential your empire is (more tourism generated), the more it will affect the morale of your rival's empires, to the point of mass defection and extreme unhappiness.
In the extreme cases where you have much more influence (tourism) than a rival close to you, some of the rival's cities can flip your side. That is to say, they become your cities. I have witnessed this behavior in one of my games where I had much more tourism playing as the Shoshone than Shaka, my dear neighbor. Of course, the side effect of having a huge amount of influence, is that your neighbors who may happen to follow a different ideology, will be extremely upset with you. And wars, even in late-game, can come up from the most unexpected places.
And that was Firaxis' whole idea with this expansion, in my view. The game is much more unpredictable and fun throughout the entire game length now, i.e. throughout all the eras till the end. Before, it was very common to lose interest by mid-game or at early late-game and start over, because the game seemed "done" at that point. But now, with the introduction of Tourism, the World Congress and the revamped Ideologies system, and all their subtle links, things can change unexpectedly at any time and the game may surprise you till very late, which is a big triumph in this sort of game.
Other changes
Apart from the major new and revamped systems described above, which are no doubt the meat of this expansion, BNW also comes with other important innovations and goodies.
First of all, there are nine new civilizations to play with now: Assyria (Ashurbanipal), Brazil (Pedro II), Indonesia (Gajah Mada), Portugal (Maria I), Poland (Casimir III), Morocco (Ahmad al-Mansur), Shoshone (Pocatello), Venice (Enrico Dandolo) and the Zulu (Shaka). I played with or against them all in my four game playthroughs plus one scenario for this review (all in Emperor and Immortal difficulties), and I found them to be inline with expectations to what previous leaders' uniqueness and play-styles are concerned. But, two of them play substantially different from all the others, which makes them specially unique. Pocatello of the Shoshone and Enrico of Venice.
Pocatello's main trait grants you additional territory (a substantial amount) when you found new cities, which should give you a good head start from the competition. The downside of this is that this additional territory may cause an increased initial strife with your neighbors that are competing with you for the same land. This is particularly important to take into account when you have warmongers or expansionist Civs nearby. So, although you enjoy more breeding room this may cause you some additional trouble.
The other interesting Pocatello's trait is that units get a defensive bonus while fighting inside Shoshone territory. I played with Pocatello with the intention to win culturally (ended up winning diplomatically, but never mind) and can say that I enjoyed my playthrough quite a lot. The initial increase of territory is indeed a great benefit. So, I founded less cities and was pretty comfortable defending my own. My borders were much larger than everyone else's, so that gave me a strategic advantage, as there were big portions of the map that were not accessible by others, and open borders treaties suddenly gained a new meaning.
I didn't play with Enrico of Venice, but I played against him as my close neighbor when I played with Maria I of Portugal which allowed to me to have a good grasp on how Venice plays. Enrico is the most unique of all the leaders, because you can't have settlers and build or annex new cities. You can buy City-States as puppets though. Moreover, Venice enjoys double the amount of trade routes, which should make it a very interesting new Civ to play with. As I said, I played against Enrico, and boy was I furious when he just bought out one of my closest and profitable City-States. To make things worse (for my side), City-States can't be re-instated, and I learned this the hard way.
So, I was left with no choice but to go to war with Enrico, not without picking a fight and denouncing him first, to decrease the penalty of the new and more meaningful warmongering modifiers on diplomatic relations (now, some Civs tolerate warmongers, opposing others who hate them). So, I took Malacca from Enrico. And boy was he pissed. Suffice it to say he never trusted me again for the rest of the game. And, I can't blame him. Unfortunately, the City-State was gone forever, but I could still annex an important city to my empire. So, Venice's power to puppet City-States with the special great person called Merchant of Venice, is not to be underestimated, and I feel that along with Shoshone, Venice is a very interesting new Civ to play in this new expansion.
Among the new changes are also new wonders, including the Parthenon, Broadway, the Globe Theater, and the Uffizi. And, there are also new scenarios: American Civil War and Scramble for Africa, the latter about the historical struggle between European powers for control of Africa in the late 19th century. I played the Scramble for Africa scenario, and while I'm not really a Civ scenario kind of guy (far from it) I have to say that I enjoyed the different experience for a change (don't know if I'll repeat it though). It's, as you might expect, a mini-game with pre-established goals and, in Civ's case, special rules. So, European powers can't attack each other, and different empires earn victory points in different ways. Some through culture, others through wealth, and others through other means. The Civ that has the most points after 100 turns, wins.
I came in second. Not bad for a first scenario experience and for playing on Emperor difficulty, I guess. While I had the longest railroad and excavated the most artifacts, it wasn't enough to beat Haile Selassie's culture. So, Ethiopia won the day. And, I learned that military might and having a massive empire may mean nothing compared to having a formidable and charming culture. I guess it makes sense.
A few scattered observations
Although overall satisfying, war (when it occurs) could be much better if the AI actually knew what to do in battle. Yes, the AI still can't handle combat all too well. So, it's not uncommon to watch suicidal missions. I still saw wandering siege units (although rare), enemy units walking back and forth and units healing when they should be attacking and attacking when they should be healing. It's not pretty.
The only way to get a good challenge through war is by increasing the difficulty level where the AIs tend to amass larger armies more quickly. But that shouldn't be the way to solve the issue, because the problem is that in the higher difficulties the AI cheats left and right in all sorts of areas, and you're still not having a good combat challenge for the most part. Oh, and naval invasions are still rare and pointless to a great degree. Oh well, I guess although great in theory, the 1UPT mechanic was probably more of a curse than anything else. Hopefully this will be improved in a next Civ incarnation.
There isn't enough challenge, particularly in early-game. More precisely, the tension you felt while playing, the sense that bad things could happen at any time, present in previous Civ iterations (especially in Civ4's expansion, Beyond the Sword) is still not to be found here. And this is something I miss still. In a way, I think there was even a regression in this particular chapter with this expansion. Yes, there's more complexity in late-game now than in Gods & Kings, but in the first expansion the game was considerably harder, especially in the early-game stages. The AI still backstabs in Brave New World, but I feel that it does it much more rarely than in Gods & Kings.
Personally, I preferred the less civilized play-style of Gods & Kings in early-game, but I understand that Brave New World is more for the builders and for a whole new experience than just war. If you're ok with that, than you don't have anything to worry about. But, if you miss the challenge from Civ4:BTS, then you'll probably feel slightly disappointed with BNW, with what war is concerned at least. But, who knows, perhaps they'll increase the challenge in a patch, like they did with Gods & Kings in the massive "fall-patch", which increased the challenge considerably.
Music in Brave New World is great. It's something that has definitely been improving from expansion to expansion. Some tunes are really excellent, especially Shaka's war tune, but the peaceful and war tunes of the Shoshone are also quite satisfying. But, I'd say that music in general has been improved in this expansion, especially when you consider Civ5 vanilla (original release).
The new great works (of art, music and writing) are very interesting to watch and read. Every time you create one of these great works you get a little cinematic with an excerpt. This adds nothing to gameplay but it surely adds to flavor.
Playing the World Congress is actually very fun and rewarding. The link to diplomacy is well done and it's actually pretty fun to buy votes from other Civilizations so that they may join your cause on specific resolutions that interests you. These "buying delegates" deals actually feel balanced and fair.
Diplomacy is definitely much more stable and complex now. The link with the World Congress, the Ideologies and the new warmongering tolerance/hatred modifiers definitely enriched the diplomatic experience. Diplomacy was greatly fixed in Gods & Kings but it's definitely more solid and complex now. My only complaint is how easy and peaceful early-games can feel (because of the lack of early gold that I mentioned earlier). But, diplomacy is more reliable and fun to play. In a way, it feels much more like Civ4:BTS' diplomacy in terms of stability. So, overall, I think diplomacy is probably the best ever in a Civ game.
The new archaeology concept ties in perfectly with the new culture and tourism mechanics. You send your archaeologist units to recover artifacts from special locations on the map. You can decide to recover the artifacts and bring them to a museum for extra tourism and culture, or decide to leave them where they were found as landmarks for only extra culture. It's actually pretty fun to unlock archaeology, train and send your archaeologists all over the globe searching for new artifacts. But, be careful where you dig because your adversaries will not be pleased to know that you're robbing their graves.
Still concerning tourism and archaeology, there's an interesting mini-game where you can get further tourism bonuses if you combine certain artifacts in museums, like having all great works belonging to different civilizations, or all from the same era. These feel like thematic museums. It's a detail, but still a fun one to play. And, you can swap great works of art with other Civs too, so that you can make this theming-bonus artifacts game work even better.
You can play multiplayer games over the Internet, over LAN or via Hot Seat. I didn't play multiplayer but I checked the mutiplayer lobby once in a while and always found plenty of games hosted there that I could join. So, you shouldn't have a big problem finding human opponents to play with. If you want, you can also host your own games there, or play Hotseat with a friend if you're in the same physical space.
Brave New World includes all of Gods & Kings's mechanics, like Espionage and Religion, but it doesn't include all of Gods & Kings' content, namely G&K's civilizations (except Ethiopia, which is in) and G&K's scenarios, which are also not included in BNW.
Verdict
There's a host of new interesting things to do in this new expansion. There's the fun trade routes management, the new elegant tourism system with the new satisfying cultural victory, the rich World Congress features which enhance the diplomatic experience, the ideologies that you must pick carefully and that keep you engaged till much later in the game than in previous Civ iterations. So, there's definitely a new world of features in this expansion that transform the game experience considerably. While in Gods & Kings I felt that I was playing a fixed and improved Civ5. In Brave New World, it really feels like you're playing a different game now.
The combat AI is still Civ5's Achilles heel though, I'm afraid. The tension and fear that comes from the prelude of war is not really to be found here. In this respect I think that Civilization 5, as a series' installment, has failed to deliver in this particular aspect. But, Brave New World's design had clearly the peaceful empire-builders in mind. And, war is still satisfying to some extent.
But, is Brave New World an essential expansion pack? Does it justify your time and money? Well, if you're a long time fan of the Civilization series you need to play this expansion pack. If you were disappointed by Civ5's original version but liked the Gods & Kings expansion you'll most probably enjoy this new expansion as well. If you hated Civ5's original version, because you didn't enjoy the 1UPT or the City-States mechanics, than perhaps you should skip this expansion and the entire 5th Civ iteration all together.
But, if you're more of a peaceful empire-builder kind of player, there's still hope for you here, as this expansion was clearly designed for that kind of play-style. Warmongers and early expansionists beware though. There's certainly lots of satisfying wars to be found in mid and late-game stages, but if early rushed wars or early expansion were your preferred play-styles, you'll probably not enjoy this expansion. That or you must accept to adapt to the new expansion's gradual evolution to what conflict is concerned, which is no doubt a more peaceful play-style, especially in the beginning.
$29,99/€29,99 is still a bit to ask for an expansion pack, especially for people who bought both the original game and the Gods & Kings expansion. But, it's totally worth it in my view. If you're not sure though, then you could probably wait for a sale. There have been considerable sales regarding Civ5 games in the past (sometimes up to 75% off). So, if you're entertained with something else at the moment, perhaps you could wait just a couple months more.
So, did Firaxis succeeded with Brave New World? Yes. This is an ideal expansion for the peaceful empire-builder in you, that still enjoys the occasional war. Which was Firaxis' main goal with BNW if I understood correctly. The mid and late-game stages are much more interesting now, and you don't feel the urge to restart your game as much as before. Firaxis also succeeded on their objective to improve the cultural victory's appeal. I never bothered to play a culture victory before and now I always leave it on and find it satisfying. There is also uncertainty in the mid and late-game stages now, something that past Civ iterations always lacked.
But, is the Civ5 experience finally better than Civ4:BTS with Brave New World? It's hard to tell. Personally, if I had to answer quickly and from the heart (and probably unfairly from a rational point of view) I would say no. Civ4:BTS is still my best Civ experience ever. But, I would say that Brave New World is my second best Civ experience ever. And that, I think, is saying a lot.
| | |
| --- | --- |
| | excellent |
The Good:
– The new elegant Tourism concept finally allows you to win an enjoyable culture victory
– The World Congress feature enhances diplomacy and makes everything feel more real
– Civilization is finally a game you play till the end without feeling the urge to restart
– A lot of fun to manage the new Trade Routes system; a very well implemented system
– The new Civs, particularly Venice and Shoshone's uniqueness are a great addition
– Archaeology and Ideologies new systems tie in with Tourism and Diplomacy nicely
– A ton more content and options offered without sacrificing usability (excellent UI)
The Bad:
– Combat AI is still weak; naval invasions are still rare and pointless
– There's much less challenge to be found in early-game; very few early wars
– Warmongering and early expansionist styles may not be as satisfying as before
– Balance issues: Diplomatic victory is too easy at the moment and domination too hard
Subscribe RSS
29 Comments
Related Articles:
Post category:
Game Reviews