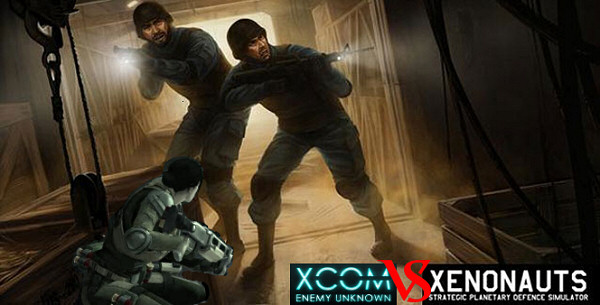 Two of Space Sector's game's choices to look for in 2012 are XCOM: Enemy Unknown and Xenonauts. They are both remakes, or re-imagined versions (the difference is only subtle really) of the original X-COM games from the 90's where your job is to lead a squad of elite fighters against an alien incursion on our planet.
On one side there's Xenonauts, produced by Goldhawk Interactive, a <24 manpower indie video game studio founded in 2009 based in London, that uses the alpha-funding model to fund their games. On the other side there's the giant (at least size-wise it is) game publisher Take-Two interactive (that owns 2K Games). Take-Two has given the job to Firaxis Games (a respected game developer studio responsible for game titles like Sid Meier's Alpha Centauri and Sid Meier's Civilization 3, 4 and 5), to build a new X-COM franchise sequel. Take-Two owns the original franchise trademark that belonged to Microprose by the way.
I can't tell you well enough how excited I am, as surely thousands and thousands of other X-COM fans spread around the globe are, to hear that after a long wait (of more than a decade) this year we will finally be able to get the chance to play a new X-COM style strategy game, that is worthy of the original titles. I'm not referring to one of the games in particular although I have to confess, understandably I guess, that I am a bit more excited to hear that a new X-COM game was going to be produced (the Firaxis one) than when I learned about Xenonauts, a long time before. Firaxis and 2K only announced their game now but Goldhawk Interactive, also due to it's alpha-funding scheme, have announced Xenonauts many months ago.
We can imagine the shock this new XCOM announcement has caused on Goldhawk Interactive, seeing a "AAA" XCOM announcement for the same year they are expecting to release Xenonauts. In fact Xenonauts people talk about on receiving this news (see Goldhawk Interactive's recent post about their reaction to 2K/Firaxis' announcement). See a clip below.
"Mid-January is upon us and the festive season has been left well and truly behind. It's time for another update on what's been happening on Xenonauts, plus a few words on a game being made by a little-known studio called Firaxis. I'll start with the elephant in the room, the Firaxis X-Com remake. I'll admit that their announcement was not the ideal way to usher in the New Year, but the more information that is revealed about the game the less I worry for Xenonauts. I have a lot of respect for Firaxis and I imagine that their remake will at worst be a good game, but there are a lot of differences between what we are aiming to do and what they are. I therefore don't think they'll erode our target audience a great deal. In fact, they may even increase it." ~Goldhawk Interactive
We have only to gain with this because now there's a little competition going on between these two to see who pulls it off better, so, we have everything to win with this little dispute :)
Does Xenonauts has everything to lose?
I'm a huge X-COM fan, and I'm sincere, right now my preference, in terms of expectation level is for Firaxis' "XCOM". It doesn't have anything to do with what they promise to offer really, since we barely know anything about the two games at this point. It is just natural to assume that an official sequel product is likely to be a better one, at least more true to the original. But this preliminary preference works both ways really. Although it may seem that Xenonauts starts way behind, they actually have one (well, I'm sure they may have more), one big thing in their favor: people don't have so much expectations for their game as for Firaxis' one.
Another Xenonauts advantages is that being a smaller studio in size they may benefit from all the hype behind the new XCOM franchise remake and take the opportunity to cash-in through that hype. Moreover it's understandable to think that many XCOM fans will also want to try Xenonauts, if not for the sake of pure interest in the game, at least from a pure curiosity point of view, as much as prices will allow of course.
What made the X-COM series fantastic in the first place?
It's a fair observation to make that there would not be a Xenonauts game if it wasn't for the original X-COM titles (such as UFO Defense, Terror from the Deep and Apocalypse). But it isn't less unfair to note that there wouldn't be an XCOM: Enemy Unknown made by Firaxis either. The true credit must be given first to the original X-COM series, the one that made all this host of remakes, clones and re-imagining "XCOM" games possible.
So, but what made the franchise a huge success in the first place? – you may be questioning now. "What is all this great XCOM thing about? This seems to be one of the most loved sci-fi strategy games ever. But why?"
The answer is: many things. Many observable (the gameplay, the visuals, the music) and probably such as many not so observable (the people and the companies behind the projects). But with respect to the game itself the great characteristics, for me at least, are: the setting, the game's atmosphere and of course the elegant turn-based and real-time mechanics gameplay mix.
I could be here all morning saying good things about the original games but if I had to choose the best aspects I would definitely say the setting, the game's atmosphere. It's that killing suspense, the horror, the surprise factor that so many people neglect how important it is to capture a player's attention and provide a fun experience that made X-COM great. Examples of these surprise horror moments are "WTF will I see behind this door?", "What horrors, what alien or number of aliens will be there?", "WHERE ARE THEY??", "My GOD, not one of THESE!! I'm F*****!! (Castle Wolfenstein any one?). It's that tension, the grim and compelling atmosphere that builds and builds the mood higher and higher that glues the player to the screen. Ultimately you could almost feel you're being part of what's going on, what we can define as game immersion.
But there are lots of other details worth noting. The music was also special, it had momentum and also helped build tension. Then there's the tanks and hovercrafts. You could actually move inside tanks and use them to blow up houses, and the poor aliens. Another interesting aspect of the game is that although the game was not linear, in a sense that it didn't start and ended following a linear sequence of events, it had a story, and a storyline that you would need to follow more or less closely to allow you to finish the game, but you could always make some choices along the way that could accelerate or not the end-game progression.
Another key aspect in the original X-COMs is that you really cared about your squad of men and women. And you had good motives for such because as your men gained experience that would make them experts and very critical assets to have. The loss of one squad member could mean sayonara to the entire game. You really had to look out for your men and protect them from danger at all costs. This tension, this life-or-death confrontation is slowly disappearing in today's games, where dying doesn't mean anything anymore and if you're in bad shape you just need to look around and find some health flask, wait for mana recharge or simply don't care at all, die and happilly start over. What's the fun with that? In the original XCOMs you could always save your game yes but if you made some bad moves that could cost you the entire battle or the even the entire game (NOOOOO!!! I killed the lobsterman navigator!! I needed that bastard alive for questioning, I'm F*****!!). Damn, those were good times.
Screenshots Mano a Mano
Now it's time for some quick comparison show-down between the two titles. In the end it all comes to "what have you brought?  ~Indy 3″.
Remember that these are all "under-development" screenshots, both games only get released by the end of the year (Q3 2012 to be more exact).
Terrain
Terrain look & feel is a very important aspect of these games because thats where most of the gameplay mechanics unfold (there are usually several terrain settings involved in XCOM games, from deserts, jungles, ships and cities). In the next three shots you can see the original game's terrain look & feel, followed by Xenonauts proposal and then the one by Firaxis.
Xenonauts went on a more "clean and crisp" approach that somehow makes me remember the original games more. XCOM: Enemy Unknown has much more graphical effects, which is nice but ultimately not that critical for me.
Planet Monitoring
The Planet Monitoring screen (aka Geoscape) is where you manage your base and can see the world view. It's in the Geoscape where you fight the strategic war with the aliens, where the "Battlescape" is where you fight the tactical battles. More info on this in the UFOpaedia.
It's really hard to tell anything from the screenshots alone besides the fact that both visions look good. Xenonauts in flat 2D world view, XCOM followed the "3D" (original) formula.
See more XCOM: Enemy Unknown screenshots here. More Xenonauts shots here.
Gameplay features close look
Both games are still in production and are due for release only by the end of the year so it's not possible at this time to be very exhaustive in features, simply because they are not known yet (firmly at least), and I don't have access to neither game's builds at this point :)
In a general sense gameplay will be pretty much the same in both games, as expected if you've read this far. The real-time element of both games is set on a global view (the "Geoscape"), where the player tracks UFOs, and alien incursions happening on the entire world. You should also be allowed to conduct research and develop your XCOM / Xenonauts bases at any time (although I couldn't confirm this yet). This is the games' real-time strategy part.
Combat is all fought in turns, in a normal turn-based fashion. Both teams have a series of "movement points". Each unit spends its points and when those are exhausted you pass to the next unit in the team till all are left without enough movement points to conduct any action or till you're content with your movement. You hit end-turn and now it's the Aliens time to play.
And while gameplay is basically the same in both games it's possible already to enumerate a series of details from what I could manage to dig up. As I don't have first hand information I decided to use some quotes along the way to summarize the features.
Re-imagining vs Remake?
What they say.
"The game [Xenonauts] is heavily inspired by the classic X-Com / UFO: Enemy Unknown, released in the mid-90s by the now-defunct Mythos / Microprose. It is not a straight remake; though the core mechanics remain similar much has changed or been updated – so much so, in fact, that we prefer the term 'reimagining' to remake'. ~Goldhawk Interactive
"Re-imagining is probably a better term. Firaxis' XCOM: Enemy Unknown doesn't directly copy the underlying game systems – for instance, soldiers have different stats than they did in the 1994 original – but the concepts are still here. Players still have to manage multiple resources and threats on a global scale in a seemingly hopeless war against extraterrestrial forces with far better technology and capabilities." ~GameInformer (Game Informer has an exclusive coverage deal with 2K/Firaxis for XCOM: Enemy Unknown)
Squares vs Hexes
The original series featured squares as spatial movement unit. Xenonauts seems to have kept the formula. XCOM: Enemy Unknown apparently innovates this aspect and now uses hexes as spatial movement system instead.
Base Building
In the original series you could see and manage your base from above. Xenonauts keeps the traditional base view, XCOM: Enemy Unknown innovates a little and offers vertical base building.
From left to right: X-COM: Terror from the Deep, Xenonauts, XCOM: Enemy Unknown.
Other differences
In 2K forums there's talk that XCOM: Enemy Unknown may feature some original gameplay streamlining. Elements like ammo now being unlimited or we now having one main base only to manage (where before you could build sister bases all around the globe). Fog-of-war now prevents seeing an alien from too much distance and something about squads having a cap of 4 soldiers max. Frankly from what I could tell these are all speculations still.
Conclusion
It's definitely too soon to take any definite conclusions on who will stick closer to the original X-COM formula and conquer more X-COM fans (if sticking to the original formula is the best strategy at all). It all comes down to who will provide the best gameplay experience, and that's much more complex than knowing only who will offer the best graphics or if one of the games offers some detail exactly equal or not as in the original series. For me the winner, from a nostalgic point of view, will be the one that is able to recreate those classic moments of tension, suspense and that overall horror setting as it was provided by the original X-COMs. All that with believable gameplay and lots of surprises sprinkled throughout the experience should be the winner's ticket.
We are still 9 months apart from both games release date, since Goldhawk Interactive has announced a couple of days ago that they're planning to release Xenonauts about the same time as XCOM: Enemy Unknown, (i.e. this autumn 2012). And as if all this would not be enough there's also Chaos Concepts' UFO2: Extraterrestrials coming in 2012 :)
Guess this will be the X-COM remakes year. And… I couldn't be happier.
I hope you had as much fun reading this article as I had writing it :)
Subscribe RSS
16 Comments
Related Articles:
Post category:
Game Previews
,
Games Under Development