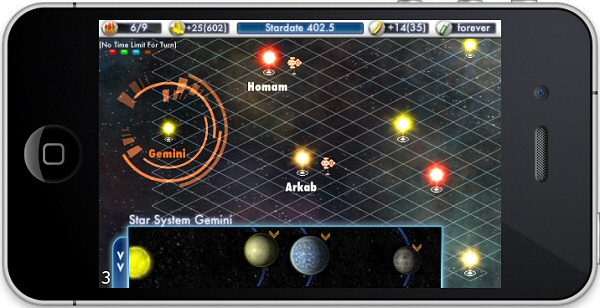 On October 2011 Chimera Software released an ambitious 4X title for the iOS family of devices (iPod Touch, iPhone and iPad) named Starbase Orion. A couple of weeks after release Kyle Rees has played this title quite extensively and produced a review for Space Sector. Now, Starbase Orion gets a big update (v1.1), already available in the App Store.
When Kyle reviewed the game (just after release), he summarized SO as being "as close as we are going to get for Master of Orion on the iOS platform". Seems like it can't get much better than this right? Kyle adds that the game offers well-polished graphics with lush videos, solid AI (post update 1.04), a top class User Interface, good automation features and sound effects and great replayability. At the time Kyle pointed out as major deficiencies (among others) the lack of customization features, lack of diplomacy, long turn cycles and light tech tree.
Has all this been addressed in this new patch (v1.1)?
The update release notes are extensive, you can read it all at Chimera Software's website. I'll make a summary of the changes below (at least about the ones I found to be more interesting):
Pass and Play games (ability to play multiplayer when there's only one device available)
New game speed (Quick)
New "Allied" and "Survival" game modes
Faster and more devious computer opponents (improved AI)
Now able to retreat from combat (highly requested feature)
Ability to assign ships to escort missions
New race attribute: Tolerant (naturally resistant to irradiated and toxic atmospheres)
New ship systems (shield modulation unit, improved energy controller, ECM jammer, auxiliary thrusters, combat engines and fast missile launcher)
New techs (security training, personal cloaking device and clandestine initiative)
New compression algorithm for GameCenter games (faster and less memory intensive games)
New chat features
Now possible to listen to your music while playing the game
And more
Sounds like a good update on top of an already good game. You can buy Starbase Orion at iTunes.
Starbase Orion (v1.0.2) overview on iPad 2
(previous version nice playthrough video put together by a SO fan nicknamed Oreniishi, published in SO's website)
Subscribe RSS
Related Articles:
Post category:
Game Patches
,
News & Announcements