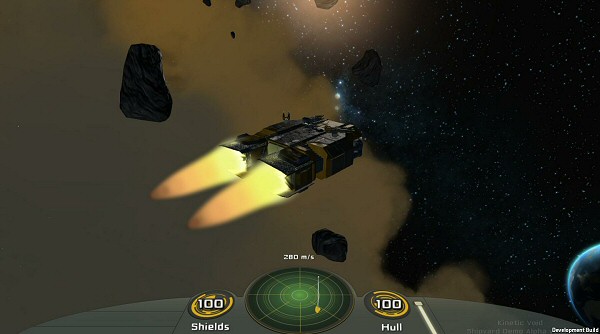 Badland Studio, a small independent team of three people, want to kickstart Kinetic Void, a single player space adventure sandbox game with a high focus on detailed spaceship customization. Features include: fully detailed and customizable spaceship design, take direct control of your ship, a new galaxy every time you play and freedom to choose your own fate. Would you become an intergalactic trader or pursue a life of piracy? You should expect also intense space combat and assignments or jobs to complete on behalf of different factions.
Badland Studio proposes Kinetic Void for the Windows PC and Mac OSX and at the time of this writing they have already reached $15,961 of their $60,000 goal (about 26,6%) with 12 days to go. So, if you're a space adventure lover with a special interest in designing your own spaceships then this seems like the perfect project for you to back.
There is already a demo that you can try to get a taste of what ship customization will be like. The demo is based on the pre-alpha state of the game and is being updated weekly by Badland. Check it out!
You have all the details on how you can support this project and know about the rewards involved in the Kinetic Void kickstarter page. Spread the word!
Subscribe RSS
Related Articles:
Post category:
Kickstart
,
News & Announcements