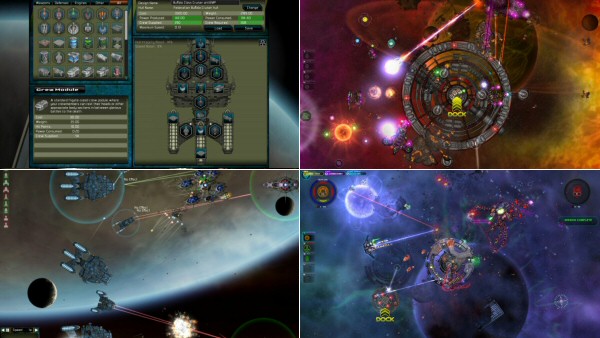 Positech Games (the UK indie devs behind Gratuitous Space Battles/Tank Battles) and MinMax Games (Space Pirates and Zombies) have teamed up for a bundle offer for two classic indie games.
For the next seven days, you can buy Gratuitous Space Battles and Space Pirates and Zombies for a reduced price. Or as the devs put it, it would be like "buying Gratuitous Space Battles and get Space Pirates and Zombies absolutely free! Or if you prefer, think of it the other way round, we aren't fussy".
Space Pirates and Zombies is an "excellent sci-fi 2d plat-former with strategic, and tactical elements added on top. I would recommend this game to fans of the genre. While I have personally made comparisons to Star Control II, SPAZ has certainly earned its own place among this type of games." says Kyle Rees, Space Sector's author and contributor. Read more about the game in our SPAZ review (note that it's a review of the game's beta).
Gratuitous Space Battles is a space strategy and simulation game that does not contain all the traditional elements of a space 4X game but rather concentrates in ship design and space battles. I found it a very fun and addicting game to play, that I think will entertain you for many hours. GSB has several DLCs available that add more alien factions, ships, ship's equipment and scenarios. One of them (Galactic Conquest) even adds a campaign. Read more about GSB in our Gratuitous Space Battles review.
Both games are now on sale for $14.99 the pair, from the indie games website showmethegames. The bundle will last for seven days (ends on the 2nd of July 2012).
Subscribe RSS
Related Articles:
Post category:
News & Announcements