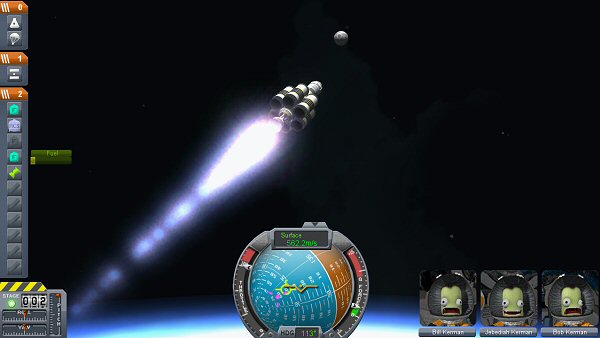 Now that was fun! Ever wondered how it would be like to design your own "real-earth" space ship, launch it and then head on to the Moon for some prospecting? This game let's you do exactly that – the Kerbal Space Program.
KSP's Team idea is to allow the player to create his own space program. You can design your ship with a collection of parts that you must assemble correctly so not to crash immediately after lift off, or even don't leave ground at all. It's not that hard to launch and control your ship (the tutorial does a good job explaining the basics), the trouble is to leave Earth's atmosphere and beyond! :)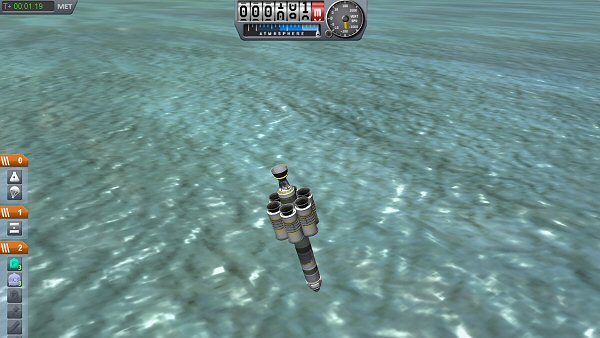 At the moment KSP offers a sand-box experience only, with no objectives available yet. It includes vehicle assemble building, flight simulation controls and mod tools. I had a lot of fun playing the current demo. The design process is enjoyable, the launching sequence is quite satisfying to control and watch. I especially enjoyed the silence after the engines cut off when you're in space (or near it).
In next versions the KSP Team plans to add a mission planner tool for you to create your own missions. You will eventually be allowed to hire and train astronauts and we'll be able to head to the Moon and to other planets. They're even thinking in adding space station building and surface base building on other worlds. Quite exciting stuff.
The current version – 0.16 – was released recently (Jul 20, 2012). There are demo versions available for Windows and Mac, but for an older version (0.13). At the moment Squad (the KSP's Team name) is selling the game at a discounted price ($18 USD) which they plan to gradually increase as the game nears completion. I couldn't find a definite release date.
Now, here's a very interesting space simulation game that when completed will most probably be – literally – a blast to play :) Now, enjoy the trailer! And, a few more shots from my play session.
Subscribe RSS
10 Comments
Related Articles:
Post category:
Games Under Development