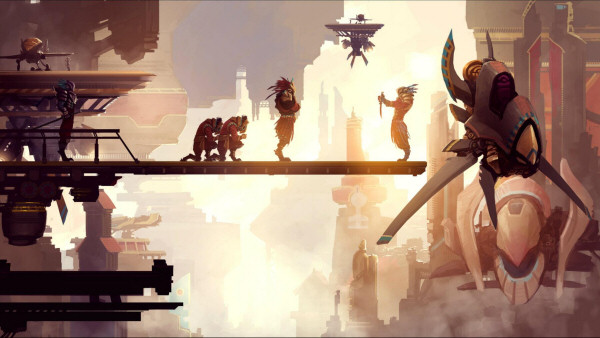 A couple of weeks ago Amplitude Studios announced an expansion for their space 4X game Endless Space, which they released on July 4th 2012. This caused a bit of worrisome in the community about the nature of Amplitude's future support for Endless Space since many still think further balancing and bug fixing should be done before a paid expansion is released.
Amplitude has stated their intention to keep "supporting the game via [free] updates (…) adding balance, tweaks and other additions" many times in the past and although the work on the expansion will "start soon" the idea, said Amplitude, was to consult the community early on. "It is important to understand that we decided to start discussions early on the content before to start working on the expansion, to make sure that packs answers your wishes" ~Amplitude Studios.
Today Amplitude clarified Endless Space's update plan. They announced "many improvements to come" and that they are going to group all the elements together and deliver those as packs. So, they will start with "3 free add-ons" inline with the improvement list on their forums. The free add-ons will be "released until December of this year, the first one due end of September".
Following the 3 free add-ons Amplitude will start working on the expansion pack, which will focus on the battle system. And, about that Amplitude stated: "if we want to be ambitious on the delivered content, and keep expanding the game, we will need to generate some revenues from expansion pack. Amplitude is a young company, and we must make sure we will survive to deliver other games in the future!". ~Mathieu Girard (Amplitude Studios CEO).
Free add-on #1 (ETA: end of Sep 2012)
Features / Improvements:
– The Automatons Custom Faction
– Custom Faction Affinity, so you can differentiate the visual affinity […]
– Diplomacy Improvement on alliances, to be aware of allies decisions
– Trade Routes Sum-up : special panel to summarize and sort trade routes
– AI : improved tax rate management
– Hero management improvement: navigation, selection, leveling and undo
– Empire Wide factors more readable in a special panel
– Multiplayer version consistency check

Balancing:
– Economic victory possible in Endless Victory (difficulty tuning)
– Academy, hero balancing, for more balanced game starts
– Bushido trait (Hissho) balancing
– Industry cost balancing for repair and tonnage modules

Modding:
– Ability to mod ship meshes and textures (that is a big one)
Free add-on #2 content will be defined through Games2Gether (Amplitude's system to retain the community's feedback) and is expected to be set at the end of October 2012. Free add-on #3 content voting starts after that. All 3 free ad-ons "will be released until December of this year (2012)" said Amplitude.
Subscribe RSS
22 Comments
Related Articles:
Post category:
News & Announcements