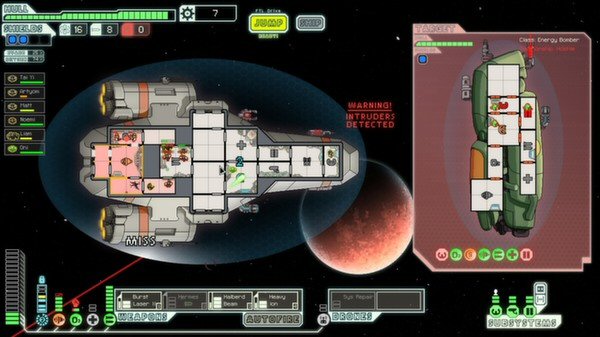 FTL (Faster than Light) generated a lot of buzz some months ago from a surprising kickstarter reception which caught the game devs completely by surprise.
FTL is a spaceship simulation game that features elements of exploration, discovery, spaceship management and real-time strategic combat (pausable real-time). FTL went to Kickstarter with a pledge objective of $10.000, but was able to generate 20 times more than that! ($200.000).
FTL is a lot about adventure but also about strategy as the players need to make many decisions in reaction to certain text-based events. It's like in the Star Trek series where the crew was always facing unpredictable dangers and needed to react swiftly and cleverly to solve them. In a way it's about you in the skin of a captain or personifying a spaceship crew deciding what needs to be done to deal with circumstances.
FTL is probably one of the first true Kickstarter success cases, in which concerns video games, since it is one of the first to release to the public while keeping the original schedule.
FTL released today and is now available for Windows, Mac and Linux. You can get the game on GOG (Win), Steam (Win and Mac) and on the dev's web page itself (Win, Mac and Linux) if you're interested in a DRM-free version (redeemable on Steam).
We're working on this one also folks, so, stop by in a week or two to know more about this promising spaceship simulation adventure. In the mean time there are loads of videos available for you to check out so that you know a bit more about FTL.
Subscribe RSS
29 Comments
Related Articles:
Post category:
News & Announcements